Paul Chan, "The Bather's Dilemma"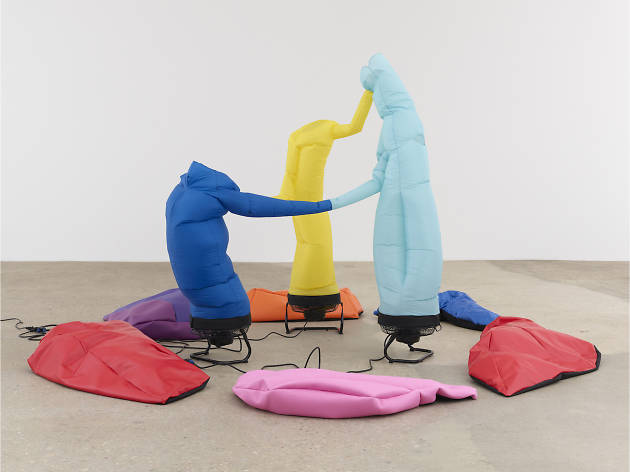 Time Out says
You take inspiration where you can find it, even off the highway in front of a Walmart or a tire store. Locations like these are the natural habitats of so-called air dancers: advertising puppets that are animated by blowers to continuously furl and unfurl in a manner both comical and mesmerizing—qualities which Paul Chan has exploited in his own take on this roadside attraction.
Chan's versions have resembled puffer coats come to life or odd amalgams of the Stay Puft Marshmallow Man and a KKK member. Here, they stand in for art history's "bather" genre. Familiar from paintings by Paul Cézanne, Henri Matisse and Auguste Renoir, these landscapes cum nude studies evoke the arcadian ideal of living harmoniously with nature. Given global warming and other crises, it's easy to assume that Chan is being ironic, though the unalloyed exuberance of his pieces delivers something closer to an iron fist of hard truths wrapped in a velvet glove of pleasure.
Chan pays homage to Matisse in particular, making a nod to his 1910 masterpiece, Dance, with a circle of billowing celebrants joining hands. The tone grows darker with a lone figure in a tank top emblazoned with i love you man in German; it sags and swells atop a "beach towel" that's pieced together out of small American flags and labels for prescription opioids. Other works reference the refugee crisis as driven by climate change. Chan titles his exhibit "The Bather's Dilemma," though the quandary it poses is fairly straightforward: Facing existential threats, do we continue to escape into hedonism or do we, to paraphrase Bob Dylan, finally admit that the waters around us have grown?
Details
Users say