"The Great Hall Commission: Kent Monkman, mistikôsiwak (Wooden Boat People)"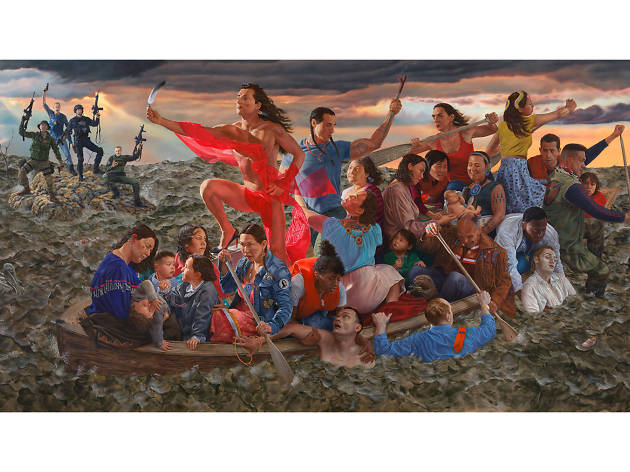 Time Out says
Friendly warning! We're working hard to be accurate. But these are unusual times, so please check that events are still happening.
The 2010s witnessed an unprecedented increase in the number of artists of color exhibiting at galleries and museums—a wave of diversity challenging white heterosexual cultural hegemony that nevertheless remains dependent on both formal tropes borrowed from European art and the largesse of a collector base that is noticeably thin on minorities. It seems that bucking white rule begins with playing by white rules, an irony illustrated by Kent Monkman's project for the Metropolitan Museum of Art's Great Hall.
A First Nations artist from Canada, Monkman presents two vast, compositions in a style—19th-century history painting—known for stilted figuration and outsize theatrics. In lieu of celebrating the usual monarchs, generals or other worthies, Monkman allegorizes the causal effect between the refugee crisis and climate change.
Each canvas features indigenous people fishing storm-tossed white colonizers from raging seas. One depicts the latter, clothed in colonial period costumes (complete with conquistador helmets), being dragged onto land; the other, based on Emanuel Leutze's Washington Crossing the Delaware, pictures them in contemporary dress being hauled into a boat, as ICE agents and alt-right militiamen gesture with impotent fury from a nearby island. Presiding over both rescues is the artist himself, cast as a transgender shaman—a figure who, in certain tribal traditions, performed ceremonial roles.
Monkman stacks queer aesthetics, ecoconsciousness and multiculturalism into a wedding cake of intersectionality, pleading for unity in the face of extinction while inserting people of color into art history through a viewer-friendly, if reactionary, genre. Unfortunately, Monkman's mannered approach gets in the way of his message, urgent as it undoubtedly is.
Details