"Tyree Guyton: Love, Sam"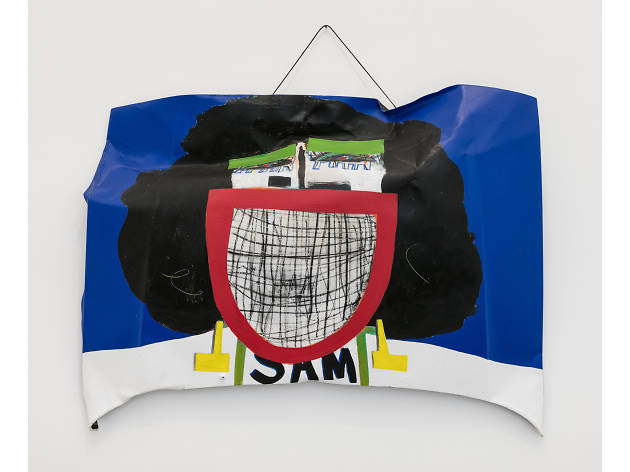 Time Out says
Of all the Rust Belt cities that spiraled into decline over the past several decades, few have done so as precipitously as Detroit, which declared bankruptcy in 2013 as whole neighborhoods were reduced to vacant lots.
Still, bright spots persisted, especially on Heidelberg Street in the McDougall-Hunt section of town. There, Tyree Guyton, a former firefighter and autoworker, transformed the block fronting his house into an outdoor showcase for his funky found-object installations. Begun in 1986, the Heidelberg Project, as he called it, attracted national attention for the indomitable spirit it came to symbolize after Detroit went bust. Art world interest followed, resulting in his first NYC show.
Though he attended art school, Guyton is often mistaken for an outsider artist, and it's easy to see why: He combines detritus (sneakers, vacuum cleaners, lawn chairs) with primitivistic paintings that recall those of Jean-Michel Basquiats. But Guyton's engagement with the battered past and future hopes of Detroit stands in sharp contrast to Basquiat's self-mythologizing.
Here, totemic portrait heads stare from dented car hoods and wood panels, flashing toothy smiles that resemble Cadillac grills. In Extinction, a nervously grinning couple is depicted under the legend 1967 + sam, invoking the devasting riots of that year. The middle of the floor, meanwhile, is taken up by an ebullient constructivist arrangement of salvaged doors painted in clashing colors.
Recently, Guyton disassembled the Heidelberg Project, and Detroit has since rebounded from its nadir: Like the city he loves, Guyton is putting hard times in the rearview mirror to focus on the road ahead.
Details