Brooklyn Bridge | New York, NY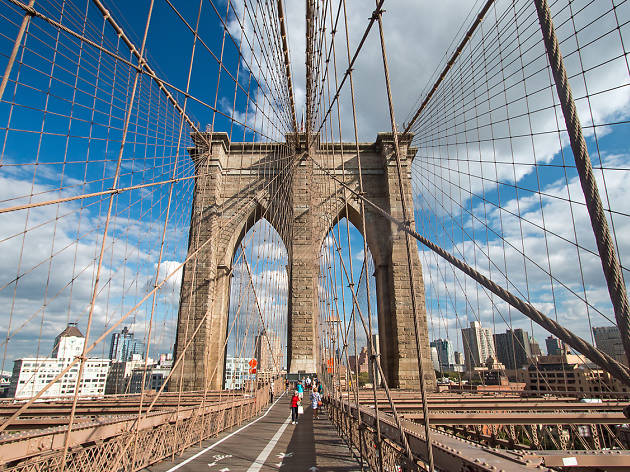 Everything you need to know about visiting the Brooklyn Bridge (New York, NY).
Sure, the Brooklyn Bridge serves a practical purpose as the means for millions of commuters to travel from lower Manhattan to Brooklyn, but it is also one of the most iconic structures in the city. You can walk and bike over it, but beware, the crowds are serious! Go early in the morning or late at night to avoid the hustle and bustle.
What's the history of the Brooklyn Bridge?
A true feat of 19th century engineering, this 1.3-mile long steel-wire suspension bridge was designed by famed civil-engineer John A. Roebling in 1869 (who, subsequently, would be the first of over 20 deaths caused by the construction of the bridge after a tragic accident involving a docking ferry). When the bridge officially opened 14 years later on May 24, 1883 it was the world's largest suspension bridge and immediately became a sensation as over 150,000 people crossed the bridge on that day alone. Looking up at the Gothic towers made of granite, limestone and Rosedale cement, formerly the tallest structures in the Western Hemisphere, it's easy to understand why the landmark became the subject of countless paintings and photographs.
How can you cross the bridge?
Today anyone on feet or wheels (rollerblades, bicycles, cars, hoverboards, what-have-yous) can travel between the boroughs without paying a toll.
Where should I go nearby?
Enjoy a nice sit at the historic and beautiful City Hall Park directly on the Manhattan side. The Brooklyn side of the bridge ends in gorgeous DUMBO, where you can explore Brooklyn Bridge Park, gaze at Lady Liberty, visit the Brooklyn Flea on weekends, and eat at famous Grimaldi's brick oven pizza.
Oh, you want more history?
Back in 1883, when Emily Roebling–wife and partner of Washington Roebling, the civil engineer and son of John A. Roebling, who continued his father's work after his death–led the first party of walkers, the toll was a penny per person and additional cents for horses, wagons and livestock. Of course back then a lot was different: Not only were there not six lanes dedicated to car traffic (since there were no cars), Manhattan and Brooklyn were two entirely separate cities–New York (Manhattan) was the most populated in the country, but Brooklyn boasted the title as fourth behind Chicago and Philadelphia. Should you happen to be one of the 6,600 pedestrians travelling on foot and feel anxious about the sturdiness of the bridge, remember that P.T. Barnum once had his famous circus star Jumbo lead a parade of 21 elephants across the bridge.
Our editorial team is constantly updating and reviewing the best attractions, activities and venues in New York, so that you're always in the know, with the best of NY at your fingertips. This page was most recently updated on June 30, 2017.
Venue name:
Brooklyn Bridge | New York, NY
Contact:
Address:
Enter on Centre St between Chambers St and Park Row or on Tillary St at Adams St
New York
10038

Transport:
Subway: A, C to High St
Do you own this business?
Average User Rating
4.3 / 5
Rating Breakdown
5 star:

4

4 star:

4

3 star:

1

2 star:

0

1 star:

0
When visitors to our great city ask me what the most important New York things to do are, I always tell them to go to Brooklyn Heights and include a walk over the bridge either coming or going. The views from the elevated walkway are beautiful, day or night, but do keep your eyes open for speeding cyclists. The walkway is clearly marked for bikes and pedestrians, but no one observes the rules (so New York!). On the Brooklyn side there's plenty to see and do: shop Montague or Fulton Streets, stroll the Heights Promenade and the beautiful, brownstone-lined streets, check out B'klyn Bridge Park.
Want beautiful views of both Brooklyn and Manhattan for zero dollars? Like taking long walks? If yes is the answer to both of these, take a stroll across the Brooklyn Bridge. Its been there longer than you have, but still can withstand thousands of people and vehicles daily. Its about a mile one way, so be sure to have a destination to hit afterwards. On Brooklyn side, there is Grimaldi's and Brooklyn Bridge Park. On Manhattan side, South Street Seaport is nearby. Great for biking, but not so good for skating as the wooden planks are not the smoothest.
I never get tired of walking across the Brooklyn Bridge – partly because of the views, partly because I always stop for ice cream at the Brooklyn Ice Cream Factory after. The best part is, you don't really need good weather to enjoy the experience. I usually walk from Manhattan to Brooklyn, stop by Brooklyn Bridge Park to take some scenic shots and take the subway back home. If you have time to spare, walk around DuMBo.
Tuve el enorme agrado de cruzar lo hace 2 años y volvería hacerlo encantado. Y aprovechar con sus indicaciones de sitios cercanos.
This bridge is a beaut, but you and your patience need to prepare yourselves for a very slow walk. There's a lot of people, and you're going nowhere fast. Embrace this fact, or your enjoyment of the sights will be overwhelmed by road rage. Also, I love biking, but after doing it once, I'll never do it again. I found myself practically running down tourists and teeny boppers by the end, and I felt justified in doing so :-(
Okay, everyone knows the Brooklyn Bridge is a universal sign of romance, and it sure is beautiful to look at. But it's a LOT less beautiful to walk across because it's absolutely clogged with tourists from dawn till dusk, not to mention they've been doing work on it for years. So, my advice: Definitely walk over the bridge once, but go early or late. It's certainly a fun, must-do New York experience. But after you've done it, you don't need to do it again. It's a very narrow path all the way that walkers, runners and bikers are all sharing, and very infuriating people like to walk in lines of three on a path that barely fits two. So much fun! And the bikers are less forgiving than I am...