Grand Central Terminal, Main Concourse | Manhattan, NY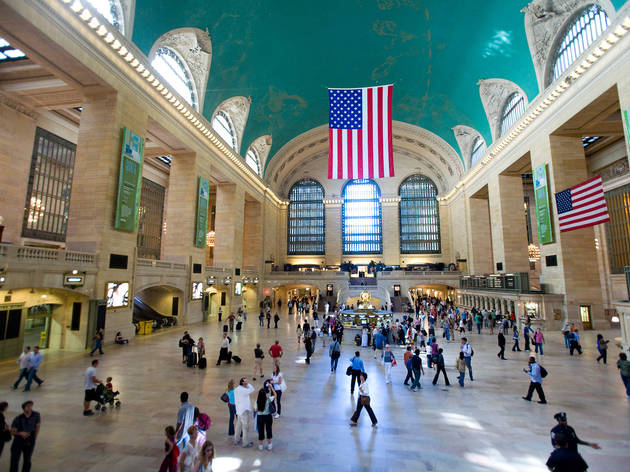 Everything you need to know about visiting Grand Central Terminal, Main Concourse (89 E 42nd St, NY 10017).

Grand Central Terminal is more than a stop: It's a destination. Since opening in 1913, this iconic Beaux Arts landmark gets about 750,000 people passing through every single day. Along with servicing Metro North Railroad commuters and connecting to the MTA Subway, this terminal has more platforms than any railroad station in the world (44, to be exact). Over the past two decades, Grand Central Terminal has also emerged as a dining and shopping entity. Apple, Swatch and Warby Parker are a few of the 60-plus shops featuring big-brand names or specialty items. The New York Transit Museum has an annex location there, selling NYC transit–related merchandise and displaying rotating exhibits. As for dining, find 35 restaurants to choose from. For to-go orders or sit-down meals, head to the lower level Dining Concourse. There, savor oysters and catches of the day at Grand Central Oyster Bar & Restaurant—in business for as long as Grand Central Terminal has existed—or bear the line at Shake Shack. On the upper level, buy edibles from Grand Central Market or taste some Nordic fare at Great Northern Food Hall.

Take in the architectural splendor
Within the Main Concourse, gaze upward at the massive constellation ceiling. Said to have been put on backward, allegedly the Vanderbilt family (the original owners) claimed it was meant to be viewed from a divine perspective. Also, you can explore the rest of the terminal and learn more about Grand Central through various tours, including a daily guided tour at 12:30pm led by docents trained by The Municipal Art Society of New York.

Test out the Whispering Gallery
Outside the oyster bar, a 2,000-square-foot alcove with a dome ceiling produces an echo effect. The bar's Guastavino tiles enable voices to bounce from one corner to the corner diagonally opposite. Test it out by having a friend face you in the opposite corner and carry on a conversation.
Go for a drink at The Campbell
This restored establishment—formerly The Campbell Bar—reopened in May 2017. Originally named for John W. Campbell, a Jazz Age financier, The Campbell pours out classic and modern cocktails, spirits, wines and local craft beers, and lunch is served daily at noon.
Our New York editorial team is constantly updating and reviewing the best attractions, activities and venues across the city, so that you're always in the know, with the best of NYC. at your fingertips. Grand Central Terminal, Main Concourse was most recently updated with new tips on June 27, 2017.
Venue name:
Grand Central Terminal, Main Concourse | Manhattan, NY
Contact:
Address:
89 E 42nd St
New York
10017

Cross street:
between Lexington and Vanderbilt Aves
Transport:
Subway: S, 4, 5, 6, 7 to 42nd St–Grand Central
Do you own this business?
Average User Rating
4.2 / 5
Rating Breakdown
5 star:

4

4 star:

5

3 star:

0

2 star:

1

1 star:

0
This has always been my favorite place in NYC. Everyone should visit it at least once in their lifetime.
Amazing. A must see for any tourist. It s a train station, I know, but it is so much more. Go and see for yourself.
Grand Central Terminal is the surviving sister of New York City's two great railroad stations, Pennsylvania Station having been demolished in the mid-60s to make way for the a new Madison Square Garden. I'm old enough to have seen Penn in it's glory, and Grand Central is a pale shadow. Nevertheless, it's all we have left, thanks to concerned citizens and historic preservationists (tip o' the hat to Jackie O!). It is a Beaux Arts masterpiece, and was a technological wonder when it was built. The major restoration carried out some years ago restored the main concourse to it's original opulence (it was marred by a giant, illuminated Kodak ad for many years) and plenty of fine shops and restaurants can be found in the arcades. The only thing that's always bugged me about Grand Central is the famous ceiling mural: Aside from the view of constellations being reversed (a major mistake that was later rationalized as offering a view FROM the heavens) the color of the sky is GREEN! It looks like the ocean, not the sky. Doesn't that bother anyone else?
Is it weird that I like Grand Central – especially when it's crowded with commuters? The Main Concourse encapsulates all that is New York: many people in a large (but small) space, going about their lives, in a city with beautiful architecture and long history. Grand Central Station celebrated their 100 year anniversary a couple years ago, and it was quite a sight seeing the celebrations going on throughout the month. Come visit, stand right in the middle of the Main Concourse, and take in what the city has to offer.
Grand Central is a must visit for everyone.Just walking into the terminal you get an idea of what New York is all about.There are hundreds of people at any given moment, you can go anywhere in the city through here as there is LIRR trains and Metro North you also have the NY Subway system (biggest in the world) taking you to all the 5 boroughs.Oh and can't forget if you love gadgets the Apple store is right there and they have some pretty neat things there.You are also in the heart of the city, the amount of food venues there is crazy!
I <3 Grand Central Terminal... This place inspired me to write the first book in the Melonie Goes to Series... Called Melonie Goes to Grand Central Terminal. Available on www.createspace.com/4310556
This tour was not what I expected -- a walking tour of Grand Central and its neighborhood. Rather, after 3 hours (including a 45 minute lecture inside the lobby of the building across from the terminal, which did not center on the terminal itself but centered on a broad history of the city, railroading, and the United States. This was fine, but the tour guide was simply wrong on many points. We then moved outside for another 30 minutes, which touched on the architecture of the terminal, which was the most interesting part but also included diatribes on federal subsidies to the airline industry etc. When we finally got inside the terminal (and hour and a half into the "tour," the guide was determined to make the point that Columbia University was not part of the Ivy league as it had not been founded before the American Revolution (which he asserted was a criteria, but I'm guessing that that he'd never heard of a university called Cornell) and minimizing the contributions of Jacqueline Kennedy Onassis in "saving" Grand Central (a particular bone of contention of his was that the city would not allow him to have a plaque placed honoring his friend who was the lawyer who fought for historic preservation). This was 50 minutes -- just getting into the main part of the terminal. We jumped off the tour after three hours (most people had by this point). Some of the points this gentleman made were quite interesting but it just so wide-ranging and so long that it was sometimes tough to find those worthwhile nuggets. If you go, go expecting not a formal National Trust type professional tour concerning Grand Central, but rather "one man's view of the world," sometimes centering on that big building in front of you (but sometimes not).