Heads up! We're working hard to be accurate – but these are unusual times, so please always check before heading out.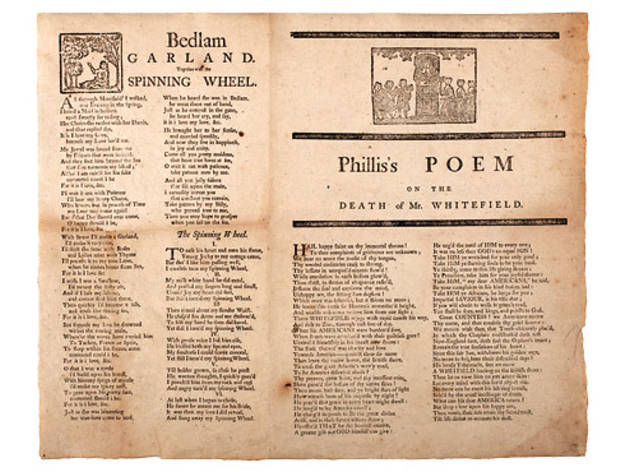 1/6
Photograph: Courtesy American Antiquarian Society
Colonists go gaga for teen poetry. In 1770, Phillis Wheatley's poem "On the Death of Mr. Whitefield" impressed a publisher so much that he printed it on broadsheets and sold them individually. Even more impressive? The 17-year-old Wheatley was both a woman and a slave, hardly the usual published author in colonial Massachusetts. But printer Isaiah Thomas—the founder of the American Antiquarian Society, no relation to the ill-fated former coach of the Knicks—was savvy enough to reserve the entire page for the ode. "Phillis's poem, the fact that she was an African-American, really stirred the imagination," says Hewes. "It brought her great fame."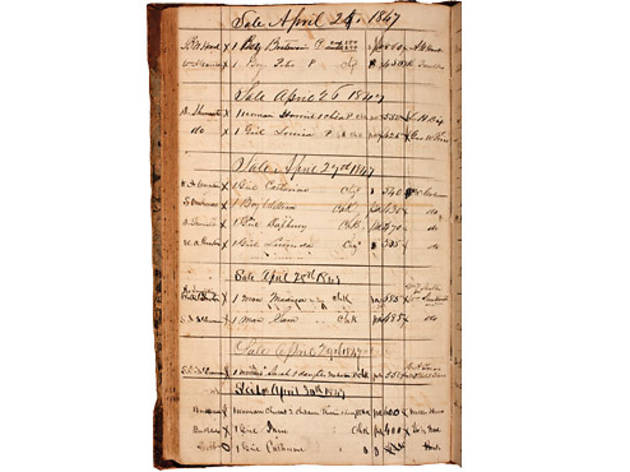 2/6
Photograph: Courtesy American Antiquarian Society
Sisters rescue documents from a burning building. The account books from R.H. Dickinson & Brothers, a profitable Virginia slave-trading company, recorded America's gruesome history—sample lines describe sales of "Man Sam," "Girl Louisa" and countless others. These ledgers were almost lost to fire when Union troops sacked Richmond near the end of the Civil War, but two Quakers, sisters Lucy and Sarah Chase (who were teaching freed slaves at the time), marched into the empty offices to preserve the documents as evidence of the slave market. The Chases later wrote, "Thank God no more was written or ever will be written in that bloody register." The act was dangerous, stresses Hewes, "but it would've burned up, and they really believed they were doing the right thing."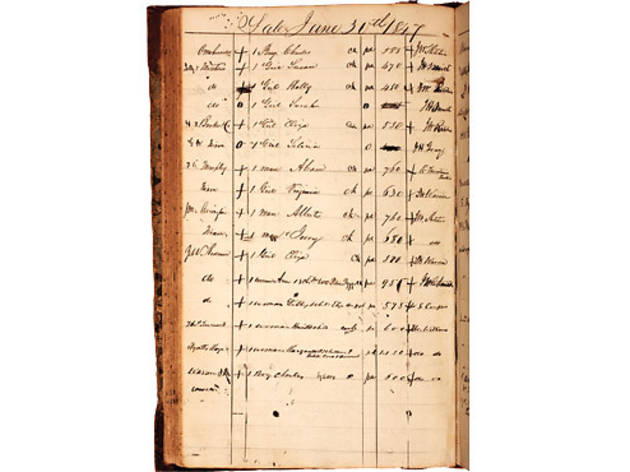 3/6
Photograph: Courtesy American Antiquarian Society
Account Book of Slave Auctions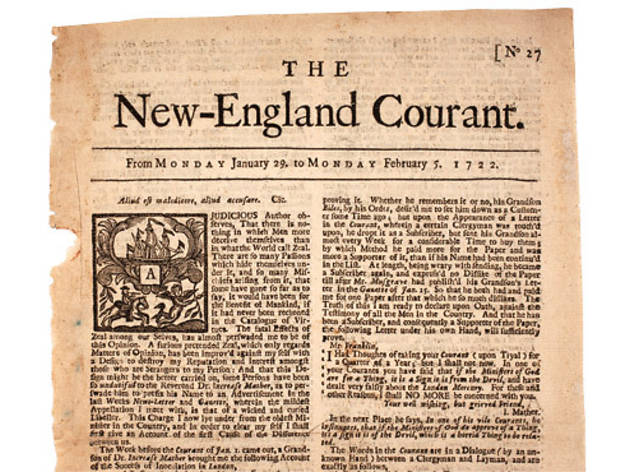 4/6
Photograph: Courtesy American Antiquarian Society
Vaccination debate makes front-page news. Opinions were front and center in this 1722 edition of The New-England Courant, edited by James Franklin with an assist by his brother Benjamin. The artifact denounces smallpox inoculations, citing safety concerns—which are still hounding public health advocates today. "It's the same darn debate in 1722," says Hewes. (To be fair, the procedure was a bit dicier back then.) This also wasn't the so-called "fair and balanced" press of today; the elder Franklin was the voice of the paper, and didn't have to leave column inches for a rebuttal. As for little bro Benjamin, he just set the type and daydreamed about growing up to be a founding father.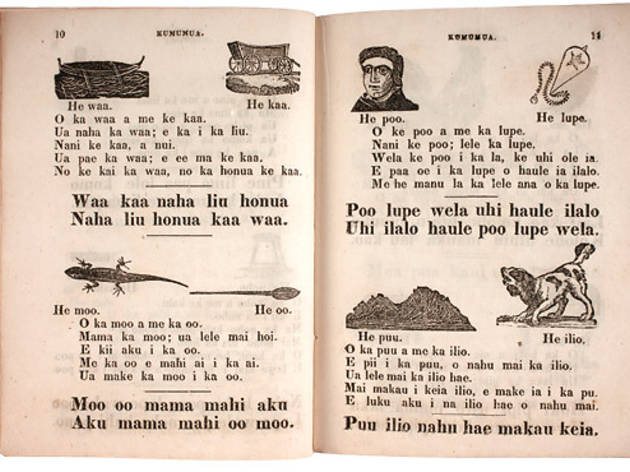 5/6
Photograph: Courtesy American Antiquarian Society
Hawaiian kids get hooked on phonics. How do you teach children to read when their language doesn't have a written form? The same way they do it in kindergarten today. This primer O ke kumumua na na kamalii (which means "first lessons for children") was printed in Oahu in 1822, and it phonetically spelled the words of a people that had never written before. "It's charming," says Hewes. "There was a long tie between Hawaii and New England missionaries, who took the presses there." The trader that handed the book over to the AAS, James Hunnewell, inspired his descendants to continue collecting Hawaiian ephemera.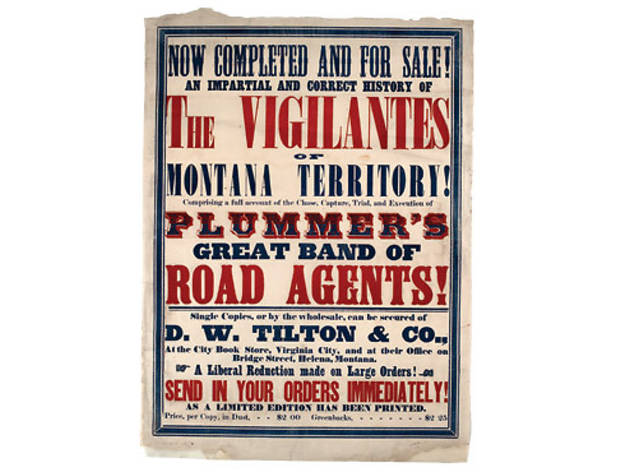 6/6
Photograph: Courtesy American Antiquarian Society
The Old West likes its letterpresses. This flyer, which could pass for a poster advertising a Williamsburg Park concert, promotes the release of the 1866 book The Vigilantes of Montana Territory (which sounds like the title of an indie-rock album). The volume was a book about rogue law enforcement, explains Hewes: "Montana was a really wild place at this point. Vigilantism was a very real problem. It's never a good idea, it doesn't end well." The publisher used "a typesetter's dream, five or six different fonts," says Hewes, as well as impressive levels of color printing to hawk the tome. Plus, nerds can geek out that so much effort was put into book marketing in territories where prices were listed in greenbacks ($2.25) and gold dust ($2).
"In Pursuit of a Vision: Two Centuries of Collecting"
U.S. history left a paper trail; the American Antiquarian Society and Grolier Club followed it to uncover our country's secrets.
This fall, the Grolier Club, a private society of bibliophiles, celebrates the 200th anniversary of a like-minded Massachusetts-based organization with the show "In Pursuit of a Vision: Two Centuries of Collecting at the American Antiquarian Society." Opening Wednesday 12, the exhibition includes centuries-old illustrated children's books, nefarious ledgers and racy newspapers, all documenting pivotal moments in our country's past. AAS curator Lauren Hewes waded through the approximately 180 artifacts that will be on display to tell us the most dynamic stories recorded on these old bits of paper.
See it now! "In Pursuit of a Vision: Two Centuries of Collecting at the American Antiquarian Society," The Grolier Club, 47 E 60th St between Madison and Park Aves (212-838-6690, grolierclub.org). Mon–Sat 10am–5pm; free. Wed 12–Nov 17.
You might also like
NYC's best bookstores
Q&A with Copper historian
101 Things to do this fall
See more in Things to Do