Heads up! We're working hard to be accurate – but these are unusual times, so please always check before heading out.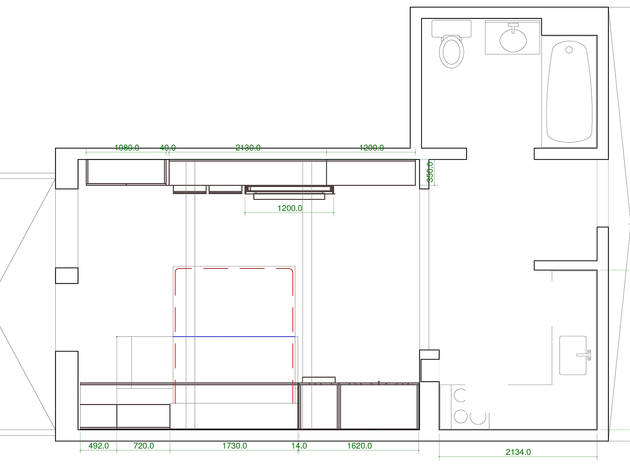 1/9
Photograph courtesy Museum of the City of New York
At 325 square feet, the micro-unit is not legal in most of New York City—there's a 400-square-foot minimum for living spaces, a zoning code that some tenants and landlords manage to circumvent. "If we could change those rules, you could have a safer, more legal housing stock," says Albrecht. Apartments that are better suited to the increasingly solo-dwelling NYC population would reduce the need for informal modifications, such as makeshift Sheetrock walls that create extra bedrooms. The model—furnished with transformable furniture and turf-maximizing architectural devices—shows how this space could be livable for one person or a very low-clutter couple.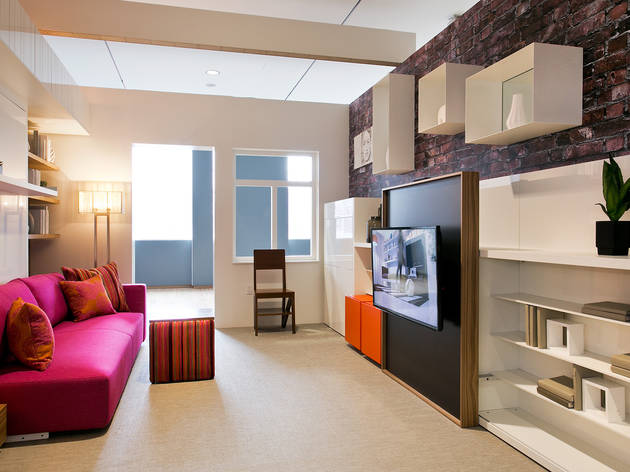 2/9
Photograph: John Halpern
The studio is separated into three areas: bathroom, kitchen and living room (which converts into sleeping and dining quarters). Clever tricks and techniques, such as varying the lighting and ceiling heights, are used to differentiate among household zones.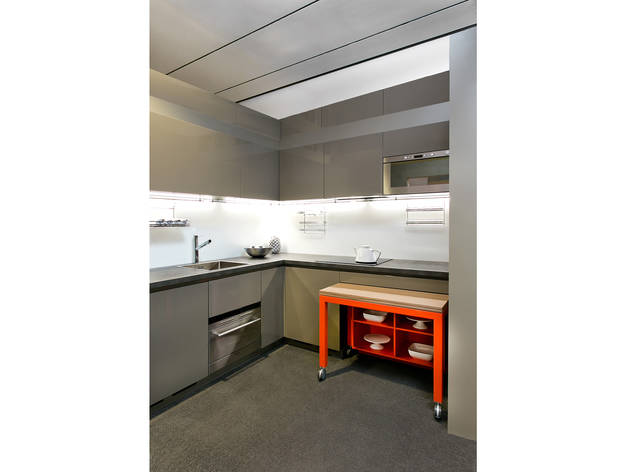 3/9
Photograph: John Halpern
The model kitchen's vaulting is slightly lower than that of the living room, and a wall protrudes between them to thoughtfully shield the bathroom from view.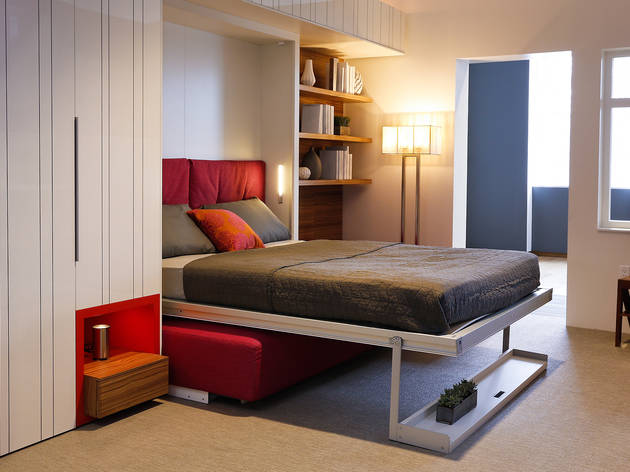 4/9
Photograph: John Halpern
Almost all the pad's furnishings, which are designed by Clei and distributed by Resource Furniture, is built-in and multifunctional. The queen-sized bed swings down from the wall over the sofa, and that same unit contains storage underneath the couch.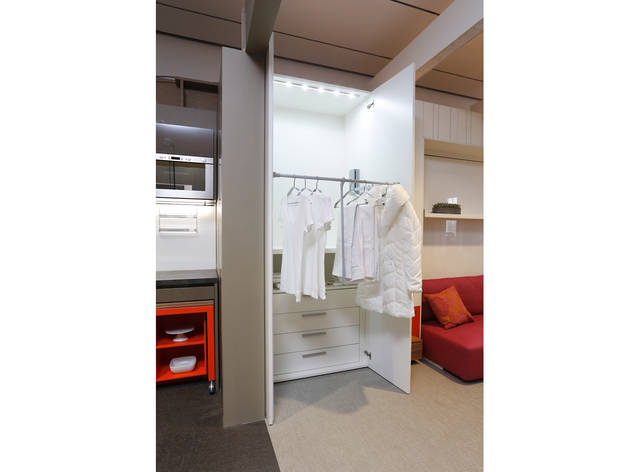 5/9
Photograph: John Halpern
A hidden closet maximizes space by keeping hanging clothes up high. When you need to reach it, a lever brings the rack down to your level.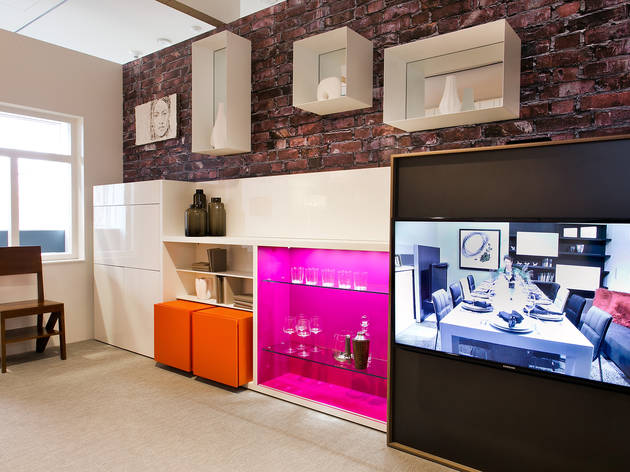 6/9
Photograph: John Halpern
Across from the adaptable sofa-bed–closet, a TV hangs from a wall covered in brick-patterned wallpaper; to its left, an ottoman–coffee table houses four stools.
7/9
Photograph: John Halpern
The dining room table, which slides under the kitchen counter when not in use, can seat up to four people, so even dinner parties are possible in this diminutive domicile.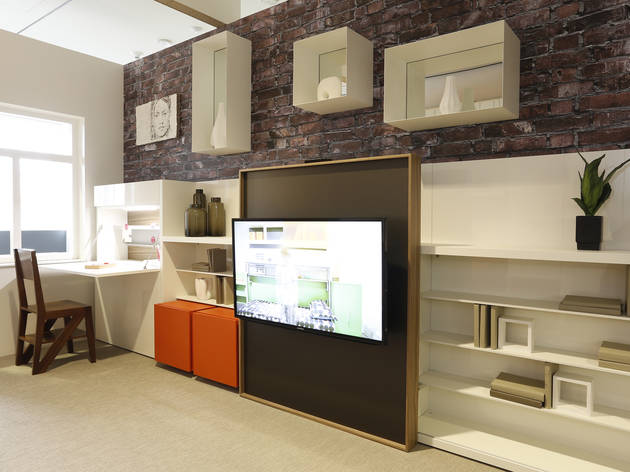 8/9
Photograph: John Halpern
A home office is hidden at the far end of the living space. To access it, you hinge down the sloped desk from the wall, like an old-school secretary; it reveals a writing surface that also has shelves and drawers. A doorway leads to a teeny terrace approximately 4' x 12', which provides both natural light and extra space.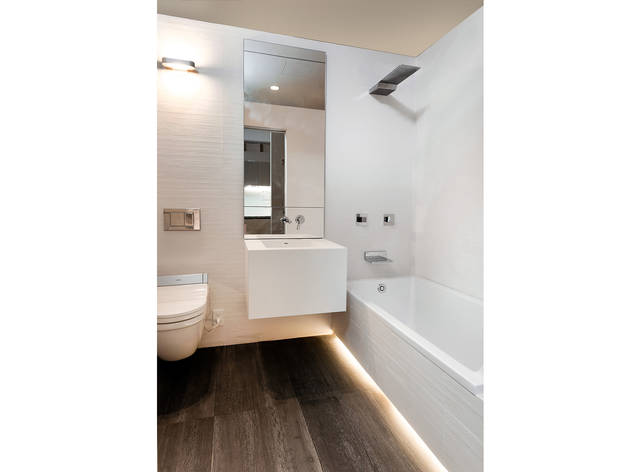 9/9
Photograph: John Halpern
Considering the stringent space limitations the architects had to contend with, it's surprising to see a full tub in this minimalist pied-à-terre; a shower stall would have been more modest in size. "We felt the unit itself is small, but let's not skimp on the bathroom," says Albrecht. The unit's L shape enables micro-unit residents to soak in a traditionally sized bath. "These little luxuries are good in such a small space."
"Making Room: New Models for Housing New Yorkers"
A new exhibit at the Museum of the City of New York explores the studio apartment of the future.
The Museum of the City of New York
—in conjunction with CHPC—has opened "Making Room," an exhibit presenting ways that housing might accommodate these changing demographics. The show displays models, videos and photographs, along with a full-scale, 325-square-foot micro-unit built right into the gallery, designed by Pierluigi Colombo (of Italian design firm Clei) and Amie Gross Architects. We spoke with co-curator Donald Albrecht, who organized the exhibition with Andrew W. Mellon post-doctoral curatorial fellow Andrea Renner, about the mini digs and how the city can maximize space for the exploding single population.
DON'T MISS THIS In July 2012, the Bloomberg administration launched adAPT, a competition to develop an entire building of modular micro-units for one- or two-person households. The winning design has been approved for construction on E 27th St; it is on display as part of the exhibit along with four other notable proposals.
"Making Room: New Models for Housing New Yorkers" is now on view at the Museum of the City of New York, 1220 Fifth Ave between 103rd and 104th Sts (212-534-1672, mcny.org). Daily 10am–6pm; suggested donation $10, seniors and students $6, children 12 and under free. Through Sept 15.