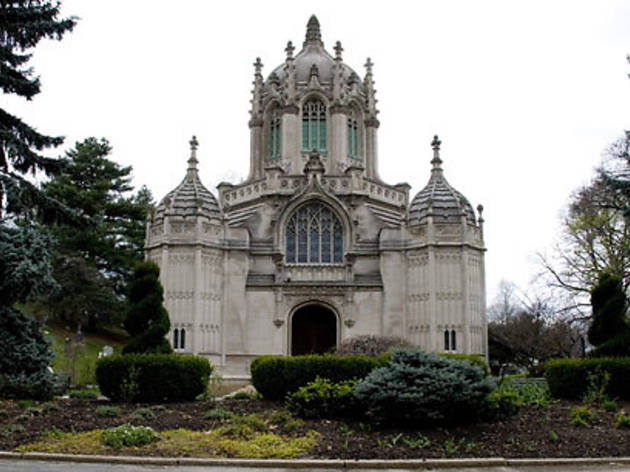 1/18
Photograph: Deniz Ozuygur
Greenwood Cemetery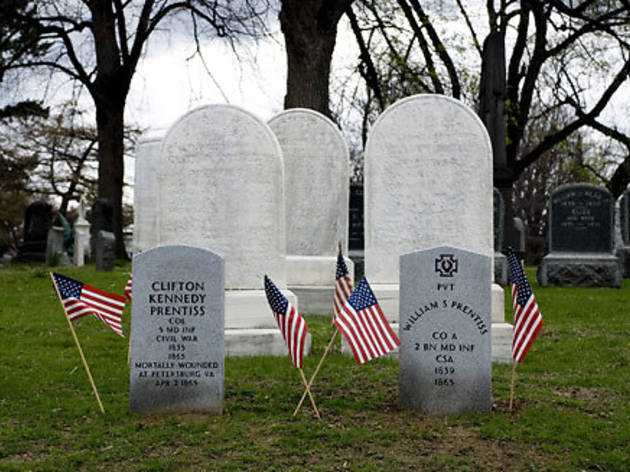 2/18
Photograph: Deniz Ozuygur
Greenwood Cemetery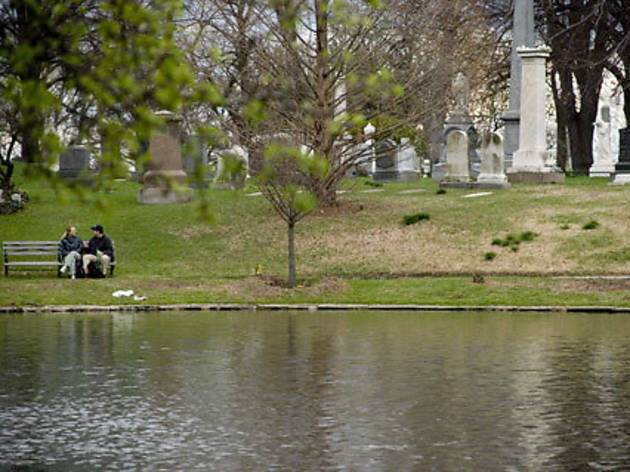 3/18
Photograph: Deniz Ozuygur
Greenwood Cemetery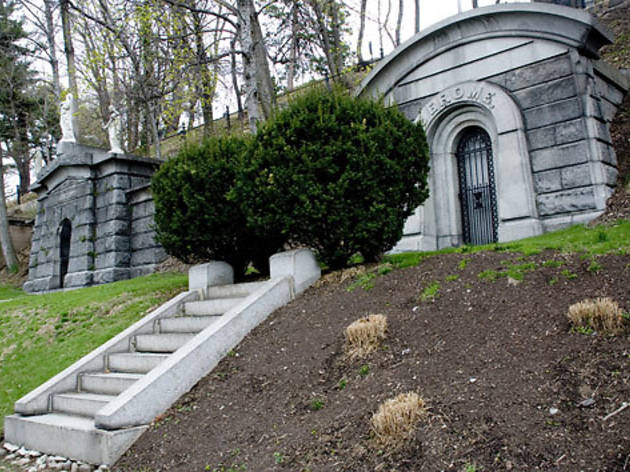 4/18
Photograph: Deniz Ozuygur
Greenwood Cemetery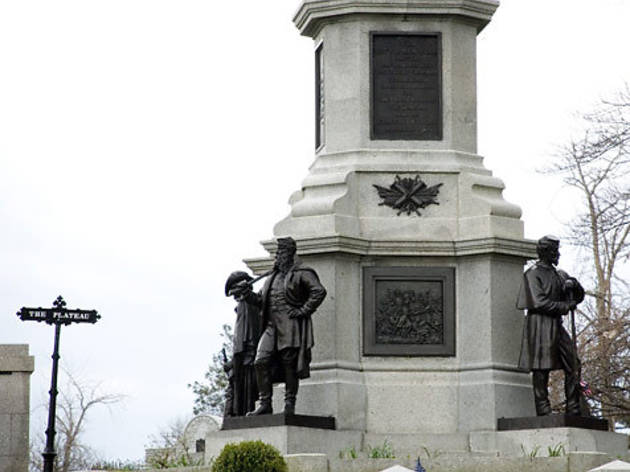 5/18
Photograph: Deniz Ozuygur
Greenwood Cemetery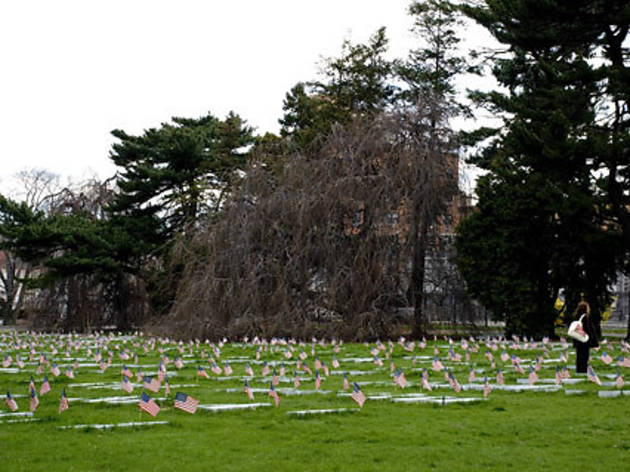 6/18
Photograph: Deniz Ozuygur
Greenwood Cemetery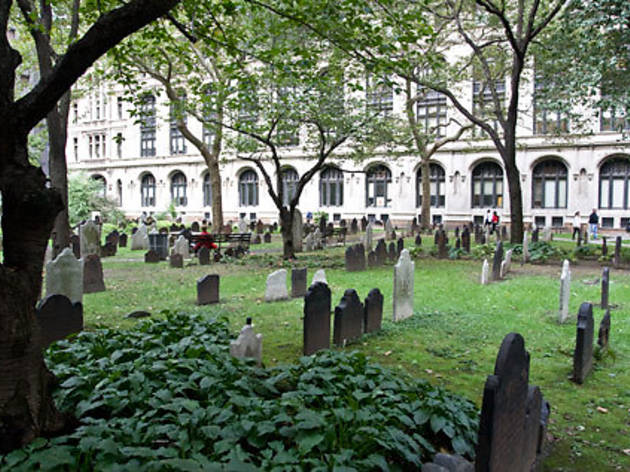 7/18
Photograph: Annabelle Nyst
Trinity Church Cemetery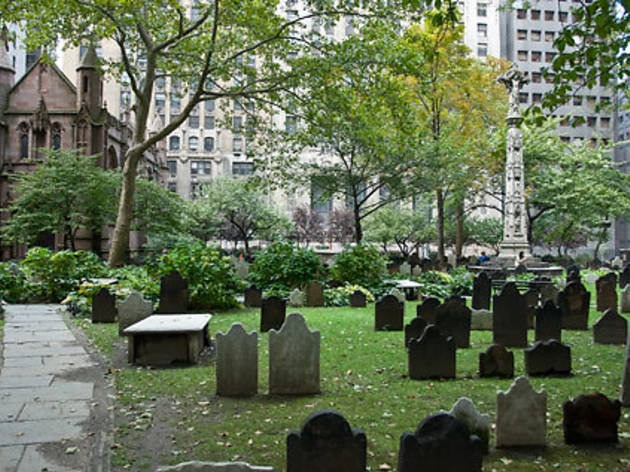 8/18
Photograph: Annabelle Nyst
Trinity Church Cemetery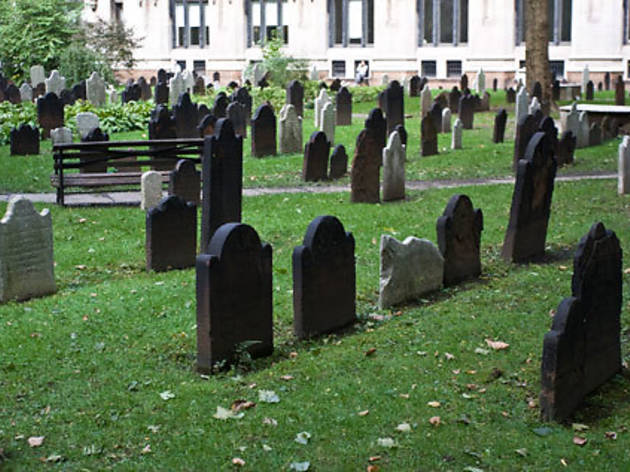 9/18
Photograph: Annabelle Nyst
Trinity Church Cemetery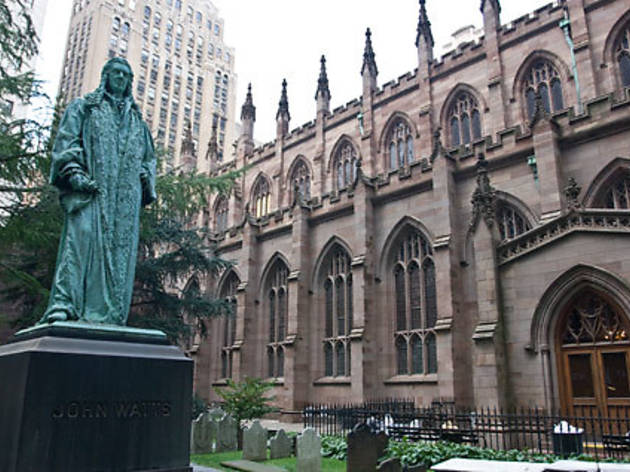 10/18
Photograph: Annabelle Nyst
Trinity Church Cemetery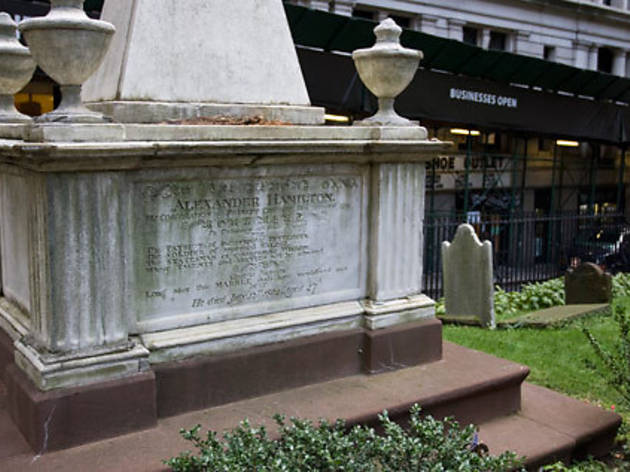 11/18
Photograph: Annabelle Nyst
Trinity Church Cemetery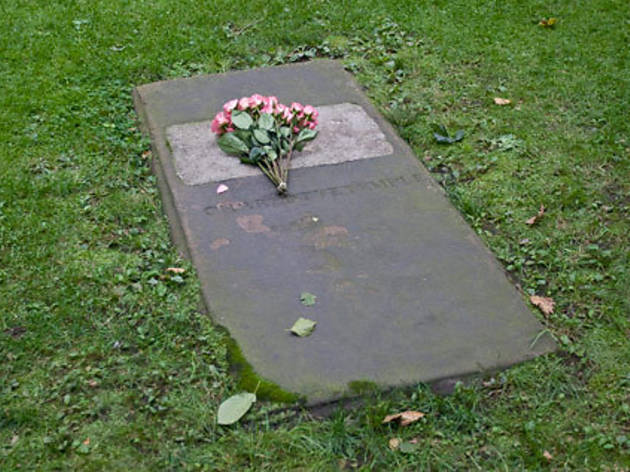 12/18
Photograph: Annabelle Nyst
Trinity Church Cemetery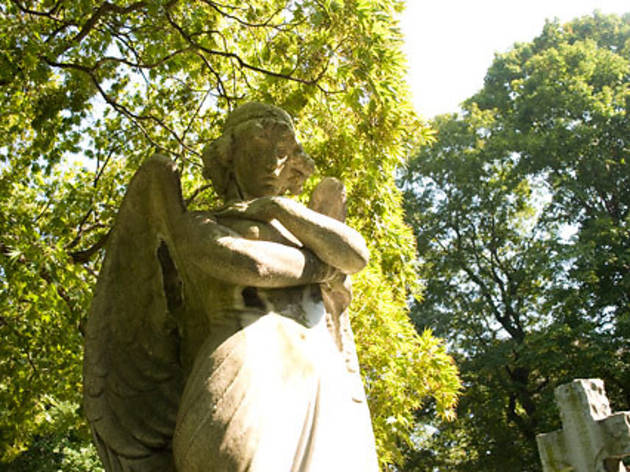 13/18
Photograph: Jolie Ruben
Woodlawn Cemetery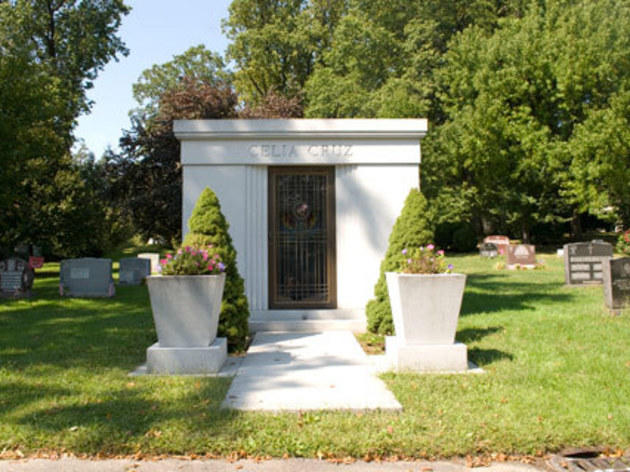 14/18
Photograph: Jolie Ruben
Woodlawn Cemetery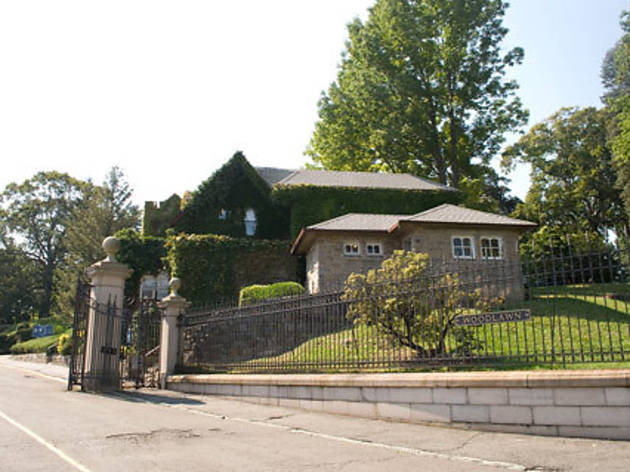 15/18
Photograph: Jolie Ruben
Woodlawn Cemetery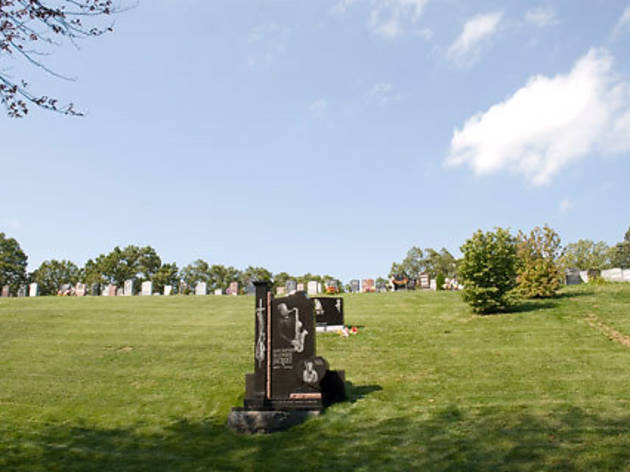 16/18
Photograph: Jolie Ruben
Woodlawn Cemetery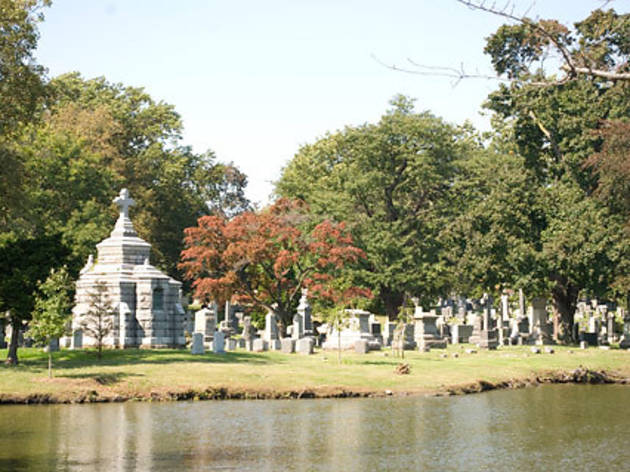 17/18
Photograph: Jolie Ruben
Woodlawn Cemetery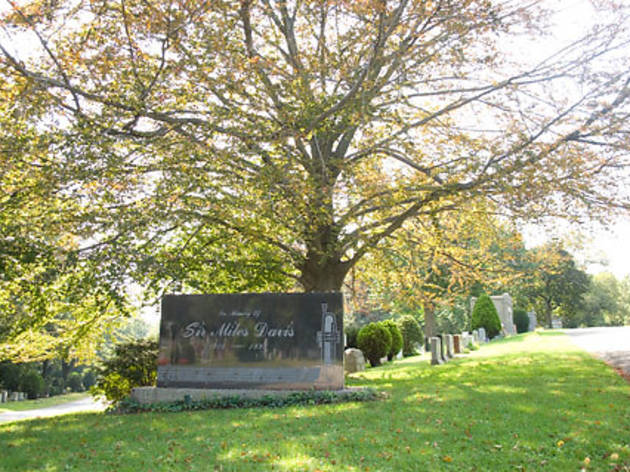 18/18
Photograph: Jolie Ruben
Woodlawn Cemetery
NYC cemeteries
The city's graveyards are more than just burial grounds—they also offer a glimpse into the history of New York City (albeit a spooky one). Check out some of our favorites.
IF YOU...LOVE THE OUTDOORS
Green-Wood Cemetery
This 172-year-old graveyard counts rolling hills, lush lawns and shimmering ponds among its topography. (Stunning views of the Manhattan skyline are a bonus.) Green-Wood is the final resting place for close to 600,000 folks, both famous (composer Leonard Bernstein) and notorious (19th-century gang leader William "Bill the Butcher" Poole). This Halloween, up the spooky factor as historian Jeff Richman pays tribute to that latter group of ghouls when he leads a tour chock-full of stories of murder and mystery
(Oct 30, 31 at 1pm; $10–$20). Green-Wood Cemetery, 500 25th St at Fifth Ave, Sunset Park, Brooklyn (718-768-7300; green-wood.com). Hours vary; visit green-wood.com for details.
RECOMMENDED: All Halloween, NYC coverageIF YOU...WANT TO TRAVEL BACK IN TIME
New York City Marble Cemetery
Death may be eternal, but who says those in the hereafter can't get a change of scenery? In 1831, President James Monroe—no stranger to inaugurations—became the cemetery's first resident, with 100,000 onlookers lining Broadway and Bleecker Street to watch his funeral procession pass through the iron gates. But 27 years later, the former President's remains were moved to Richmond, Virginia, where they still rest today. There have been more than 5,000 interments here, but 1,000 have been temporary; today, it is home to more than 250 Tuckahoe marble burial vaults. Though this burial ground, which first opened in 1831, is typically closed to the public, you can get an up-close-and-personal look at the grounds on Sunday 24 during "From Parlor to Grave," a reenactment of hardware merchant Seabury Tredwell's 1865 funeral. The event begins in the appropriately mournful rooms of the Merchant's House Museum
(29 E 4th St between Lafayette St and Bowery; 212-777-1089, merchantshouse.com; Sat 24 3–5pm; $20, Merchant's House Museum members $10)
—the private home Tredwell's family occupied for almost 100 years—and ends with a tour of this celebrated city of the dead.
New York City Marble Cemetery, 52–74 E 2nd St between First and Second Aves (212-228-6401, nycmc.org). Open during special events only; visit website for details.
IF YOU...READ HISTORY BOOKS FOR FUN
Trinity Churchyard
Of the three burial grounds associated with Trinity Church, this is the oldest, dating back more than 300 years. Alexander Hamilton is the big man on this campus: A white marble monument marks the final resting place of the legendary failed duelist. (His son, who passed away three years before his dad, is also buried here. Cause of death? Wounds received during a duel!) On October 29, learn about the Churchyard's history and its populace, raise a glass at the Haunted Hamilton Happy Hour and end the night with a screening of the classic
The Cabinet of Dr. Caligari,
with musical accompaniment by organist Robert Ridgell (Fri 29 4
–
9pm; free).
Trinity Churchyard, Broadway at Wall St (212-602-0800, trinitywallstreet.org). Mon–Fri 7am–4pm, Sat 8am–3pm, Sun 7am–3pm.
IF YOU...LIKE CREEPY STORIES
The Woodlawn Cemetery
One of the city's major cultural institutions, this cemetery is occupied by more than 300,000 people from all walks of life, including men of letters Joseph Pulitzer and Herman Melville, and musicians Duke Ellington and Miles Davis. But some of the cemetery's citizens have more gruesome backgrounds: Murderer Ruth Snyder was the first woman to be executed in the electric chair (her tale was the inspiration for the novel-turned-movie
Double Indemnity
), while controversial starlet (and Ziegfeld girl) Olive Pickford died by accidentally ingesting mercury. Hear these stories and more during Woodlawn's highly anticipated trio of twilight Halloween tours
(Oct 29–31 at 6pm; $5–$10)
. Be sure to bring a flashlight.
The Woodlawn Cemetery, enter at Bainbridge Ave and Jerome Ave, Bronx (718-920-1470, thewoodlawncemetery.org). Daily 8:30am–5pm.
IF YOU...WANT TO CONTEMPLATE NATURE—ALONE
The Evergreens Cemetery
Who says a graveyard can't be a great place to relax? Isaac Asimov sure thought so. As a boy, he would hunker down on one of Evergreens' many benches in order to enjoy his sci-fi novels in relative quiet; in fact, he once referred to the cemetery as "a park without the disadvantages of being full of people." (The cemetery's 526,000 residents might disagree.) Birdwatchers known it as a place to spot some serious feathered friends, including red-tailed hawks, northern flickers, rock doves and gray catbirds. But Jonathan Reed, a 19th-century merchant, found such solace here that he made Evergreens his home even before his passing. After the death of his wife, Mary, in 1893, Reed built a second home in a Whispering Grove vault, complete with furniture, wall hangings, a wood stove for heat and the family's pet parrot (originally alive, eventually stuffed). Reed remained here until his own death in 1905, when the vault—known as Reed's Tomb—was locked for the final time after the ultra-devoted husband was laid to rest alongside his wife.
The Evergreens Cemetery, 1629 Bushwick Ave at Conway St, Ridgewood, Brooklyn (718-455-5300, theevergreenscemetery.com). Sat, Sun 8am–4:30pm.
Best selling Time Out Offers