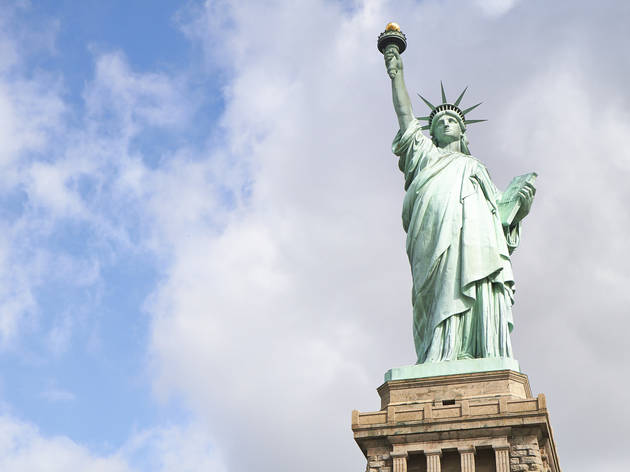 Perhaps the most iconic and beloved symbols of the American dream, the Statue of Liberty has stood proud with her torch in New York's Harbor since 1886. Given to the United States as a gift from France, the 305ft. tall Mother of Exiles welcomed over 10 million immigrants who sailed past Liberty Island for Ellis Island during the turn of the 20th century. Book a trip on the ferry ($18, senior $14, children 4-12, $9) for an upclose look at the construction of Frédéric Auguste Bartholdi's artistic achievement and to read the bronze plaque inscribed with Emma Lazarus's famous poem "A New Colossus," which includes the famous line "Give me your tired, your poor, your huddled masses yearning to breath free." Reserve well in advance–three weeks or more–to see New York's skyline from Lady Liberty's perspective with access to the statue's crown (an extra $3 each), and go earlier in the day if you want to also take the ferry to the Ellis Island Immigration Museum. There you'll walk through the storied halls where over 40% of all Americans can trace an ancestor's entrance to this country. Visitors older than 13 years should sign-up for the historic site's new Hard Hat Tour, where you'll see the 750-bed hospital–the former largest public health facility in the USA–that contained infectious and contagious immigrants, and you'll feel like you're a part of the history.
Venue name:
The Statue of Liberty
Contact:
Address:
Liberty Island
New York
10004

Opening hours:
Ferry runs daily 8:30am–4:15pm
Price:
Ferry tickets $18, seniors $14, children 4-12 $9, children under 4 free. Purchase tickets by phone at 877-LADY-TIX or online at statuecruises.com. Crown access additional $3
Do you own this business?
Average User Rating
4.8 / 5
Rating Breakdown
5 star:

5

4 star:

1

3 star:

0

2 star:

0

1 star:

0
The trip across the harbor is fun and you can envision what is was like to see this after crossing the Atlantic. There is a museum in the base of the statue that will provide you will all facts and answers you want to know. I was able to walk up, but not too far into statue. The views of Manhattan are spectacular and the island and its history are a great reminder of how that city got started.
Good ol' statue of liberty. The statue that everyone wants get close to and see on like, every boat ride. lol. She looks quite majestic from afar, but I would urge you to make the trip to Ellis Island and see this beauty up close and personal. To be honest, I've lived in New York for 25 years, and only made the trek over when I was 23. Sad, I know. I guess I considered it too touristy and out of the way so I avoided it for a while. Don't avoid it! There's shops and food and lots of areas to explore on the island to keep you entertained. If you have the funds, I would implore you to go inside the statue. If possible, all the way to the top. Don't get me wrong, getting to the base is cool and all, but it's much cooler to know that you made the (very) long and tiring climb all the way to the top. Plus only a few people can be in there at a time so it's a very personal experience. I happened to climb up at a time when people went down so I had the crown all to myself! hehehehe. Looking out at that height is something else. Plus I can say I've been in the statue of liberty's crown! It's awesome. On my way leaving the island, I got some peeps to take a cool shot sitting at the base of the statue with the statue in the background which was pretty dope. All in all, make it over to this iconic New York place!
Liberty Enlightening the World (to give the monument it's full and proper name) is a must-see New York landmark that has been the symbol of America to the rest of world since 1886. The story behind the statue's conception, manufacture in Paris, delivery from France, and construction on the former Bedloe's Island is an amazing tale of Frederic Bartholdi's unshakeable vision and determination, assisted by the not-inconsiderable efforts of a couple of guys named Eiffel and Pulitzer. When I was a kid I climbed the spiral staircase up to the crown, still the only way to get to the top. Sailing out of New York Harbor on a cruise ship, I've witnessed a detectable list to starboard when we pass "Lady Liberty," as everyone on deck rushes to the rails to get a picture. Liberty Trivia: there's a miniature copy of the statue on a Paris bridge, and on top of the former Liberty Warehouse on W. 64, east of B'way.
I came to visit the Statue of Liberty back in 2008 when visitors still weren't allowed to go up to the top (because of 9/11). I was with my dad and brother, and we mostly visited because we felt like we should. Interestingly, the trip out to the statue and Ellis Island got my dad talking about his experience immigrating to the US which made me appreciate this attraction so much more. It's not just a tourist trap, it's a symbol that means a lot to people that restarted their lives in America.