Heads up! We're working hard to be accurate – but these are unusual times, so please always check before heading out.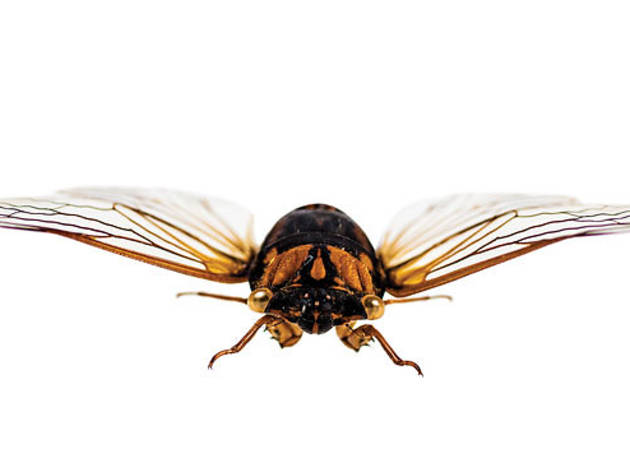 "They're Baaack!"
Staten Island Museum pays homage to the unyielding 17-year cicada.
Magicicada Septendecim, also known as 17-year cicadas, are a bit like head colds: occasional but unavoidable nuisances whose presence must be endured (a high threshold for ickiness also helps). After gestating in underground tunnels for nearly two decades, a readied swarm of the clamorous species takes flight to mate and drain life from fragile tree twigs by feeding and laying eggs en masse. The result is that familiar, escalating summer buzz generated by millions of male Magicicadas vibrating their abdominal membranes (we know, gross) to woo female partners.
Although smaller hordes do pass through annually, the flying black-and-orange tenors are set to unleash their white noise above our parks for real around May this year. Until then, we can all enhance our preparedness by touring the Staten Island Museum's upcoming exhibit, "They're Baaack! Return of the 17-Year Cicadas," opening Sat 16, which showcases various real specimens, interactive displays and even cicada-inspired art. As a primer, here are three facts you may not have known about the beady-eyed bugs.
Don't call them locusts
The sheer number of simultaneously arriving Magicicadas, combined with their aggressive mating song, may lead to some confusion with their noisy, swarming locust cousins. The primary distinction is that, while irritating and icky, cicadas cause relatively little harm—and they certainly don't constitute crop-destroying Biblical plagues. Besides, locusts belong to the insect order Orthoptera, while cicadas are Hemiptera. A-duh.
There's safety in numbers
Cicada populations are absurdly large; each 17-year cycle can produce up to 1.5 million of them fluttering about per acre. These overwhelming counts—along with the critters' sporadic rate of appearance—mean individuals are more likely to survive threats from other species, a trait known as "predator satiation." If the insect kingdom is a battlefield, Magicicadas have a Mongol-resistant defensive tenacity.
Magicicada as muse
For centuries, both Chinese and Greek philosophers have heralded cicadas as a symbol of strength, longevity and rebirth. Jade replicas were placed inside dead men's mouths during the Shang Dynasty, and in Athens, golden cicadas were incorporated into hairdos and depicted atop the goddess Athena's spear. Some Ancient Greeks and Chinese enjoyed the insects' "singing" so much that they kept the males in cages. We can think of worse things to listen to (like another rendition of "Gangnam Style").
"They're Baaack! Return of the 17-Year Cicadas" is on view from Sat 16 at Staten Island Museum, 75 Stuyvesant Pl at Wall St, Staten Island (718-727-1135, statenislandmuseum.org). Mon–Fri 11am–5pm, Sat 10am–5pm, Sun noon–5pm; $5, seniors and students $3, members and children under 13 free. Opening reception: Fri 15 6–9pm; $25, members $15, R.S.V.P. required.