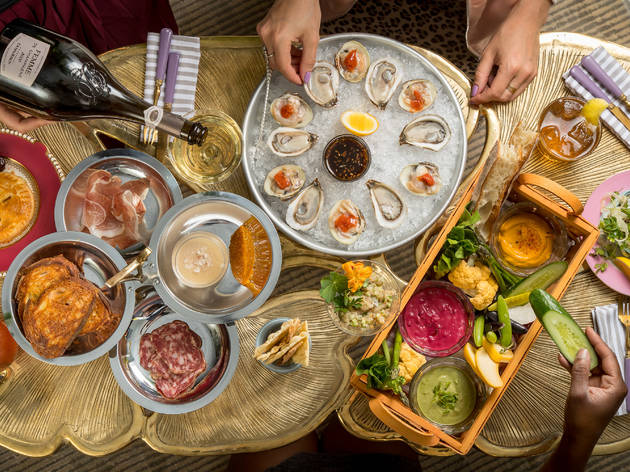 1/4
Photograph: Gary He
Air's Champagne Parlor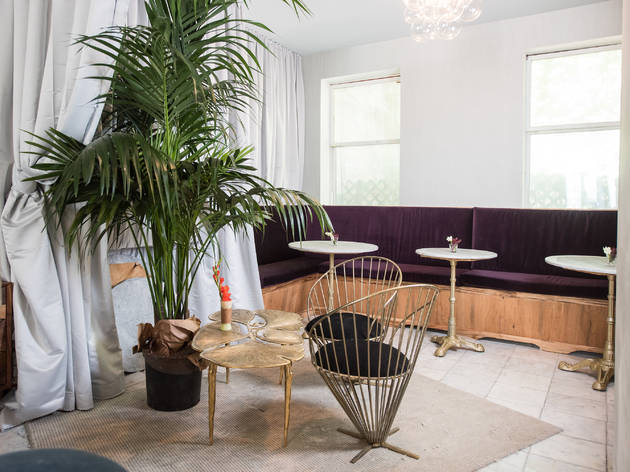 2/4
Photograph: Teddy Wolff
Air's Champagne Parlor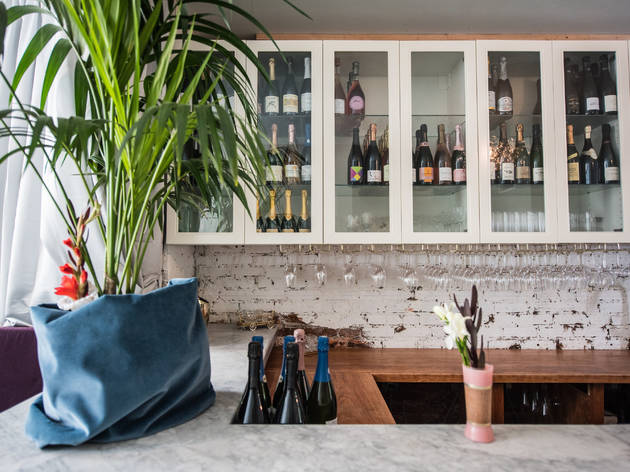 3/4
Photograph: Teddy Wolff
Air's Champagne Parlor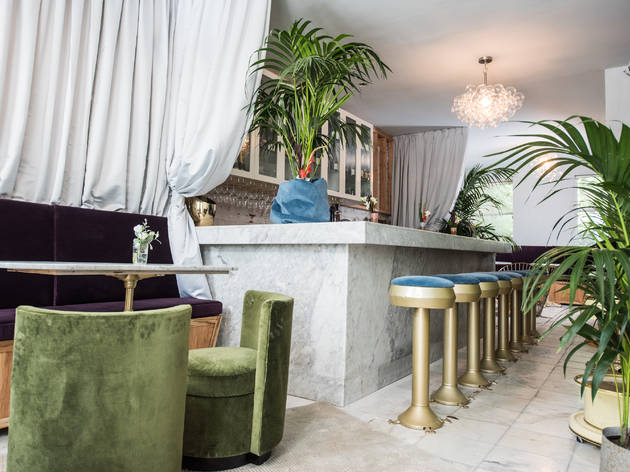 4/4
Photograph: Teddy Wolff
Air's Champagne Parlor
Time Out says
Champagne has a certain reputation: posh, decadent and pricey. Ariel Arce (Riddling Widow, Birds & Bubbles), the founder of Air's Champagne Parlor, is trying to bring the fancy fizz down to earth. Although a glass can still run as high as $21, her new bar also serves sub-$50 bottles in a space reminiscent of a Gatsby-style cabana, complete with a marble-slab bar, brass-accented stools, gilded geometric mirrors and potted palm fronds. We already have a lot of single-focus bars across the city—beer, gin, sake, whiskey, wine, tequila—and at Air the bubbles are doing most of the heavy lifting on novelty.
ORDER THIS: Although wine lists are usually intimidating (a lot of French words), Air's glasses of champagne are named after their major flavor notes—a friendly approach, but one that can cause disappointment if you're taking flavors like Green Apple or Nectarine too literally. The Smoked Strawberries (Paul Clouet Rose NV; $18) does have a nice berry taste, but the smokiness is obscured by sharper, drier notes, while the Toasted Almond (Bereche Brut Reserve; $20) leaves the tongue with a buttery-nutty aftertaste. The Plums (Champagne Grongnet Special Club 2009; $21) is mild and smooth, but if plums were present, we didn't taste them. The WWBMD (What Would Bill Murray Do; $15) is a cheekily named tart cocktail—inspired by the actor's interview comments on preventing hangovers—made with rotating champagne on ice and lemon oil.
GOOD FOR: A girl's night out. The space is small and narrow, but still has that fancy flair that feels elevated. If you want to make a night of it, head south to run into drunken strangers on MacDougal, while if you want to keep it relaxed, walk north to Washington Square Park to park it on a bench or right on the grass.
THE CLINCHER: If you're a fizzy fledgling, the menu takes away the mystery and confusion of bubbly. An intro on the first page begins with "things to get out of the way" and delineates the basics about champagne. The rest is filled with maps, illustrations and bullet points highlighting major facts about the effervescent wine. Arce has made champagne more accessible, but not necessarily more exciting.
Details
Address:
127 MacDougal St
New York
10012

Cross street:
between W 3rd and W 4th Sts
Price:
Average main course: $16
Contact:
Opening hours:
Tue, Wed, Sun 5pm–midnight; Thu–Sat 5pm–1am
Do you own this business?
Average User Rating
2.3 / 5
Rating Breakdown
5 star:

0

4 star:

1

3 star:

0

2 star:

1

1 star:

1
So after reading the breathless positive coverage of Air's in fashion and food blogs, I decided to check it out myself. I wonder if any of the people who wrote those articles have actually been there, as my experience was quite bad.
Food was fine, nothing special but overpriced. Champagne list was interesting but again seemed overpriced for the tiny pour you get ( I actually thought the glass they served me was a taste as it was so small ). The atmosphere is where it really went off the rails - the interior design is a bizarre mix of cheap furniture and weird bright purple lighting.
What really left us with a bad taste were the management and staff who came across as arrogant, inexperienced, immature and almost hostile - basically the exact opposite of how you want to be treated at a bar lol. From how they treated us, and overhearing their conversation amongst themselves, they apparently think very, very highly of themselves, and very lowly of all us poor peasants who patronize them. Which is particularly ironic considering that they are apparently not good at what they do.
When we arrived there were a grand total of 4 people there, they proceeded to seat us at the worst table in the place - which is literally in the front doorway. When we asked if we could be seated anywhere else, the hostess (who I believe is the owner), gave us a condescending smirk and said the rest were "reserved". No one else arrived the entire time we were there, and all of those tables sat empty, until we left. From there it was a comedy of errors - received completely different champagne than we ordered, ordered oysters that never came, our server seemed to be in a argument with the owner most of the time.
Soooo many better places in the neighborhood, don't waste your time.
Overall: great concept, poor execution - really wanted to like this place but alas.
The good:
Food: good, but somewhat overpriced for area / atmosphere.
Location: cool old brownstone with high ceilings on Macdougal just north of 3rd.
Music: selection was great but unfortunately sounded like it was being played from a "Beats Pill" hidden somewhere under the bar
And the bad:

Decor: odd and cheaply done, I think it's supposed to be 1920's, but comes across more as a 1970's themed college dorm done half with Ikea and half with whatever was left from the bar before. Perhaps they had a very limited budget - and so be it, but the result is just weird.
Bar: while I was waiting for rest of my group to arrive, was sitting at bar and you're staring at a lot of random clutter behind the bar, and these white and glass Ikea cabinets on the wall with purple miami beach under-lighting, but there is no lighting where the champagne is stored (not displayed, literally stored). It was uncomfortable and felt like I was staring into someone's cluttered, poorly lit kitchen. And the purple lighting is of the hue that it looks like a black light (the one that makes white glow). I assume the owner is probably small as the space between the bar stools is also way too small for an average size person.
Vibe: weirdly quiet and not full for a Saturday eve, lights are bright and glaring yet there are also really dark spots. Random mix of NYU sorority-ish students and older tourists.

And the ugly:
Service: completely spaced out - zero personality, got drinks and food wrong, then completely disappeared for half hour. Couldn't order another round of drinks and finally had to get up to find her to get our check. Ironically when we were asking her about the champagne - she said "I don't know I'm not really into champagne" lol lol ! Also bizarrely as we were leaving the hostess weirdly just laughed when we politely said "thank you".
To sum it up - good concept but serious vibe issues, and I haven't experienced a staff so apparently clueless to the concept of hospitality perhaps ever. Can't see this being around much longer if they don't get it together.