Best beers and new beers to drink from a can this summer
Stock your cooler with five of the best beers in cans this summer, as well as returning favorites like Sixpoint's Apollo.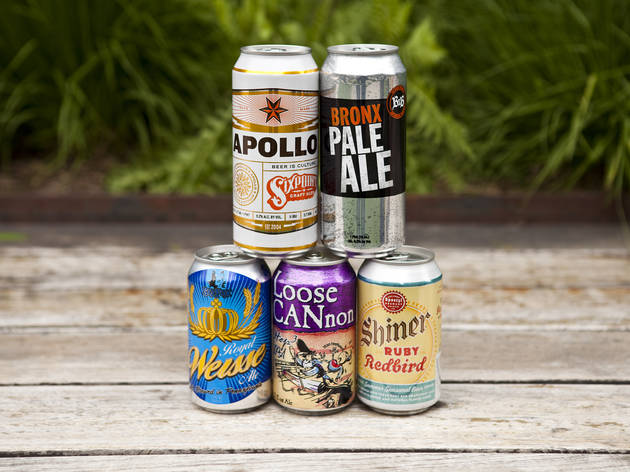 1/6
Photograph: Jessica Lin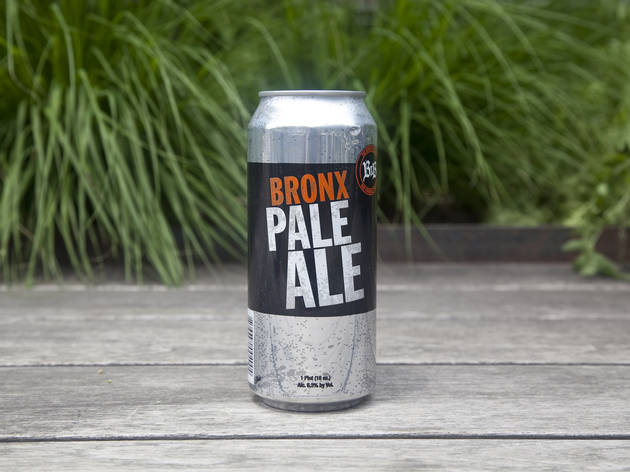 2/6
Photographer: Melissa Sinclair
Bronx Brewery Pale Ale
Found on tap only since its 2011 debut, this local favorite is now available in pounders (16-ounce cans). A strong backbone of caramel malt gives way to a bitter kick and fades into a dry finish. While the 6.3 percent ABV brew has more heft than your average summer beer, it's so well-balanced and easy to drink, you'll want to fill the whole cooler with these suckers on a hot summer day (and keep returning to it until sunset). Available at Astoria Bier & Cheese, 34-14 Broadway between 34th and 35th Sts, Astoria, Queens (718-545-5588, milkandhops.com). One 16oz can $2.99.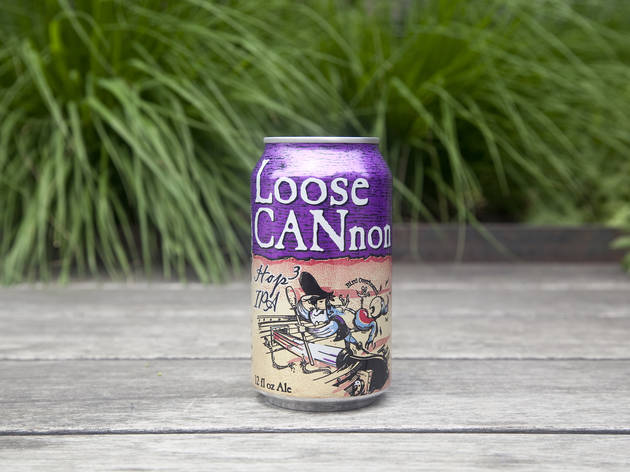 3/6
Photographer: Melissa Sinclair
Heavy Seas Loose Cannon
Baltimore's favorite (also: only) pirate-themed brewery hops on the can-wagon this summer with its flagship triple-hopped IPA. Naturally, this is one for the hops-heads, but it's less bitter than the style would suggest, with plenty of pine and citrus notes and just a touch of malty sweetness breaking through. At 7.24 percent ABV, it'll hold its own against big, meaty barbecue dishes and spicy wings. Available at First Place Provisions, 414 Court St between 1st and 2nd Pls, Carroll Gardens, Brooklyn (347-294-4710). Six 12oz cans $12.95.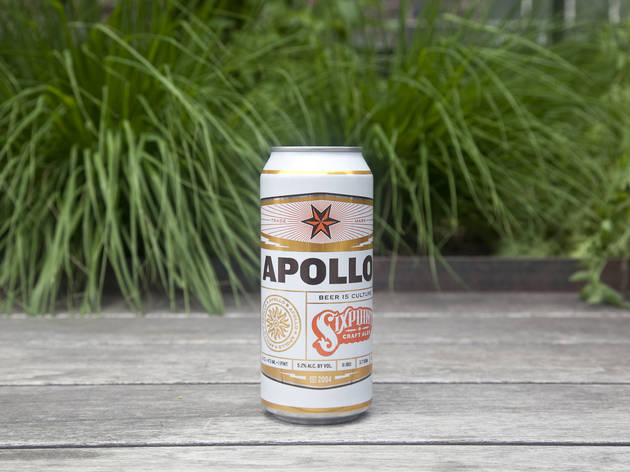 4/6
Photographer: Melissa Sinclair
Sixpoint Apollo
Tart citrus and fragrant clove dominate Sixpoint's refreshing Bavarian-style wheat beer, available only from April to September. Those who appreciate a slice of lemon in their beer on a hot day will find these cans almost dangerously easy to knock back. But sit in the sun and sip this one for a while—Apollo is a beautifully balanced brew, rounded out with toasty vanilla and banana undertones. It's worth taking your time to enjoy. Available at Foragers City Grocer, 56 Adams St between Front and Water Sts, Dumbo, Brooklyn (718-801-8400, foragerscitygrocer.com). Four 16oz cans $12.99.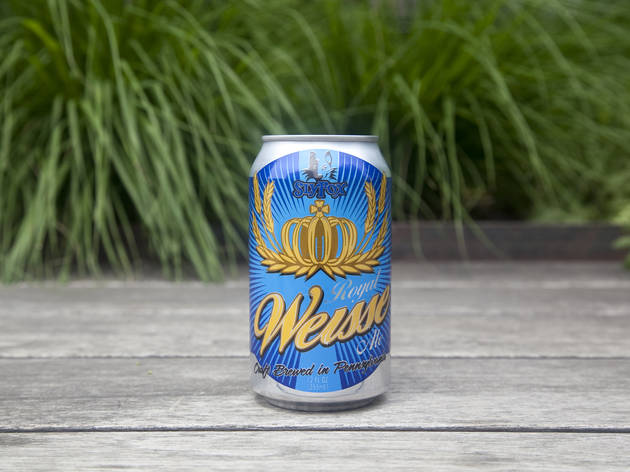 5/6
Photographer: Melissa Sinclair
Sly Fox Royal Weisse Ale
This warm-weather seasonal is a little lighter on the palate than your average German Hefeweizen—but the Deutschland sun doesn't beat down as heavily as ours, either, so this can is spot-on for a sticky July day in New York. The distinctive fruity flavors, creamy mouthfeel and light hoppiness of a traditional wheat beer are palpable but reined in enough for this 5.4 percent ABV beer to stay highly sessionable. Available at Stinky Bklyn, 215 Smith St between Baltic and Butler Sts, Boerum Hill, Brooklyn (718-596-2873, stinkybklyn.com). One 12oz can $2.50.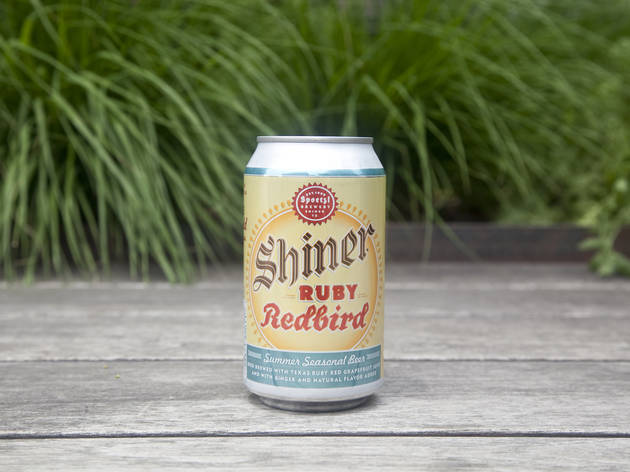 6/6
Photographer: Melissa Sinclair
Shiner Ruby Redbird
Texas's Spoetzl Brewery has been producing suds since 1909 (it's famous for the Shiner brand) and is one of the largest craft beer makers in the country. But its brews only began showing up in NYC this year, much to the relief of homesick Lone Star State expats. Celebrate Shiner's arrival with a can of its distinctive summer lager, infused with Texas red grapefruit juice and ginger. Like a boozy ginger ale, it's incredibly refreshing, not too sweet and—dare we say it?—a great gateway for those who think they don't like beer. Available at First Place Provisions, 414 Court St between 1st and 2nd Pls, Carroll Gardens, Brooklyn (347-294-4710). Six 12oz cans $12.50.
Bust out your beer coozies, because the best beers this summer are in cans. Try brews like the new-to-New-York Shiner Ruby Redbird, or kick back with a can of Sixpoint's Apollo, a summer seasonal that's available once again.
RECOMMENDED: Best summer drinks in NYC
Sponsored listing
White Oak Oyster Bar & Lounge
White Oak Oyster Bar in Hell's Kitchen is known for its raw bar. The selection of oysters from both coasts changes seasonally, and the bar's all day happy hour menu always includes $1 Bluepoint oysters. That's not the only thing on the menu, though. The Maryland crab cakes, buttermilk-battered Asian rock shrimp or house "dirty chips" topped with pulled pork, barbecue sauce and cheddar cheese would be perfect for sharing with friends. Want to keep you meal all to yourself? Order the classic burger with cheddar and candied bacon or the flatbread topped with speck, arugula, fig preserves, ricotta and honey. Of course, you'll need a few drinks to wash all of that down. In addition to a selection of wines and craft beers, White Oak also offers a few signature cocktails, like the Blackberries and Smoke, with pisco, single malt whiskey and pomegranate juice, and the Summer in the Winter, with mezcal, basil, cucumber juice and fresh lemon.
Venue says: "Prix Fixe Lunch, $33 p/p - 1 appetizer, 1 entree, 1 desert from our prix fixe menu, and a glass of wine, prosecco, Bloody Mary or Mimosa."