Heads up! We're working hard to be accurate – but these are unusual times, so please always check before heading out.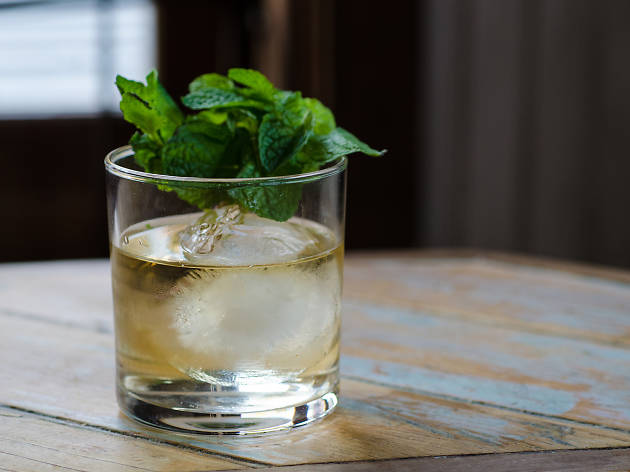 The 10 best cocktails you can make with Irish whiskey
Forget car bombs—these are the 10 best cocktails to concoct with spicy-and-smooth Irish whiskey
Truth be told, Irish whiskey often gets a bad rap in the states. Save a few popular Irish pubs, it's rare to see Jameson, Bushmills, Powers or even Redbreast listed anywhere on the pages of an upscale cocktail bar. But the time-honored liquor's reputation is wholly undeserved—Irish whiskey, with its spicy, citrusy flavor profiles, remarkably smooth body and neat, clean finish, is an excellent libation whether taken straight, on the rocks, in an Irish coffee or as a base in one of these stellar cocktail recipes.
RECOMMENDED: Find more cocktails in NYC
10 cocktails to make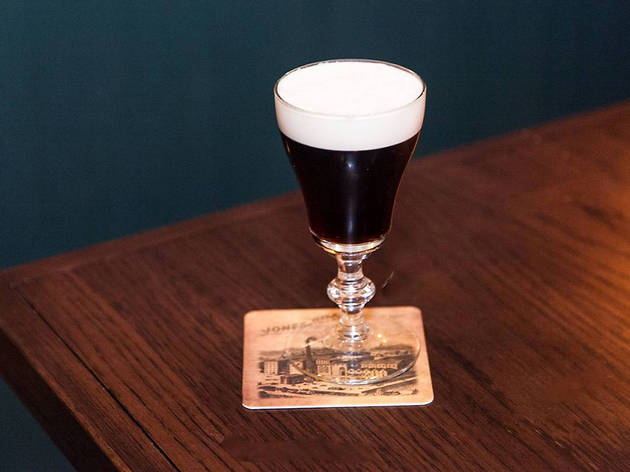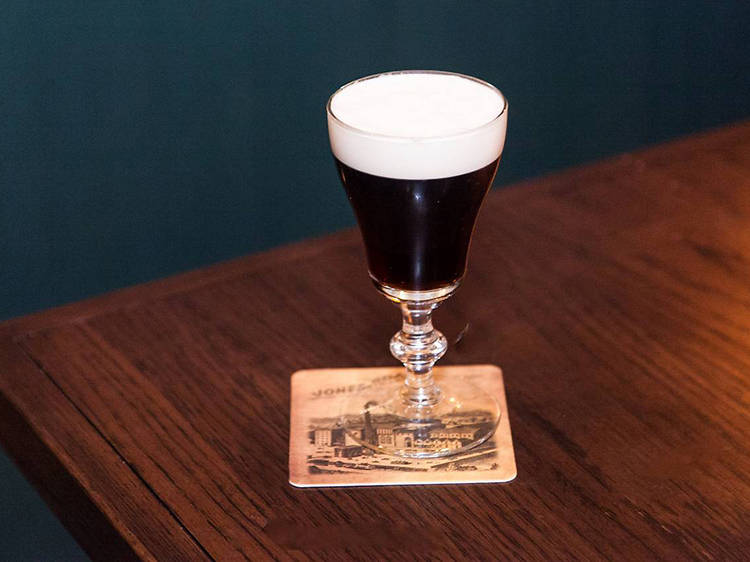 Photograph: Andrew Kist
When it comes to quality Irish-inspired cocktails, look no further than an Irish coffee. Bartender Dale DeGroff created this recipe for Dead Rabbit, perfecting the sensational winter warmer and selecting the relatively obscure Clontarf 1014 Irish whiskey to serve as the drink's base. Clontarf, a mild blended whiskey with a honey-sweet nose and flavors of oak and toasted almond, plays nicely with the coffee, warmed to a consistent 78 degrees Celsius to perfectly showcase the cocktail's subtle layers. The real kicker here is the finish—a heavenly lid of hand-whipped cream that puts the mere thought of store-bought canisters to utter shame.
Ingredients:
1½ oz blended Irish whiskey, preferably Clontarf 1014
4 oz coffee, preferably Caro De Minas Birch Coffee
½ oz demerara syrup
Heavy cream
Directions:
Brew the coffee and pour it hot into an eight-ounce stemmed glass. Gently stir in the whiskey and demerara syrup. Hand whip the heavy cream so it pours smoothly, then carefully float a dollop on top of the coffee.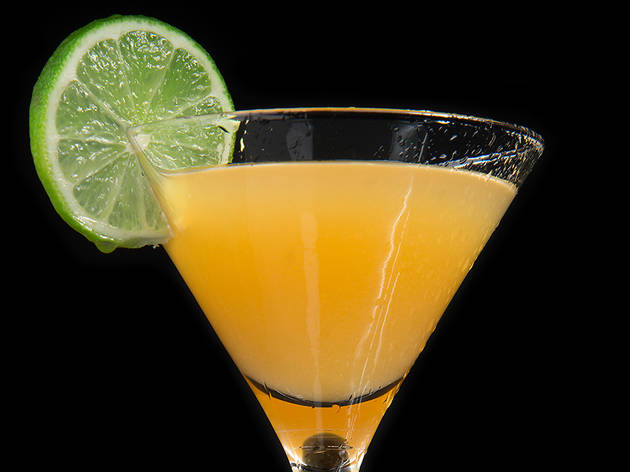 Class up your St. Patrick's Day party with this tart take on a Kentucky classic. The original Derby cocktail, first documented in 1947, called for bourbon, but a dose of smooth and citrusy Irish whiskey gives this cocktail a flavor profile fit for the fightin' Irish. The fresh lime and fragrant curaçao enhance Redbreast whiskey's pleasant dried fruit notes and herbal aroma, while the bitters temper the whiskey's signature spicy, custardy finish. A snap to make, the brilliant orange Irish Derby looks particularly festive served up and garnished with a bright green twist of lime.
Ingredients:
1½ oz Irish whiskey, preferably Redbreast
½ oz sweet vermouth
½ oz dry curaçao
½ oz fresh-squeezed lime juice
2 dashes of Angostura bitters
Lime twist for garnish
Directions:
Load a cocktail shaker with ice and pour in the whiskey, vermouth, curaçao, lime juice and Angostura bitters. Shake hard for 30 seconds or until fully chilled, then strain into a cold cocktail glass and finish with a lime twist.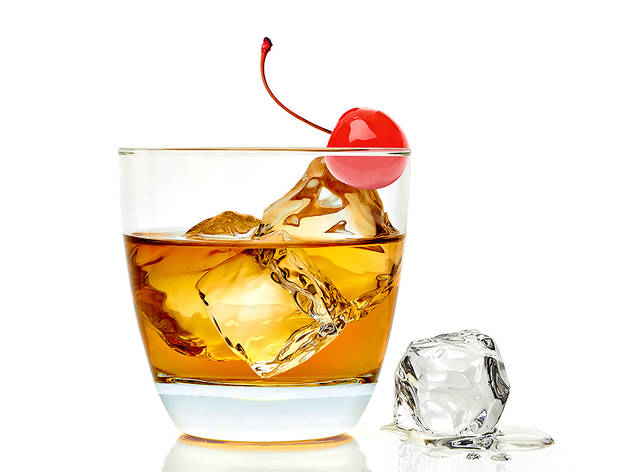 Named after the Prohibition-era mobsters' weapon of choice, the Tommy Gun is sure to put some hair on your chest by St. Patrick's Day. This lively, tangy tipple was created in San Francisco by veteran mixologist Jacques Bezuindenhout in 2008 and has since gone on to appear on many a neo-speakeasy menu due to its unique ingredients, bold flavors and distinctive moniker. While just about any decent blended Irish whiskey would make a nice base, Jameson's sharp, fruit-forward, open and oily mouthfeel proves a reliable backdrop for the fresh ginger's harsh bite, the Grand Marnier's rich citrus and the jam's cloying sweetness. Just remember—sip slowly, trust no one and keep your back to the wall at all times.
Ingredients:
2 oz Irish whiskey, preferably Jameson
½ oz Grand Marnier
2 thin slices ginger
1 tsp apricot jam
¼ oz fresh lemon juice
1 lemon twist
Directions:
Toss the ginger, jam and lemon juice in a cocktail shaker. Muddle until thoroughly mixed. Fill the shaker with ice, whiskey and Grand Marnier and shake until chilled throughout. Strain well into a rocks glass filled with ice and garnish with a lemon twist.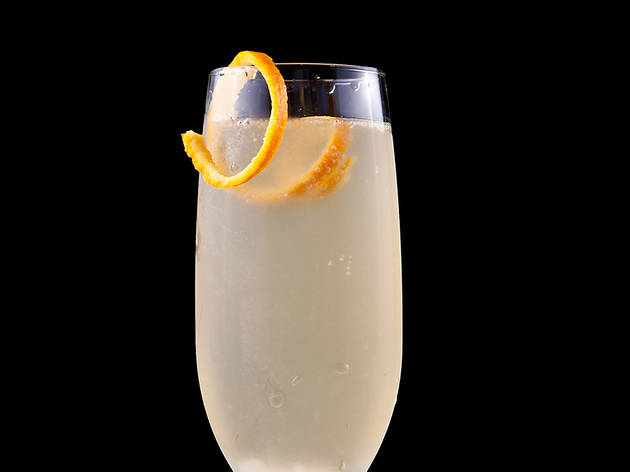 Aside from being extremely fun to say in a fake Irish accent (go ahead, try it), County Cork has the distinction of being both the largest and second most populous county in Ireland. It also happens to be home to the Jameson distillery, birthplace of the famed Irish whiskey responsible for giving this refreshing, effervescent cocktail its dangerously boozy kick. An ounce of the nutty stuff delivers the perfect punch, while alpine-scented Chartreuse, honey syrup and zesty lemon work to brighten the whiskey's dark-cherry undertones. Topped with dry, bubbly champagne, this deceptively potent cocktail goes down faster than Jess Willard facing Jack Dempsey's mighty Irish fists.
Ingredients:
1 oz Irish whiskey, preferably Jameson 12 Year Old Special Reserve
¼ oz Yellow Chartreuse
½ oz fresh lemon juice
1½ tsp honey syrup
1 oz chilled champagne
1 lemon twist
Directions:
Pour the whiskey, Chartreuse, lemon juice and honey syrup into an ice-filled cocktail shaker and shake well. Strain into a frosty champagne flute, top with champagne and add a lemon twist for garnish.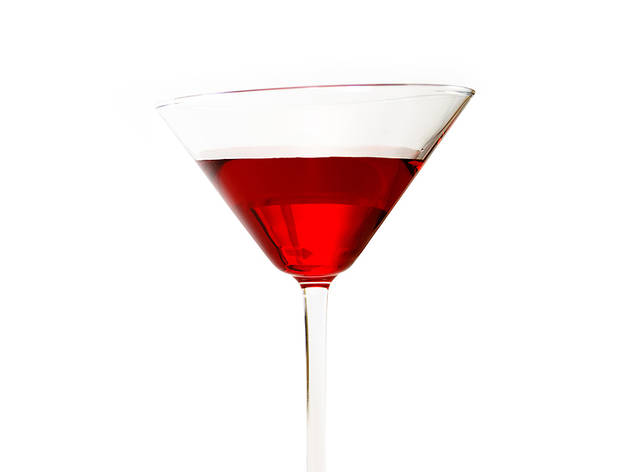 The Psycho Killer is yet another liquid opus from the master mixologists at New York City's award-winning Dead Rabbit. Celebrated bar manager Jillian Vose came up with this curiously spiced, whiskey-spiked beverage, which combines mellow, fruity whiskey with bitter cocoa nib–infused Campari, silky creme de cacao, fragrant banana liqueur and a touch of absinthe to liven things up. While the Psycho Killer may require a bit more prep time than other drinks—the Campari needs at least an hour to properly soak up the cocoa nibs' essence—a soothing sip of this deeply layered cocktail is well worth the wait.
Ingredients:
2 oz Irish whiskey, preferably Redbreast
¾ oz cocoa nib–infused Campari
½ oz creme de cacao
½ oz banana liqueur
2 dashes absinthe
3 tbsp cacao nibs
1 liter Campari
Directions:
To infuse the Campari, pour the cocoa nibs into the bottle and let sit for at least an hour. When ready, strain to remove the nibs, then return the infused Campari to its bottle. Fill a tall mixing glass with ice and add all the ingredients. Stir well and strain into a classic Nick & Nora cocktail glass.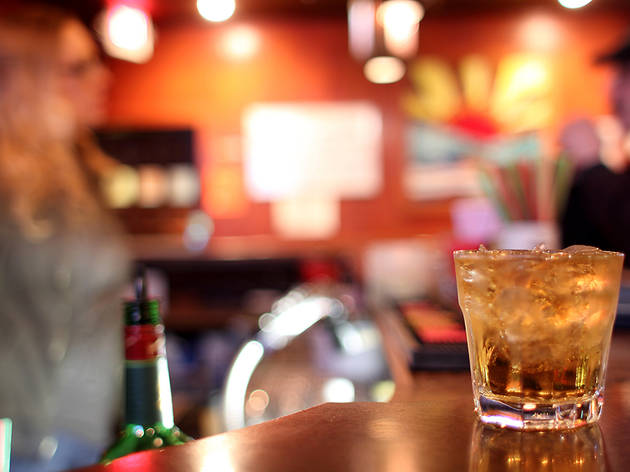 In summertime, there's nothing quite like downing a cold beer cocktail while laying out under the hot sun. Jameson's cocktail team put together this inventive Irish cooler, a dynamic mix of piquant Campari, zesty pink grapefruit, effervescent Belgian white beer and Jameson Caskmates whiskey, a strong, sultry version of the original infused with mild dark chocolate and coffee notes. The Bitter Sweet might sound like a strange combination at first, but this fun, super-simple poolside sipper is guaranteed to set your impending barbecue apart from all others.
Ingredients:
1½ oz whiskey, preferably Jameson Caskmates
1 oz Campari
1 oz pink grapefruit juice
3 oz Belgian white beer
Directions:
Pour all ingredients into a chilled highball glass over ice and stir slowly with a bar spoon to combine.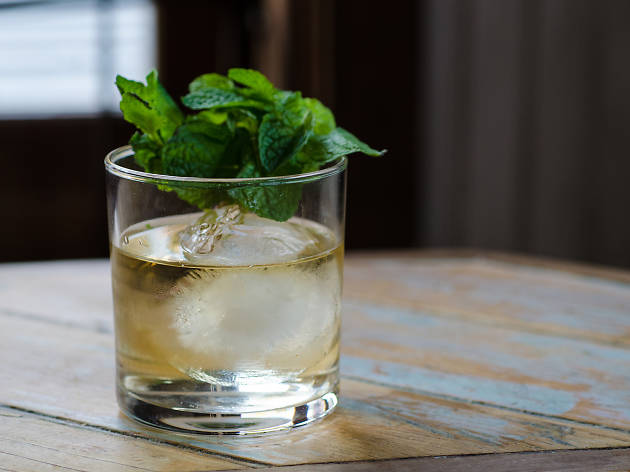 Photograph: Jenny Adams
Joaquín Simó, the award-winning barkeep behind New York City's top-tier Pouring Ribbons, successfully salvaged St. Patrick's Day's green-beer-tarnished dignity with this refined, Irish-inspired version of the beloved classic cocktail. To match the classic old-fashioned's domineering potency, Simó draws on Knappogue Castle 12 Year Old Irish whiskey, imbuing the drink with a complex medley of honeyed fruit and warm, peppery botanicals. A touch of the absinthe-like Dolin Génépy des Alpes paired with a teaspoon of appropriately hued Green Chartreuse stand in for sweet vermouth, adding a bright, intoxicating layer of minty euphoria to the mix that will keep drinkers glowing until the wee hours.
Ingredients:
2 oz single-malt Irish whiskey, preferably Knappogue Castle 12 Year Old
1 tsp honey syrup (2 parts honey, 1 part water)
1 tsp Green Chartreuse
1 tsp Dolin Génépy des Alpes
1 sprig of fresh mint
Directions:
Pour all ingredients into a rocks glass over ice. Stir until thoroughly chilled and garnish with fresh mint.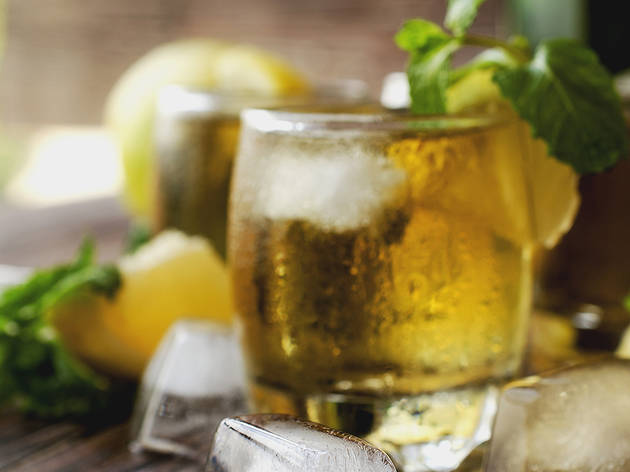 A take on the classic whiskey smash, the South Side Smash pays homage to the bourbon-based original by calling for woody, maple-scented Jameson Black Barrel, a traditional Irish whiskey aged in charred bourbon barrels. A few drops of herbaceous Fernet-Branca, ever a bartender's favorite liqueur, adds to the cocktail's Manhattan-like intensity, while the fresh lime, simple syrup and muddled mint work to soften those boozy edges. Yes, it's delicious, but proceed with caution—there's a second reason it's called a smash.
Ingredients:
1½ oz Irish whiskey, preferably Jameson Black Barrel
½ oz Fernet-Branca
¾ oz fresh lime juice
1 oz simple syrup
5 to 8 leaves fresh mint; 1 sprig for garnish
Directions:
Add whiskey, Fernet-Branca, lime juice, simple syrup, mint leaves and a cup of ice cubes to a cocktail shaker and shake hard for 30 to 40 seconds. Strain into a rocks glass over ice and garnish with the additional mint sprig.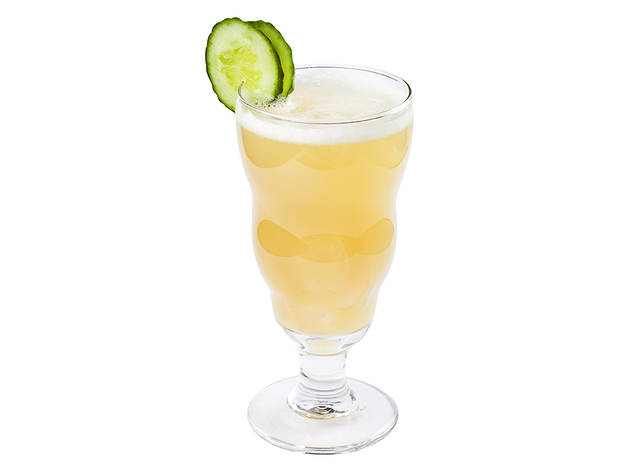 Quite simply, the Irish Maid is a fantastic cocktail. The ingenious, food-friendly blend of bourbon-barrel aged whiskey, floral elderflower liqueur, sour lemon and bright, grassy cucumber make for a tart, expertly balanced and invigorating experience. Reminiscent of a classy whiskey sour, the Irish Maid is actually a riff on legendary Milk & Honey mixologist Sam Ross' Kentucky Maid, the Derby-worthy cucumber-and-bourbon combo that took New York City's cocktail scene by storm several years back. It might not make your bed or sweep your floors, but trust us—this is the best maid money can buy.
Ingredients:
1 oz Irish whiskey, preferably Jameson Black Barrel
½ oz elderflower liqueur, preferably St-Germain
¾ oz fresh lemon juice
¾ simple syrup
3 slices of cucumber
Directions:
Drop the cucumber slices into an empty cocktail shaker and muddle until the juices are fully expressed. Fill the shaker with ice and add the remaining ingredients. Cap and shake strenuously, then strain into a rocks glass over ice. Garnish with a thin slice of cucumber and serve cold.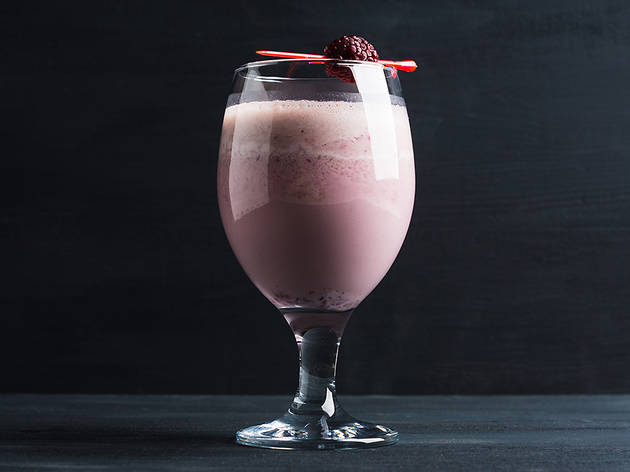 Flips—a class of cocktails made with whole, raw eggs—tend to be a tough sell when it comes to less experienced drinkers, but one taste of this indulgent after-dinner concoction is enough to convert even the most egg-averse of spirits enthusiasts. Luscious heavy cream, puckery smashed blackberries and fluffy whipped egg lend the Dusk Flip its distinguishing lavender glow and dessert-worthy sweetness, while delicately spiced whiskey, flush with notes of toffee and stone fruit, pushes this cocktail firmly into sinful territory. A final sprinkling of nutmeg cuts through the Flip's saccharin constitution with elegant, knife-like precision. This is an adult milkshake done right.
Ingredients:
2 oz Irish whiskey
1 large egg
½ oz simple syrup
½ oz heavy cream
3 to 5 blackberries
A pinch of grated nutmeg
Directions:
Muddle the blackberries in an empty cocktail shaker until well mashed. Add the whiskey, egg, simple syrup and heavy cream and shake vigorously. Pop open the shaker and fill with ice; shake the mixture for an additional 20 to 30 seconds. Fine-strain into a frosty champagne coupe and top with nutmeg. Garnish with a fresh skewered blackberry.