Best craft-beer bars
These hops havens set the standard.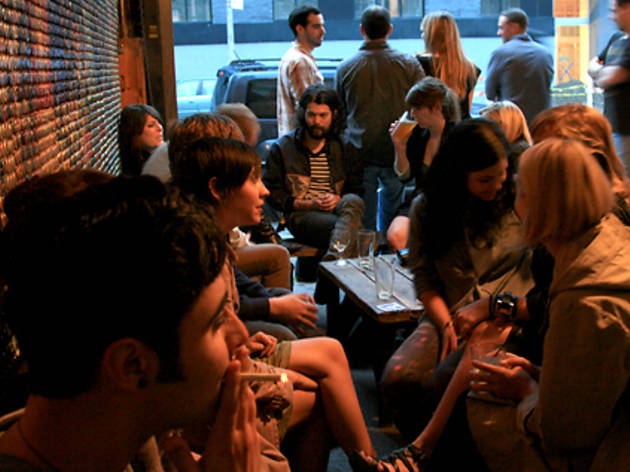 1/5
Photograph: Tina Zimmer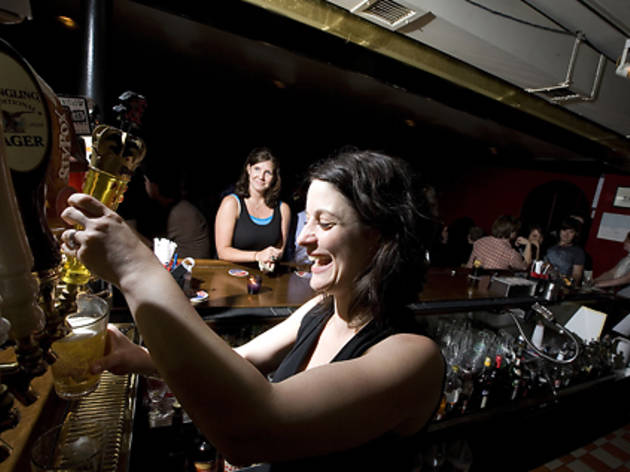 2/5
Photograph: Dave Sanders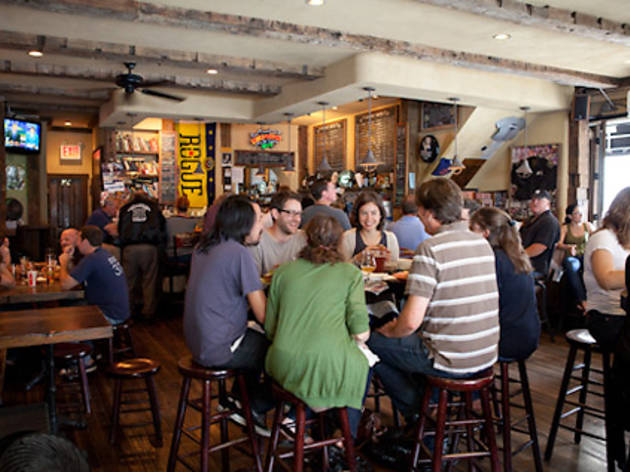 3/5
Photograph: Zenith Richards
blindtiger07
Blind Tiger Ale House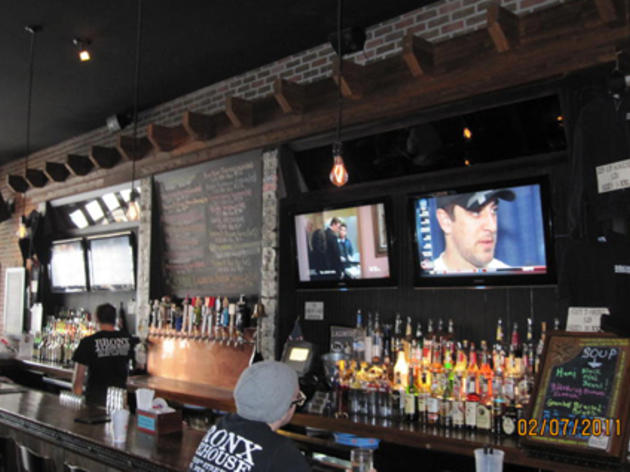 4/5
Photograph: courtesy the Bronx Alehouse
bronxalehouse11
The Bronx Alehouse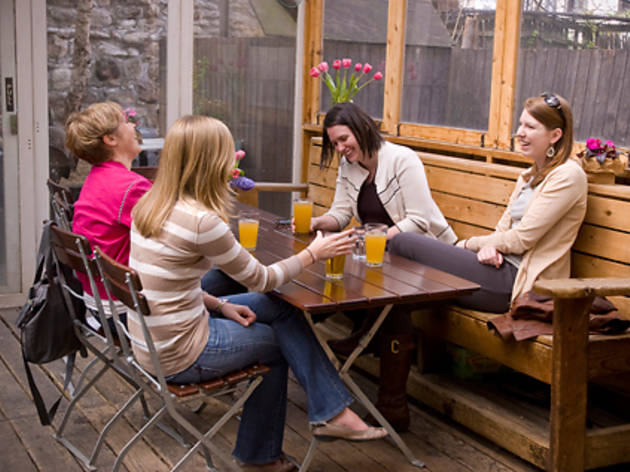 5/5
Photograph: Eric Harvey Brown
See our most current list of the best craft beer bars in NYC
Barcade
Prepare to geek out at this temple to beer and vintage arcade games: first at the 35 classic quarter machines (Donkey Kong, Contra), then at the ever-evolving beer selection detailed on a chalkboard above the bar. Owner Paul Kermizian stocks only American beer, with 75 percent of his haul hailing from the Northeast. But despite constant lineup changes, he manages to maintain remarkable stylistic balance—on the 24-tap draft list, you might see a crisp Victory pilsner alongside a diverse trio of stouts and a yeasty black ale from New Hampshire's White Birch Brewing. Bimonthly events include tap takeovers that give patrons access to the full range of offerings from a single producer. 388 Union Ave between Ainslie and Powers Sts, Williamsburg, Brooklyn (718-302-6464, barcadebrooklyn.com)
Bar Great Harry
If you want craft suds sans all the snooty posturing, bend an elbow at this democratic tavern. You'll find Bud drinkers and neighborhood folk with their dogs alongside hops-heads exploring the 24 mostly domestic drafts ($5--$7). While the dizzying selection of choices rotates frequently, expect esteemed names like Avery, Founders and whichever brewer stops by for BGH's frequent tastings—a recent visit from Northern California's Bear Republic introduced patrons to a number of experimental sour beers that had never before made it to New York City. A 40-strong bottle list ($5--$25) complements the taps with international standards like Saison Dupont and Aventinus. 280 Smith St at Sackett St, Carroll Gardens, Brooklyn (718-222-1103, bargreatharry.com)
Blind Tiger Ale House
Long before craft entered the lexicon, there was Blind Tiger, one of the OGs of the New York beer scene. Since its arrival in 1995, Blind Tiger has achieved legendary status thanks to a meticulously curated program and some of the city's best bar food. The 28 taps ($6.50--$11), two casks and one gravity keg (usually $7), plus more than 80 bottles ($7--$55), make this the first port of call for brewhounds who want to track down pours they can't find anywhere else. Weekly events, including meet-the-brewer nights and frequent style showcases, help drinkers navigate the hunt. 281 Bleecker St at Jones St (212-462-4682, blindtigeralehouse.com)
The Bronx Ale House
This Boogie Down saloon isn't just the best beer bar in the Bronx—for our money, it's unrivaled anywhere north of midtown. Uptowners have the bar's co-owner Chris Guidice to thank: In less than two years, the brick-walled joint has become a bona fide craft headquarters, hosting boisterous guest-brewer events, doling out growlers ($10--$15), and attracting loyalists who attempt to sample and rate 100 different quaffs for the bar's Beer Club. And thanks to a lineup of 16 domestic-leaning taps, one rotating cask and more than 30 bottles, hitting the hundred mark isn't all that hard a task. Minding your drinking dollars is also easy: All drafts are $1 off each weekday until 7pm. 216 W 238th St between Putnam Ave West and Review Pl, Bronx (718-601-0204,bronxalehouse.com)
d.b.a.
When it opened in 1995, this trailblazer embraced all the contemporary beer memes while most NYC bars were still dealing in Miller and Coors. Beer lovers fond of European classics as much as the domestic microbrewery du jour will appreciate the scope of the 20-deep draft selection (most $7): You might find an orange-tinged Weihenstephaner Hefeweissbier from Germany alongside New York beers such as the velvety Southampton Imperial Porter. Even more impressive is the encyclopedic bottle list: All seven Trappist breweries are represented, plus Dogfish Head World Wide Stout (at 18 percent ABV, one of the most alcoholic beers on the market; $9) and British oddities such as the cellar-aged Thomas Hardy Ale ($10). And for those looking for an upgraded boilermaker, dig into d.b.a.'s vast whiskey offerings—it's not often you can chase your craft beer with a rare Glenrothes Select Reserve ($18). 41 First Ave between 2nd and 3rd Sts (212-475-5097, drinkgoodstuff.com)
The Diamond
In a beer scene dominated by hoppy, high-alcohol brews, credit this madcap watering hole for championing session beers (most $6), a family of brews whose lower booze content makes them ideal for extended drinking. Unlikely picks such as the 3-percent-ABV Berliner Weisse (Budweiser is 5 percent) will keep you buzzed but standing through an evening of shuffleboard. If you need something burlier, idiosyncratic draft and bottle options reflect the sharp eye of co-owner Dave Pollack. Try a treacle-kissed Carnegie Porter ($10) from Sweden or a figgy Prize Old Ale ($13) vintage from 1996.43 Franklin St between Calyer and Quay Sts, Greenpoint, Brooklyn (718-383-5030,thediamondbrooklyn.com)
Jimmy's No. 43
This subterranean brew house is the unofficial clubhouse for the New York beer community, thanks to the efforts of garrulous owner Jimmy Carbone. For a beer education on the cheap, make a habit of attending the $10 Tuesday Tastings, where an expert leads guests through pours of five to six brews within a particular theme (e.g., Colorado brews, seasonal beers made with fresh hops). Because of Carbone's hands-on involvement in the local scene, his dozen taps (most $6--$8) and deep bottle collection are often the first point of entry for both hyperlocal nanobreweries (see page 20) and new-to-NYC imports. We've tried unfiltered Franconian lagers and a Japanese brown ale brewed at the foot of Mount Fuji at the marble-topped bar. 43 E 7th St between Second and Third Aves (212-982-3006, jimmysno43.com)
Rattle N Hum
Owner Patrick Donagher is more interested in converting craft-beer newbs than scaring them off: A giant chalkboard wall suggests craft alternatives to mainstream swill, and a daily-changing menu offers 40 mostly American drafts ($7--$9), to help you find your new favorite beer. Purists gravitate toward the casks (between two and four at any time), as well as some of the expert picks on the list of 150 bottles, including Jolly Pumpkin's funky La Roja sour ale ($21, see Four beer trends). 14 E 33rd St between Fifth and Madison Aves (212-481-1586, rattlenhumbarnyc.com)
Spuyten Duyvil
The pared-down lineup of six drafts and one cask here speaks to owner Joe Carroll's reverence for beer. "With too many lines, the beer can sit around and get stale," he says. Spuyten's minimal draft offerings, as well as its 100-plus bottle list ($5--$45), are focused mainly on tiny European breweries. Sample old-world rarities like the thick, sherrylike Samichlaus lager from Austria or cellar-aged Cantillon lambics of various vintages ($15--$30). 359 Metropolitan Ave at Havemeyer St, Williamsburg, Brooklyn (718-963-4140, spuytenduyvilnyc.com)
Sunswick 35/35
Outsiders think of Queens as the beer-garden borough, but locals know that they've got a craft-beer bar to rival Manhattan's best. The name refers to a creek that used to run from the East River to the area that is now Astoria; today, a rotating selection of beers from top domestic and international breweries ($5--$9) rush through 25 taps. Snag shot-size samples from bartenders before committing, then settle in at a high-top table. The weekday happy hour (3--7pm) is a chance to try great beers at varying discounts, while monthly events showcase serious American hops. 35-02 35th St at 35th Ave, Astoria, Queens (718-752-0620, sunswick3535bar.com)
Sponsored listing
The Wicked Monk
Once you step into this Bay Ridge pub, you're transported to County Cork. The Wicked Monk is adorned with the original stained glass and wood fixtures from the 18th-century Greenmount Monastery chapel in Ireland. To keep with the Irish theme, order a slab of warm shepherd's pie ($21) or platter of crispy fish and chips ($17). The menu isn't just favorites from the Emerald Isle, though. The Wicked Monk serves up everything from pulled pork quesadillas ($11) to Philly cheesesteak mac and cheese ($17) to mussels steamed in white wine ($12). And that's just for dinner—stop by for brunch to sample a full Irish breakfast with black and white puddings ($15) or challah French toast with mascarpone cream and berries ($11). Of course, we'd be remiss to not mention the drinks. Whether you're in the mood for a specialty cocktail or a pint, the bartender can surely help you out.
Venue says: "Mardi Gras Thursdays - Live Music by the Bayou Boys!"