Bottoms up!
Corporate cocktail heavyweights Eben Freeman and Thomas Waugh step into a leading role at the Butterfly and ZZ's Clam Bar.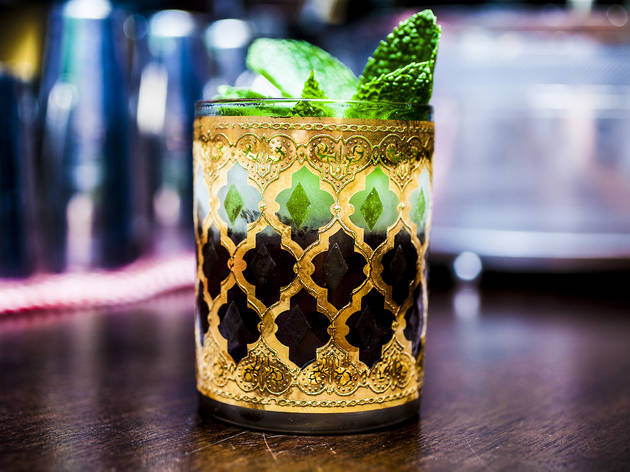 In the past decade, the cocktail's ascent in New York bars—from booze-delivery system to contemplative set piece—has been as rapid as an expert shake. But it long remained a background player in restaurants. Not so anymore. Two big-time restaurant groups—Michael White's Altamarea; and Mario Carbone, Rich Torrisi and Jeff Zalaznick's Major Food Group—are focusing on the glass with new hot spots the Butterfly and ZZ's Clam Bar, respectively, giving their star bartenders a showcase platform.

Altamarea's drinks man, the wildly creative Eben Freeman has had an outsize influence on the creative side of the booze industry. Once molecular-bar tinkerer at wd~50 and Tailor, Freeman introduced boundary-pushing innovations like solid cocktails and smoked Coke. Since teaming up with Michael White in 2010, he's had more of a behind-the-scenes role as director of bar operations and innovation, crafting sophisticated beverage lists to match the menus at White's six venues (such as haute gems Marea and Costata). With this week's opening of the Butterfly(225 West Broadway at White St, 646-692-4943), Freeman's drinks play second fiddle no more. The group is dubbing the Wisconsin-inspired spot a "cocktail bar and supperclub," a clear indication on what comes first: Freeman's mid-20th-century quaffs—like a crème de menthe–based grasshopper and brandy old-fashioned—and original creations.

Major Food Group's Thomas Waugh—perhaps one of the cocktail scene's most underrated talents—spent five years steering Death & Company's shining bar program, before joining the outfit last January. A deft technician, Waugh can elevate even the simplest cocktails: His snappy rye-celery collins at Carbone is one of the best things we've tasted lately. Until recently, you had to huddle around the restaurant's minuscule no-seat bar to taste one of his concoctions. And getting a drink may be no easier at just-opened ZZ's Clam Bar(169 Thompson St between Bleecker and Houston Sts, 212-254-3000), where Waugh has the creative space to advance more novel ideas, like a gin drink made with both fresh and freeze-dried strawberry, calamansi puree, rosemary-infused vermouth and Pernod pastis. Like today's au courant tasting-menu restaurants, the crudo bar only has 12 seats and takes reservations, representing a fitting evolution for the cocktail in restaurants.
Sponsored listing
Dromedary Bar
Looking for a bit of island spirit in the city? Head to Dromedary Bar for the urban tiki experience. The Bushwick bar serves up riffs on classic tropical drinks, like the banana daiquiri–esque Marlin Chasing a Mermaid ($11), a combination of cognac, mezcal, banana, lemon and rose. Island flavors crop up all over the drink menu, like in the gin-based Coconut Soda ($11), which gets a frothy texture fro creamy coconut milk and sparkling LaCroix. If cocktails aren't your thing, there's also a selection of beers on tap ($5–$8). In the kitchen, Chef Galen Duncan churns out a menu of classic pub fare. Think burgers ($11), sloppy joe sliders ($4), chicken tenders ($6) and lots of fries ($3). The exposed brick barroom also hosts a variety of events, from trivia nights to weekly karaoke to comedy shows.
Venue says: "TUESDAY: DRINKS TILL 2am w/ MICHAEL! DUNCAN'S BURGERS' TACOS; $1.25 ALL NITE! FREE TRIVIA @ 9pm! Food till midnite! FUN! Happy Hour, 5-8pm!"