Heads up! We're working hard to be accurate – but these are unusual times, so please always check before heading out.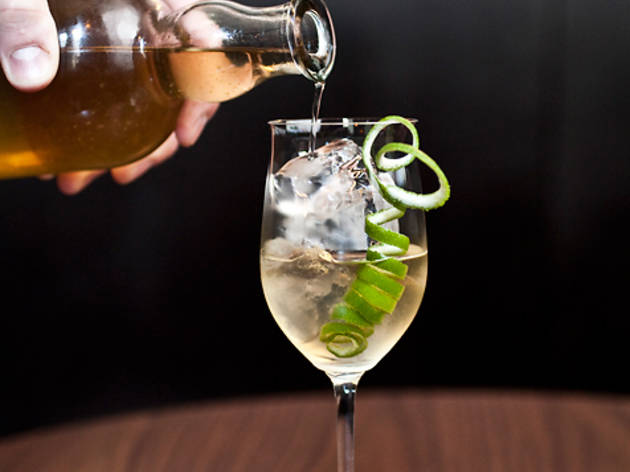 Cutting-edge cocktail trends
What the most progressive barkeeps in town are toying with.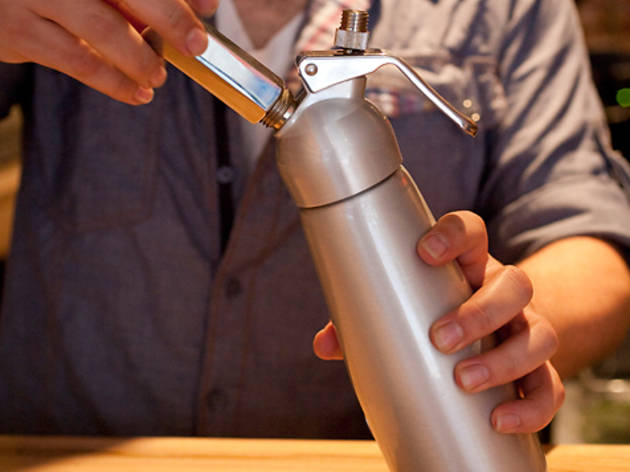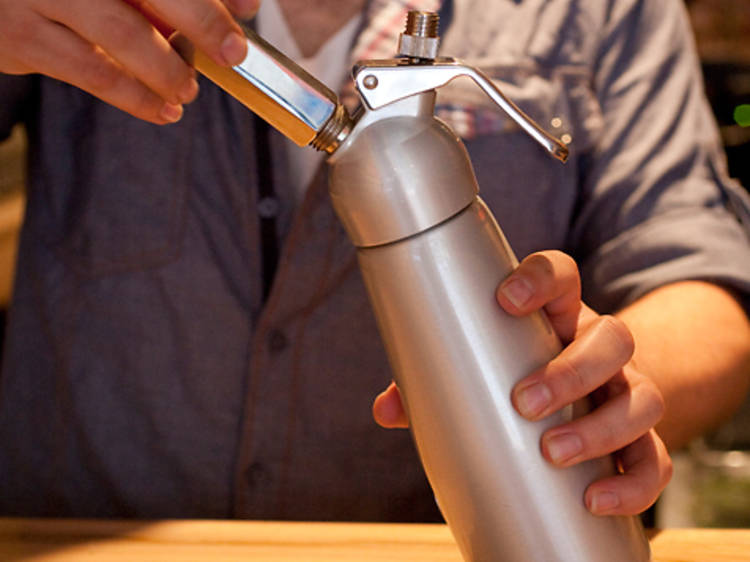 Photograph: Jay Muhlin
Mixology infusions have long required either simmering heat or long steeping to impart an ingredient's flavors into a spirit. But in 2010, madcap innovator Dave Arnold (head of the French Culinary Institute's Culinary Technology department) developed a technique that trims the process to a few short minutes. Using an iSi canister—perhaps better known for instantly whipping cream or giving teenagers a quick high—bartenders can force a flavor into a liquid with nitrous oxide pressure. The trend is still in its infancy, but a few intrepid tinkerers have found that N2O mint elixirs are fresher, sweeter and bereft of the bitter tones that other methods produce.
Where to try it: At Eleven Madison Park (11 Madison Ave at 24th St; 212-889-0905,elevenmadisonpark.com), head bartender Leo Robitschek combines mint-infused Jim Beam Black bourbon with sugar for an off-menu mint julep ($15). Unlike the traditional one, this version relies on the drink's herbal flavor, rather than the aroma of the garnish. Jeremy Osslund (former bar manager at Andaz 5th Avenue) also plays with a mint infusion, using DonQ rum. He shakes the spirit with fresh lime juice and a sweetened cucumber-citrus blend for the garden-fresh East River ($12), at Apl (146 Orchard St between Rivington and Stanton Sts; 212-777-8600, aplnewyork.com).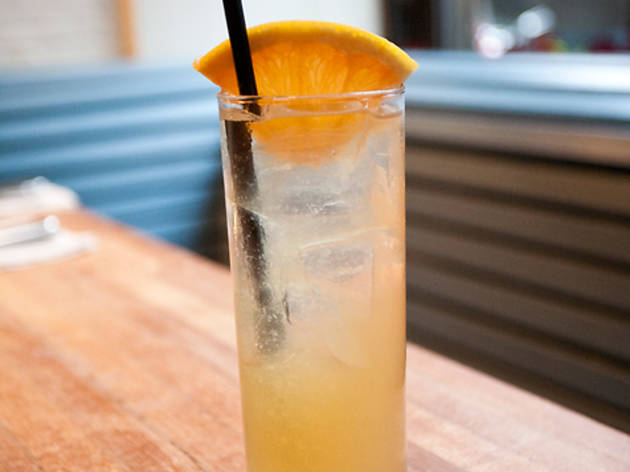 Photograph: Virginia Rollison
Long relegated to margarita rims, salt is finally breaking out as a marquee ingredient in original quaffs. The miracle mineral tempers bitterness, balances acid and amplifies flavor. Currently, we're seeing the stuff deployed mostly in sour-based cocktails, but as the weather cools, watch for salt boosting drinks containing fat—like eggs or cream—as it does in baked goods.
Where to try it: At Maison Premiere (298 Bedford Ave between Grand and South 1st Sts, Williamsburg, Brooklyn; 347-335-0446, maisonpremiere.com), Maksym Pazuniak uses sea salt to tease out the delicate flavors of vanilla, orange-flower water and orange-blossom honey so that they don't get lost among gin, lime and lemon in the Carondelet ($10). In the East River Defense ($9), created by noted bar consultant Erick Castro at Northern Spy Food Co. (511 E 12th St between Aves A and B; 212-228-5100, northernspyfoodco.com), sea salt lends a savory character to Scrappy's grapefruit bitters, lemon juice and tangy Lustau Manzanilla sherry for an aperitif that is smoother than your average citrus-doused drink.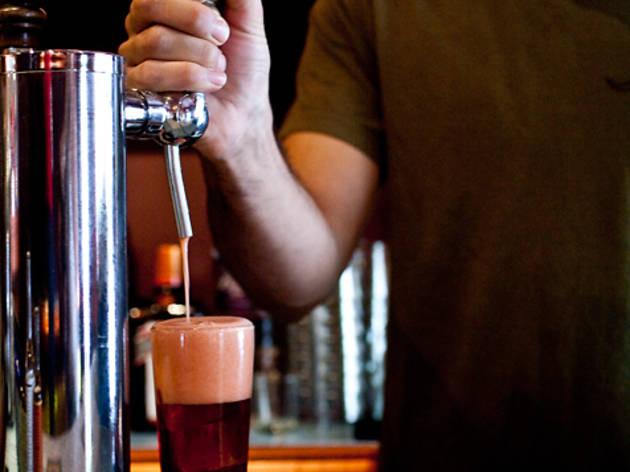 Photograph: Beth Levendis
There's something mystical about watching a suspenders-clad bartender measure and stir, but sometimes we just want a drink, a good one, on the double. Draft libations—premixed batches dispensed from a pressurized keg—can be poured as quickly as a beer. While this efficient, consistent method won't replace bespoke cocktails, it could free up bar staffers to take on more creative requests.
Where to try it: Mayur Subbarao serves a superlative Americano ($12) on tap at Amor y Amargo (443 E 6th St between First Ave and Ave A, amoryamargo.com). Traditionally, the Italian aperitif has Campari, sweet vermouth and club soda, but he takes bottled fizz out of the equation and carbonates a water-diluted mix of the boozes in a keg.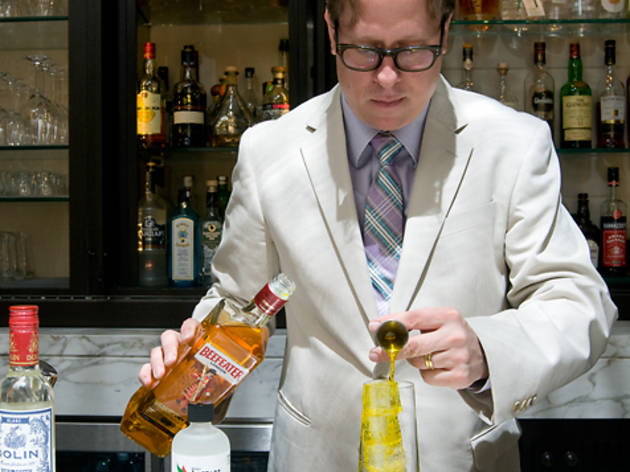 Photograph: Alex Strada
Alternative acids: vinegars and soda-fountain phosphates
Citrus has long ruled the roost as the balancing acid in cocktails, but as bartenders continue to raid the kitchen pantry and revive 19th-century ingredients, a few alternatives have taken hold. New on the scene are vinegars—including varieties such as white balsamic, tomato and melon. Also on the rise are the once-forgotten soda-fountain phosphates, which deliver pure sour without any fragrance. Cocktail historian Darcy O'Neil, author of Fix the Pumps, started bottling bygone pharmacy elixirs (available by mail order) in 2010. His Lactart (a sour, aromaless acid found in yogurt, buttermilk and Lambics) and Acid Phosphate (a tart solution of calcium, magnesium and potassium) started edging their way onto
New York menus earlier this year.
Where to try it: Damon Boelte, barman at Prime Meats (465 Court St at Luquer St, Carroll Gardens, Brooklyn; 718-254-0327, frankspm.com), has gone vinegar crazy, and since last fall has created seven recipes that rely on the liquid. We especially like his Sour Cherry Sour ($9), in which a tangy Austrian fruit vinegar, along with lemon juice, brightens bourbon and chocolaty crme de cacao. Out in Red Hook, Fort Defiance (365 Van Brunt St at Dikeman St, Red Hook, Brooklyn; 347-453-6672,fortdefiancebrooklyn.com) proprietor St. John Frizell brought the Angostura Sour ($9) north via New Orleans bartender Paul Gustings; the drink was inspired by a cocktail prescribed for hangovers in the early 1890s. Acid Phosphate perks up the frothy, garnet mixture of lemon syrup (made by muddling peel with sugar), rich Angostura rum and a full ounce of botanical Angostura bitters. And Eben Freeman, director of bar operations at Ai Fiori (400 Fifth Ave between 36th and 37th Sts; 212-613-8660, aifiorinyc.com), uses Lactart to boost the sour component of his Aperitivo (saffron-infused Beefeater gin, sweet Dolin Blanc vermouth, absinthe and Ligurian lemon soda; $14) without overdoing the citrus.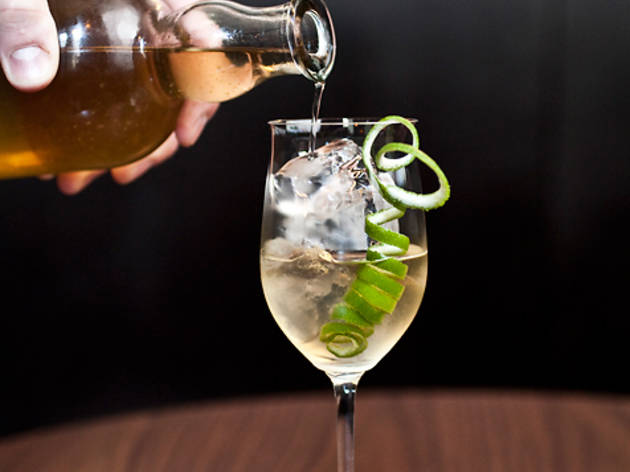 Photograph: Jolie Ruben
No one wants a murky cocktail. Or so goes the thinking behind clarification, the process of turning cloudy drinks clear and silky by removing the solids. One method is to add agar,which binds to the solids, and then strain the drink (typically for an hour) through a cheesecloth. Recently, however, a few bars connected to tech-forward kitchens have acquired access to centrifuges, which can cut the length of the procedure in half. The pricey equipment spins canisters at a high speed, separating out different components of a liquid by density, so that solids fall to the bottom and a translucent liquid forms at the top.
Where to try it: Boundary-pushing mixologist Tona Palomino of wd~50 (50 Clinton St between Rivington and Stanton Sts; 212-477-2900, wd-50.com) uses both the clarified liquid and the residual solids for his sake-based Snow Globe ($14). He spins off the chalkiness of Kamoizumi Nigori Ginjo Summer Snow sake and the grittiness of nectar from the guavalike soursop fruit in a 4,500rpm centrifuge, turns the resulting solids into shiny little beads and adds them back into the perfectly translucent sake-juice mixture—which tastes lightly of the fermented rice spirit and has a lycheelike sweetness. Eamon Rockey, general manager at Compose (77 Worth St between Broadway and Church St ; 212-226-1444, composenyc.com), clarifies lime juice in a rotary evaporator for his barrel-aged daiquiri ($15), a smooth, floral libation that tastes sweeter and more integrated than the fresh tropical original. The off-menu drink wouldn't be nearly as pleasurable with unclarified citrus juice—its volatile solids would go rancid during the two- to three-month aging process.