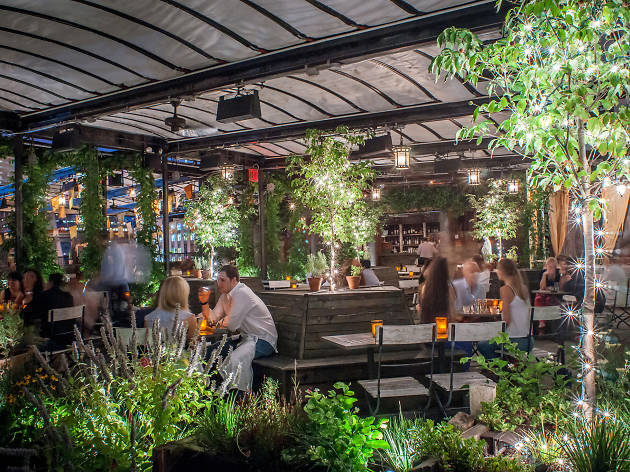 1/10
Photograph: Paul Wagtouicz
Gallow Green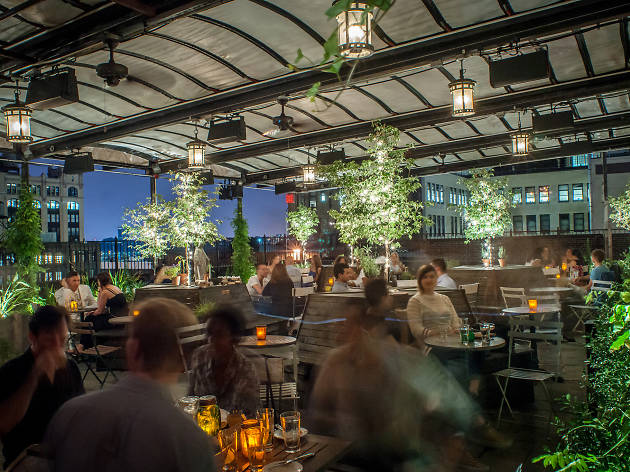 2/10
Photograph: Paul Wagtouicz
Gallow Green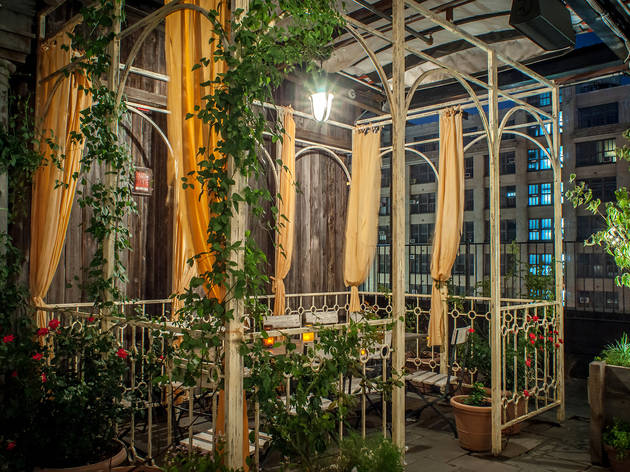 3/10
Photograph: Paul Wagtouicz
Gallow Green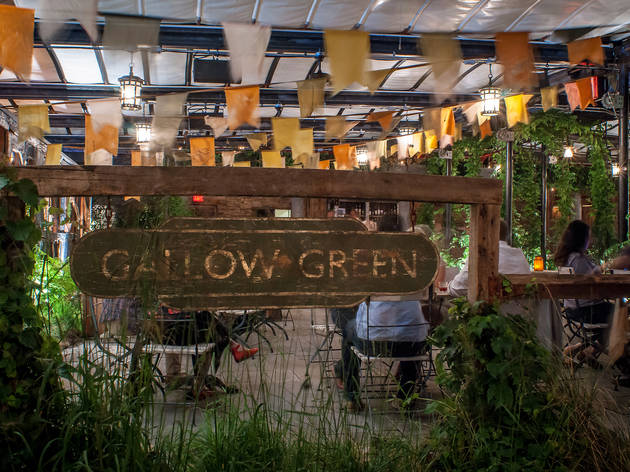 4/10
Photograph: Paul Wagtouicz
Gallow Green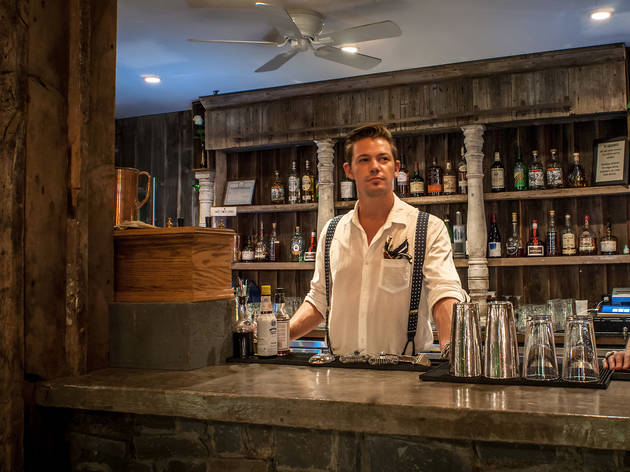 5/10
Photograph: Paul Wagtouicz
Gallow Green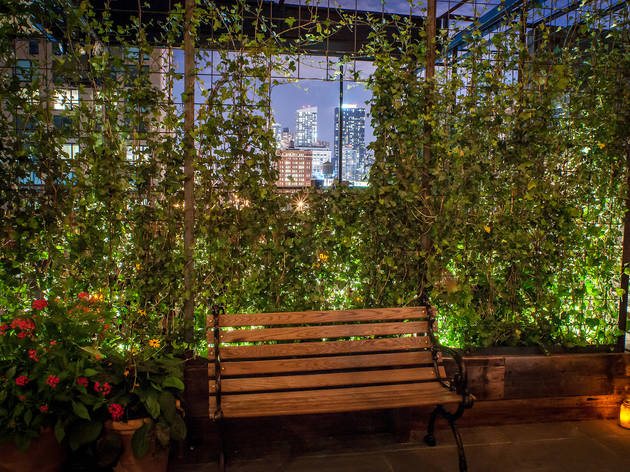 6/10
Photograph: Paul Wagtouicz
Gallow Green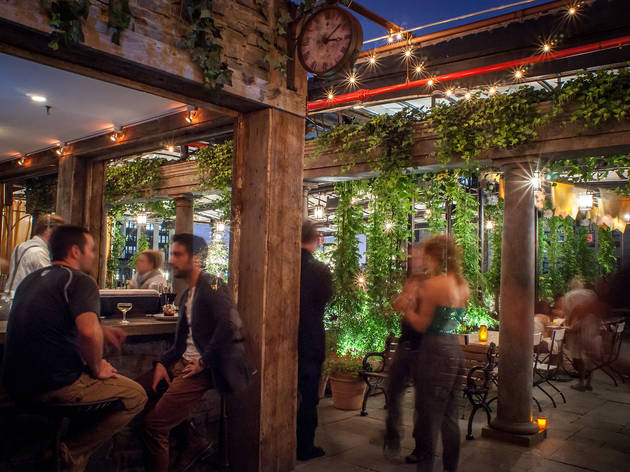 7/10
Photograph: Paul Wagtouicz
Gallow Green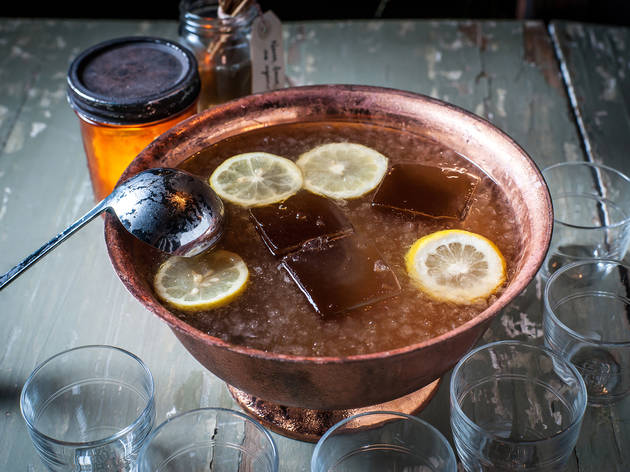 8/10
Paul Wagtouicz
Sleep Bowmore Punch at Gallow Green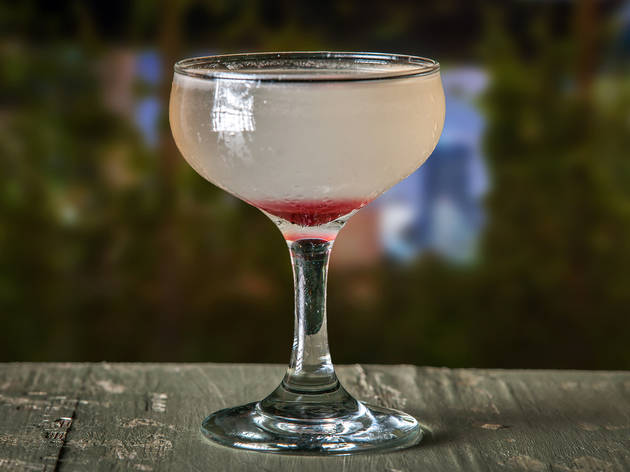 9/10
Paul Wagtouicz
Third Degree at Gallow Green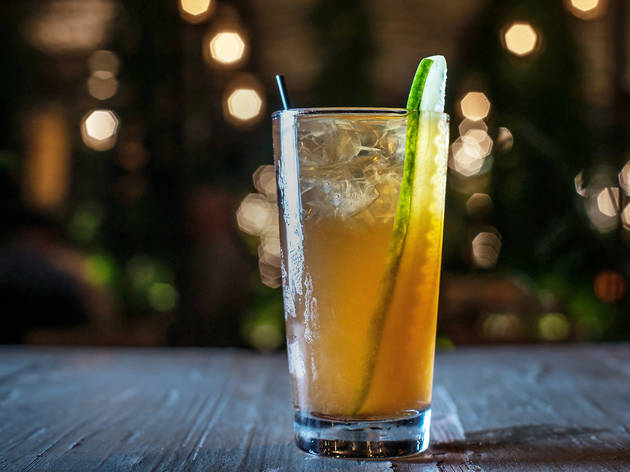 10/10
Paul Wagtouicz
Pimm's Other Cup at Gallow Green
There is an argument to be made that New York's best shows are staged not in theaters, but in restaurants and bars. Like the 19th-century opera audiences who trained their binoculars on each other's boxes, each night we seat ourselves en masse in darkened watering holes and restaurants to preen, size each other up and—almost as an afterthought—eat or drink something, too. So when a venue incorporates a layer of theatricality to the performance already being staged by its patrons, how do they react? That's the question raised by the dreamy, overgrown rooftop bar just south of Hell's Kitchen called Gallow Green, which sits atop a warehouse that operates as the "McKittrick Hotel" for the wildly popular interactive theater performance Sleep No More.
In the early evening, the height affords a regal view of gleaming West Side buildings and the cloud-streaked horizon. A floor of pebbles and slate, trellises woven with flowers and weathered wooden tables recall an upstate country home left adorably to seed. But as the sun descends over the Hudson and darkness encroaches, something stranger occurs. Christmas lights encircling small trees and the rafters overhead blink to life. A brass band waltzes dizzyingly through a funereal tune. An attractive waitstaff in virginal white uniforms materializes out of the shadows, while actors borrowed from the show downstairs weave in between tables, talking to guests in faux-British accents and lending the place the feel of a garden party lost in time. The overall effect, depending on your taste, is either charmingly loopy or gratingly campy.
DRINK THIS: While the menu proffers beer and wine, the selection of punches, developed by decorated drink historian David Wondrich, is what shines. The signature Sleep Bowmore Punch ($50), composed of the woody, namesake single-malt Scotch, Madeira wine and orange shrub sweetened with dememara sugar is poured tableside out of a pitcher, over frosty blocks of ice in a gorgeous copper bowl, then garnished with lemon slices and freshly grated nutmeg. The cocktails are slightly more uneven—Pimm's Other Cup ($15), a take on the classic English tipple that subs in white rum for the traditional gin, as well as lemonade, lost its luster to overdilution. And the Third Degree ($15), an otherwise well-mixed martini, was marred with a heavy-handed dose of absinthe.
GOOD FOR: A third date. The place is helplessly romantic, capturing the looseness and frivolity of a well-oiled summer wedding, but in a way that never feels saccharine (the name of the bar, after all, is borrowed from the famous Scottish field where six 17th-century "witches" were hanged and burned). Meanwhile, you can either laugh with or at the chirpy, surreal interjections of the period actors, depending—again—on your tolerance for cheeky drama.
THE CLINCHER: Sleep No More's knack for transportive set pieces reveals itself here in an abandoned antique railcar, home to the best seats in the house. While you might wonder how it got there, the real miracle is how perfectly natural it looks on a Chelsea rooftop.
Venue name:
Gallow Green
Contact:
Address:
542 W 27th St
New York
10001

Cross street:
between Tenth and Eleventh Aves
Opening hours:
Mon–Wed 4–10:30pm; Thu, Sun noon–10:30pm; Fri, Sat noon–12:45am
Transport:
Subway: C, E to 23rd St
Price:
Average cocktail: $15. AmEx, Disc, MC, V
Do you own this business?
You may be interested in:
Rating Breakdown
5 star:

5

4 star:

8

3 star:

3

2 star:

1

1 star:

0
Awesome rooftop with lots of green foliage, great for groups!
I went with a group of people and I wouldnt recommend because we were a little tight! but if your looking to try new food and step away from the city for a couple of hours... this is the place to go!
I finally got to go here recently after years of hearing great things. It's a rather pricey spot—cocktails are $17—but it's certainly a treat for a special night. It's like you're tucked away within a secret garden, growing over a long forgotten railroad track. The vibe, like the rest of the McKittrick Hotel, is a bit old timey, with touches of whimsy everywhere. The food itself was great—they now have new pizzas for more casual eats and the crudite bowl of vegetables was super fresh. You can make a whole night of it by heading here for earlier dinner and drinks before experiencing the mystery of Sleep No More downstairs.
One of my fav spot in all of NY. It's a secret garden tucked away from the rough & tough city streets. Old train carts used for dinning and for the bar. And a railroad track dividing the dining area from the lounge. Great date spot. Little nooks & crannies lite up my Christmas lights to get cozy & converse. Communal dinning tables makes it a great spot to grab your friends & catch up. On certain nites you can top off w/a live jazz band one floor down. A great little get away from the hustle and bustle of the city.
Media is no longer visible.
this place is absolutely magical. go at night—i stumbled across this fairytale rooftop with some friends visiting from out of town and vowed to come back when i wasn't a single sack because it's romantic as fuck. definitely a great date spot but like, maybe wait for the third date or something cos y'know, don't want to come on too strong. also, if you're starving, this might not be the best place to drop by since their dinner menu is small and on the pricey side. come here for after dinner drinks or after walking around the galleries in the area.
Gallow Green is a very nice rooftop bar / lounge. The drinks are great and aren't your typical rum & cokes. Railroad tracks run through the center of the space which only adds to the decor. Because drinks are made by mixologist, they can be pricey. When you leave, ask if you can take the steps. You will be given a mask and led through "Sleep No More."
What a beautiful rooftop escape! Went with a few friends and they were raving about it for days. We'll be going back soon :) Drinks are a bit pricey, but to be expected. If you are looking for a casual nice night out, with plenty of space, beautiful scenery and a view..look no further
This spot is super appealing with plenty of SPACE to actually enjoy yourself. Just like any decent place in NYC, drinks are pricey but worth it. It has different spaces and corners to sit in so it's great for dates and low key but nice nights out.
This is absolutely one of the most beautiful rooftop bars in New York City. Perhaps it's so appealing because it adapts some of that mysterious, vintage vibe from the interactive theater experience held in the building below, Sleep No More. When you're sipping a cocktail at Gallow Green, you can almost imagine that you yourself are a part of that stunning world spinning and unwinding below you. There is green foliage all around, wooden plank benches, train tracks down the middle and bartenders in suspenders. The cocktails here are really good, but they certainly are pricey at $15–$17 each, so savor them.
Gallow Green is a beautiful garden style rooftop bar. There are faux trees everywhere that are decorated with Christmas lights and sporadic wooden park benches for seating. I appreciated this place because it somewhat reminded me of décor that should be in the movie The Secret Garden. I wasn't a fan of the food options being offered. They were a bit on the pricey side and not that appealing, so I didn't eat anything, but the cocktails were good. Definitely recommend this place if you're feeling festive and just want to go to have a few drinks in a non-traditional rooftop setting while actually being on a rooftop.
Amazing and beautifully creative venue. Great view of the city.
Lovely venue with a good feel to it but the food is ordinary and the menu limited so I wouldn't recommend it if dinner is the main event. However my real reason for the downgrade is the poor service a friend and I received on a recent Friday night visit. The staff are pleasant and helpful but getting their attention in the first place is a challenge. It took 15 minutes to order the first drink and over 40 minutes to get the cheque which, when it did arrive wasn't for our table.
More venues
Sponsored listings