Hopped cocktails
Sample a new breed of beer-based tipples.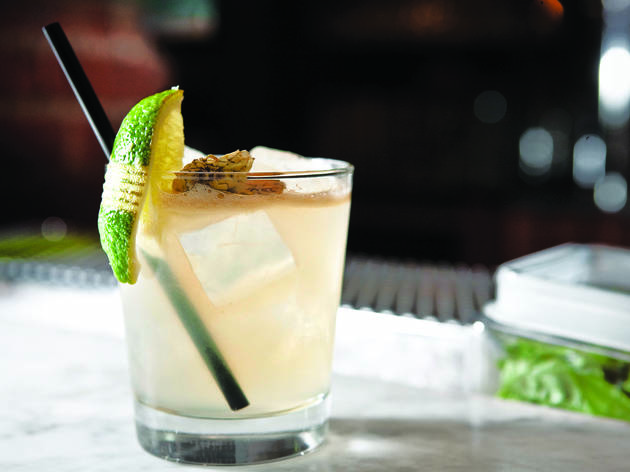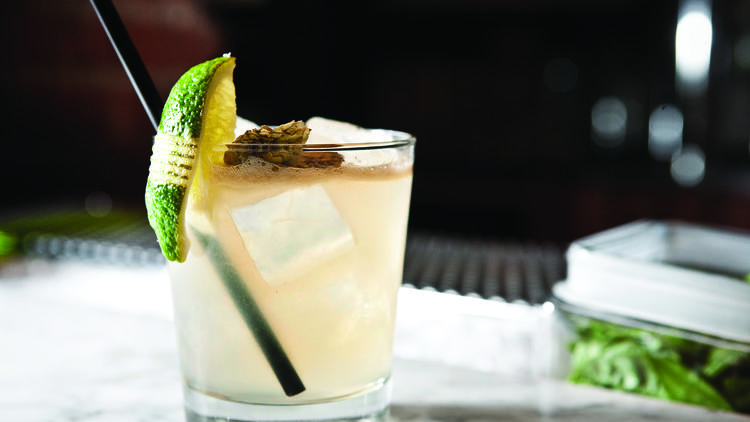 The beer-cocktail trend has been simmering for years, but lately, we've spotted a surge of boundary-pushing quaffs that integrate hopped ingredients in innovative ways. The Tippler(425 W 15th St between Ninth and Tenth Aves, 212-206-0000) offers the boldest application in its Gin and Chronic (pictured, $11). Riffing on the classic two-ingredient highball, bartenders combine herbaceous Plymouth gin, pimento-dram--spiced lime juice, and a house-made tincture crafted from grain alcohol and a mixture of pelletized hops. A splash of tonic water and a whole-leaf hops garnish—an in-your-face touch—reinforce the nip's earthy profile. Barkeep Michael Klein, a fixture at PDT(113 St. Marks Pl between First Ave and Ave A, 212-614-0386), has also been dabbling in the bitter buds. For his Ace in the Hole ($15), he revises the classic Vesper cocktail: Employing an iSi canister (the same type of metal charger used for whipping cream), Klein forces the lemony flavor of Japanese Sorachi Ace hops into Purity Vodka, in a speedy process known as a nitrogen infusion. To the resulting elixir, he adds citrusy Lillet Blanc and Hitachino beer schnapps to give it a malty backbone. A more subtle deployment of hops can be found in the tiki-leaning R.M. Grog ($16) from Eben Freeman and Michael Longshore at Ai Fiori(400 Fifth Ave between 36th and 37th Sts, 212-613-8660). The barmen speckle their mix of rich Ron Zacapa Solera rum, raisiny Cocchi Vermouth di Torino, orgeat, ginger syrup and Meyer lemon juice with a constellation of fragrant grapefruit bitters—spiked with Bavarian hops—from the Bitter Truth. With other local watering holes, including Williamsburg bar-distillery hybrid the Shanty, also tinkering with suds-inspired potions, the next-wave beer-cocktail seems to be hitting its stride. Hops heads and spirits geeks never shared so much common ground.
Sponsored listing
Offside Tavern
Sports fans without cable will want to make a note of this Chelsea bar that shows everything from Major League Soccer to the NBA finals on its 15 TVs. Offside Tavern also hosts a free Mario Kart tournament every Monday, Geeks Who Drink trivia on Tuesday and the Bodega Cat Comedy Show on Wednesdays. Bartenders sling draft beers including Coney Island Mermaid Pilsner, Captain Lawrence 6th Borough Pilsner and Brooklyn Lager ($7 each), plus craft cocktails like the Full Court Press with lime vodka, fresh pressed lime juice, lemon-lime soda and sparkling water ($10). If you get hungry, bar snacks like crispy mac and cheese wedges ($5.95), southwestern egg rolls ($7.95) and classic nachos ($9.95) should do the trick.
Venue says: "Beer Pong tournaments every Saturday starting at 5p, come get your $10 pitchers this weekend! Check out Mario Kart Mondays & Trivia Tuesdays"