Bars
Your guide to bars and drinking in New York City. Whether you're looking for a cocktail or a beer, use our guide to find the best new bars in NYC.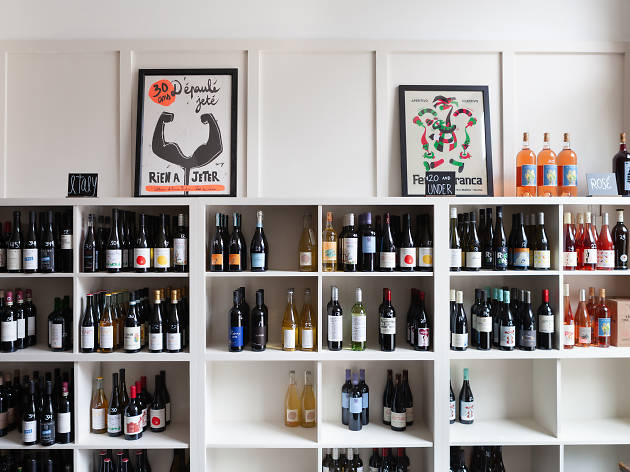 The coolest wine shops in NYC
Hit up the hippest new wine shops around the city and bring a bottle home. Whether you're looking for a Netflix 'n Chill kind of night or hosting a lowkey dinner party, staying in doesn't mean you have to compromise. Educate your mind and palate by going for a funky natural wine selected by these expert newcomers.  RECOMMENDED: The best wine bars in NYC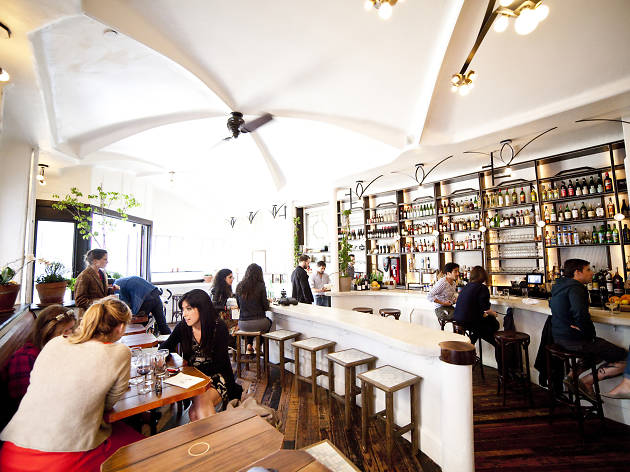 The absolute best Williamsburg bars in NYC
Williamsburg bars are responsible for the bulk of Brooklyn's glittering drinking scene. The neighborhood has watering holes for every type of drinker: straightforward beer bars for hops geeks, sophisticated first-date bars for Tinder matches and a bevy of chameleon-like joints that are equal parts bars, restaurants and places to dance. Read on for the absolute best bars in the hood. RECOMMENDED: Full guide to Williamsburg, Brooklyn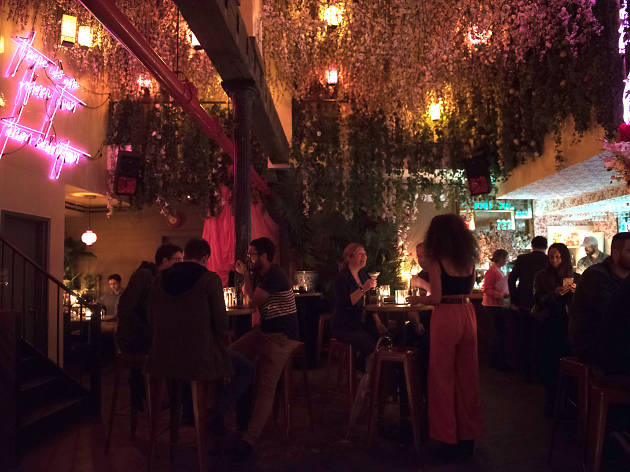 The 26 best speakeasy bars in NYC
It feels like NYC speakeasy bars are a dime a dozen right now. In a city as vibrant and storied as New York, there's no telling how many hidden architectural gems, in-the-know parties and clandestine art galleries lay unnoticed to the greater masses—ditto with NYC's best speakeasy bars and restaurants. From dialing in codes, secret entrances through a telephone booth and a Japanese restaurants' tasting menu served behind an unassuming butcher shop, these are the best restaurants and bars offering great eats and drinks on the down low. RECOMMENDED: Full guide to the best bars in NYC
Best bars by neighborhood
What's happening at Time Out Market New York ?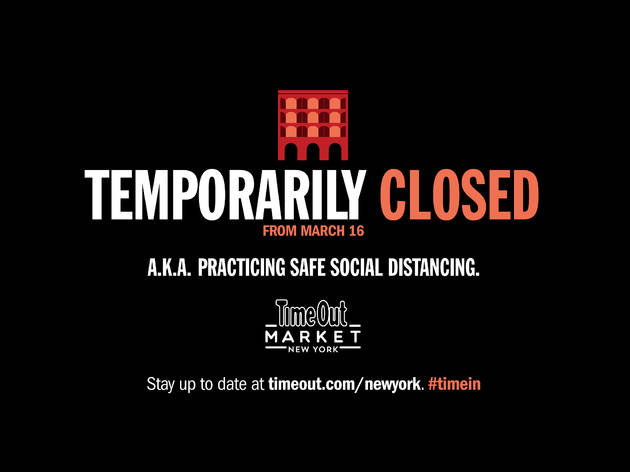 Time Out Market New York will close temporarily from March 16
Your safety means a lot to us.  That's why, in addition to changing our logo and shifting our mission, we've decided to close Time Out Market New York temporarily. The market will remain closed for as long as needed to help NYC in its ongoing efforts to fight the spread of coronavirus.  We've made this difficult decision after monitoring the latest developments and receiving input from health authorities and the city government. The wellbeing of our guests and staff is the most important thing for us, so this seemed like the right way forward.  "These are unprecedented times and nothing matters more than the health and safety of our guests, teams, concessionaires and the local community as a whole," says Didier Souillat, CEO of Time Out Market. "We have decided to temporarily close as it is our responsibility to do our part to protect everybody—we are looking forward to reopening when it is safe and to once again welcome guests to Time Out Market." The market will be closing after dinner service on Sunday evening, March 15. We hope to reopen soon, and will let you know as soon as we can when that will be.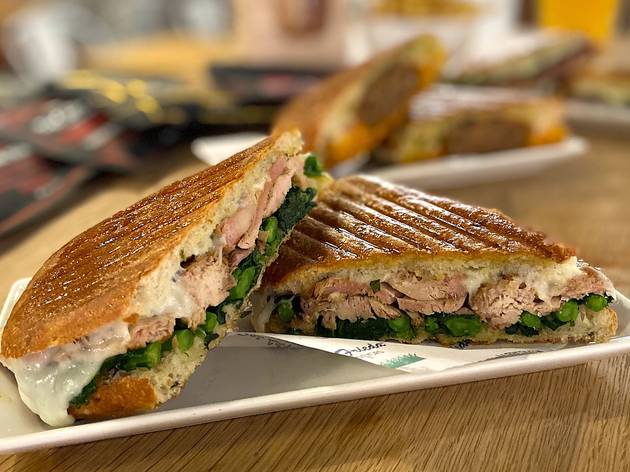 Pat LaFrieda opens pop-up Meats at Time Out Market New York
Pat LaFrieda's name is all over the city when it comes to the best steak restaurants and best burgers in NYC. But there's one dish the king of meat—who operates his eponymous Pat LaFrieda Meat Purveyors on the first floor of Time Out Market New York—has yet to conquer: paninos. The Brooklyn native opened a pop-up called Meats on March 6th on the first floor of Time Out Market with a nod to his Italian roots. Panino literally translates to "a little bread" and is often used to refer to a rolled sandwich filled with meats, veggies and cheese. Photography: Time Out / Savannah Wasserman At LaFrieda's pressed-sandwich concept, he's offering three choices: Prosciutto de Parma Panino ($17): imported prosciutto, provolone cheese, arugula and balsamic reduction Italian Stallion Panino ($15): grilled chicken, sautéed broccoli rabe, fresh mozzarella, roasted garlic aioli Grandpa's Meatball Panino ($15): all beef LaFrieda meatballs, housemade marinara, fresh mozzarella, fresh basil We have no doubt that LaFrieda will also master the panino (we were fans of the slow roasted pork shoulder sandwich he debuted recently). But if you're missing some of the greatest hits, just add an order of the seasoned house fries ($7) and take in the waterfront views of Dumbo and Manhattan—another hit you'll only find at Time Out Market New York.  Meats will be open noon-8pm Monday-Thursday and Sunday. Noon-10pm on Friday and Saturday. Photography: Time Out / Savannah Wasserman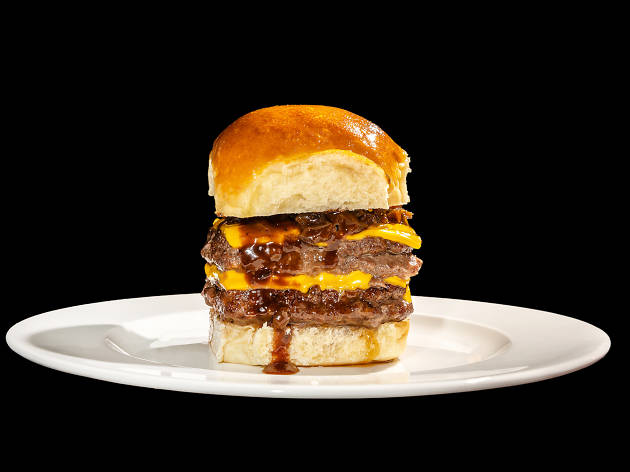 Time Out Market New York launches $12 lunch deal with Bessou, Alta Calidad and more
Dumbo isn't the easiest place to find affordable lunch options, what with all the tourist traps taking advantage of the crowds. With that in mind, we've launched our own lunch specials at Time Out Market New York. It's one of the best deals in the neighborhood for both those that are new to the area and those who've loved it for a long time. From Monday through Friday, 11am until 3pm, participating vendors will offer a signature dish with a complimentary soft drink (and some with other bonuses), for $12. Here's what we're offering: Bessou What's the deal? Japanese chickpea curry rice bowl with a side of chicken karaage.  Mr. Taka Ramen What's the deal?  Spicy Tantan Men (soupless ramen) with wavy, flat noodles, ground pork, scallions, leeks sesame and spicy oil. The dish also comes with a house salad or soba noodles as a side.   Photograph: Courtesy Time Out Market New York Alta Calidad Taqueria What's the deal? A quesadilla-roti (corn or flour) with chips and salsa. View this post on Instagram A post shared by Alta Calidad Taqueria (@actqloves) on Dec 3, 2019 at 2:13pm PST   Pat LaFrieda  What's the deal? Signature slider and fries.  Clinton St. Baking Company What's the deal? A "B.E.L.T": Double smoked bacon, free range eggs, lettuce, tomato and mayo, on sourdough toast.     Avocaderia  What's the deal? Rotating salads and toasts that will change daily. Mondays will bring a seasonal salad, Tuesdays it