Heads up! We're working hard to be accurate – but these are unusual times, so please always check before heading out.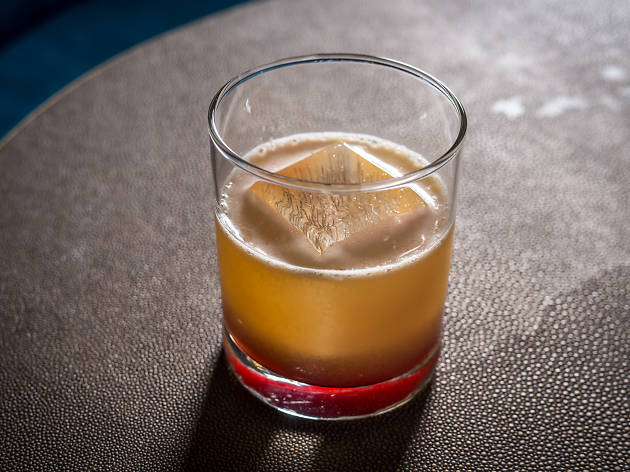 Meet the panelists of the Time Out Bar Awards 2016
Here are the esteemed industry movers and shakers who are helping us crown the best bars in New York City
We're a little under one week away from the second annual Bar Awards (snag tickets here before they're gone), where we'll be celebrating all of our well-deserved finalists and announcing the six among them who will be crowned winners in their respective categories. But we didn't do it alone—for this year's awards, we rounded up some of the best and brightest names in the industry to tell us where they love to drink and who among their peers have captured their attention. Here are the industry panelists of the Time Out Bar Awards 2016.
RECOMMENDED: Full guide to Time Out New York's Bar Awards
Meet the panelists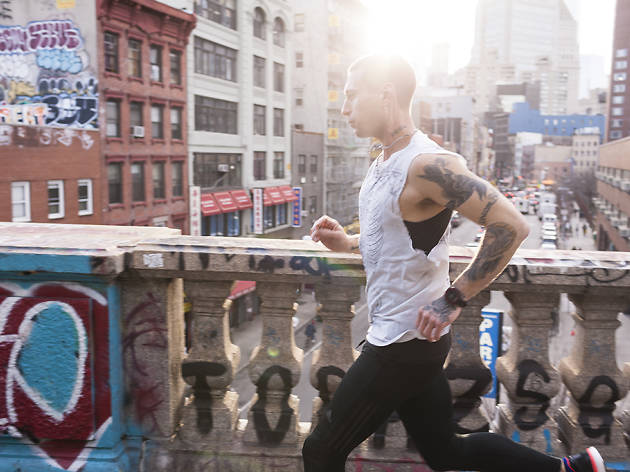 Photograph: Andrew Rowat
Sam Anderson, beverage director and front-of-house manager at Mission Chinese Food
As beverage director and front-of-house manager at Mission Chinese Food, Sam Anderson created an innovative cocktail program to complement the chili-forward fare of chef Danny Bowien. Anderson has also designed bar programs at Hotel Delmano, Vinegar Hill House, Sel Rose, Mission Cantina, Fig 19. and Cafe Collette. Beyond the bar, Anderson runs marathons competitively, enjoys French New Wave film and has a dedicated yoga practice.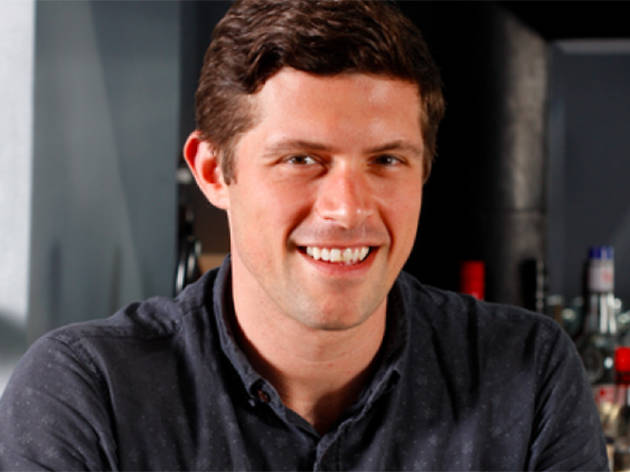 Joe Campanale, partner at Alta Linea and L'Artusi, L'Apicio and Anfora
Joe Campanale is the co-founder and partner of the restaurants L'Artusi, dell'anima, L'Apicio and Anfora. Separately, he operates Alta Linea at the High Line Hotel, a seasonal al fresco dining concept focused on Italian aperitivi and updated versions of classic Italian cocktails. Campanale is a graduate of NYU's Food Studies M.A. program, author of the cookbook, Downtown Italian, host of the Heritage Radio Network podcast "In the Drink" and founder of Annona, a line of fine Italian wines which focuses on handmade, organic bottles from lesser-known parts of Italy. He is a native New Yorker and an avid marathon runner.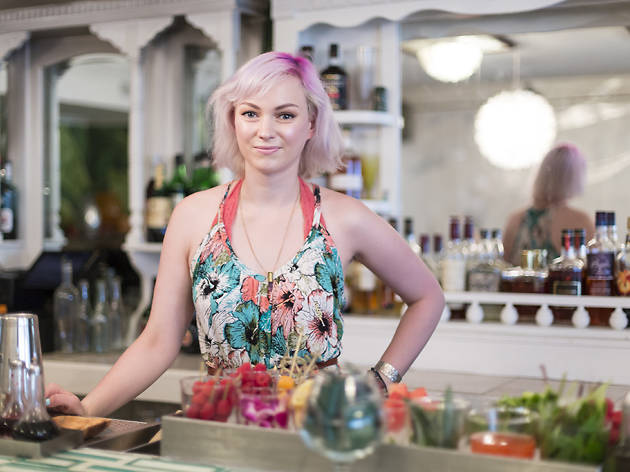 Jane Danger, beverage director at Mother of Pearl and Cienfuegos
After starting her bartending career at the storied Bowery punk-rock music club CBGB's, Jane Danger made a full 180 turn and began cocktail waitressing at the East Village's Death & Co. From there, her career included stints at PDT, making specialty hot dogs and cocktails under Jim Meehan, as well as Sasha Petraske's Little Branch and the NoMad Hotel. Danger now oversees the beverage program at the rum-punch bar Cienfuegos and modern tiki bar Mother of Pearl.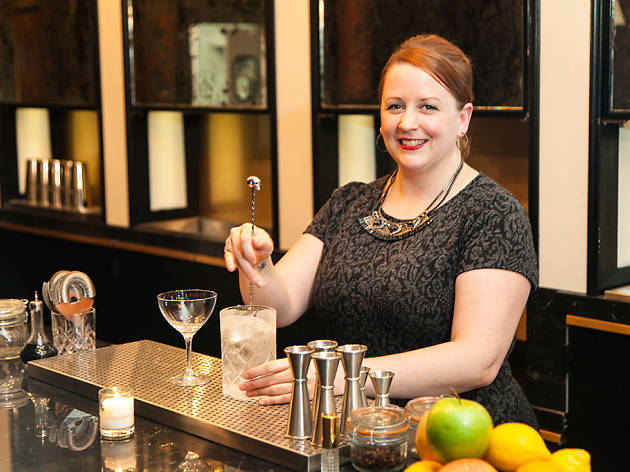 Meaghan Dorman, bar director at Raines Law Room, Dear Irving and The Bennett
Meaghan Dorman oversees the operations of three acclaimed NYC bars: Raines Law Room, where she is also a partner, Dear Irving and the newly-opened the Bennett. Dorman is also a proud founding member of the New York City chapter of LUPEC, which enhances the community of local women in the bar and spirits industry through charity work, education and events. She has presented at the Manhattan Cocktail Classic, Tales of the Cocktail and has been a finalist in competitions such as the 2013 International G'Vine Gin Connoisseur Program and a winner of the 2011 Metropolitan Opera Cocktail Competition.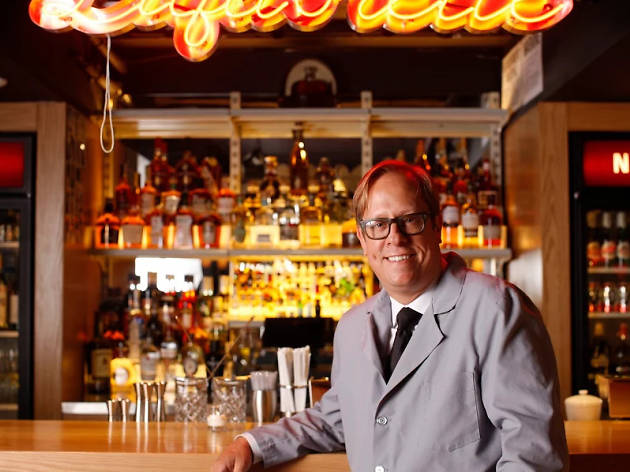 Eben Freeman, head of bar operations and beverage development, AvroKO Hospitality Group
Eben Freeman is widely regarded as one of the founding fathers of molecular mixology, but he also has a thorough understanding of classic cocktails, as seen in his Emmy-nominated series of cocktail tutorials. He first gained notoriety in the industry in 2004 while working with chef Wylie Dufresne on the opening of the groundbreaking restaurant wd~50. He then went on to open Tailor with chef Sam Mason, where he garnered praise and global recognition for his innovative cocktail program. In 2009, after making an appearance as the first mixologist at the World Gourmet Summit in Singapore, Freeman spent a year traveling and working in the region for renowned hotels and hospitality groups such as the Mandarin Oriental, Millennium, Conrad and Buzz Group, training staff and designing inventive cocktail programs. Returning to New York, Freeman oversaw Michelin-starred chef Michael White's the Altamarea Group before landing in his current role overseeing AvroKO Hospitality Group projects worldwide, as well as behind-the-stick at the group's latest hot spot, Genuine Liquorette.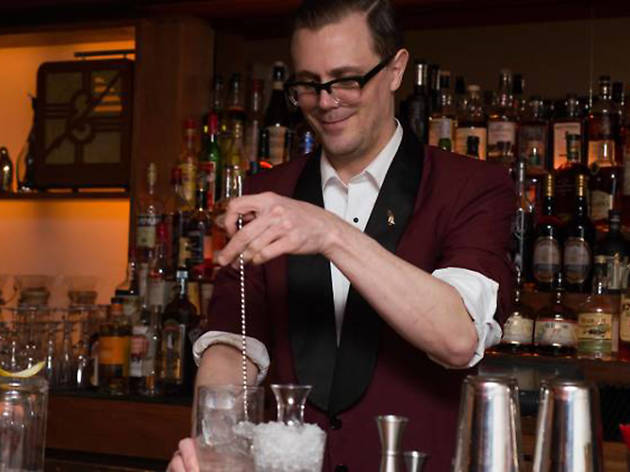 Jim Kearns, bar director, the Happiest Hour and Slowly Shirley
Helming the bi-level watering hole the Happiest Hour and Slowly Shirley, Jim Kearns restores a sense of fun and escapism to the cocktail-bar experience. He also leads the cocktail program at the casual Mexican restaurant Tijuana Picnic, and has previously curated the bar program at PLAY at the Museum of Sex. Over the years, his career has included stints at Pegu Club under Audrey Saunders, the NoMad Hotel alongside Leo Robitschek and Double Seven with Sasha Petraske. Kearns graduated from New York's Pratt Institute in 2004 with a degree in photography, and views all creative disciplines to be essentially the same as long as there is a sincere effort to a produce a refined result. His go-to beer is Miller High Life and he has never found a cocktail better than the Manhattan.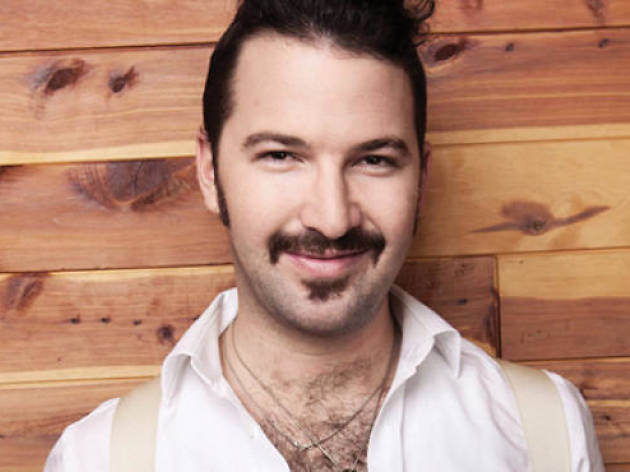 Sam Ross, co-owner, Attaboy
Beginning in a busy café at the age of 15, Sam Ross first mastered the espresso machine, and fondly remembers pumping out caffe lattes to a 200-seat café. Upon finishing school in 2000, Ross collaborated with his mother and sister to open Ginger, a cocktail bar in Melbourne, Australia that garnered great success as one of the country's pioneers of cocktail culture. After moving to New York in 2004, he began working with Sasha Petraske at Little Branch, East Side Company Bar and Milk & Honey, while also bartending with Audrey Saunders at Pegu Club. In 2008 he was nominated for Tales of the Cocktail's Global Bartender of the Year and bestowed a StarChefs Rising Star Award. Again in 2010 and 2011, he was nominated at Tales of the Cocktail as both American and Global Bartender of the Year (winning American Bartender of the year in 2011). Now, you can find him in the former Milk & Honey space at Attaboy.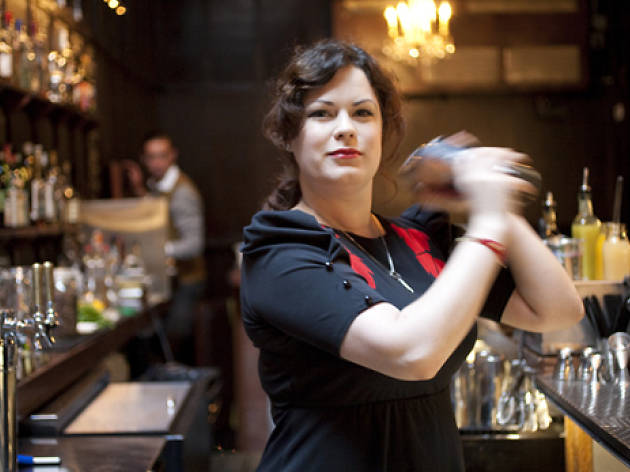 Karin Stanley, partner, Dutch Kills
Karin Stanley knew she wanted to bartend from an early age, and started experimenting with the craft as early as high school. Having put in time at acclaimed destinations including Milk & Honey and Little Branch, Stanley brought her brand of serious craft cocktailing to Long Island City with the opening of Dutch Kills, where she is a partner. Today, she can be found behind the bar at Little Branch and Suffolk Arms. Her favorite cocktail is a daiquiri.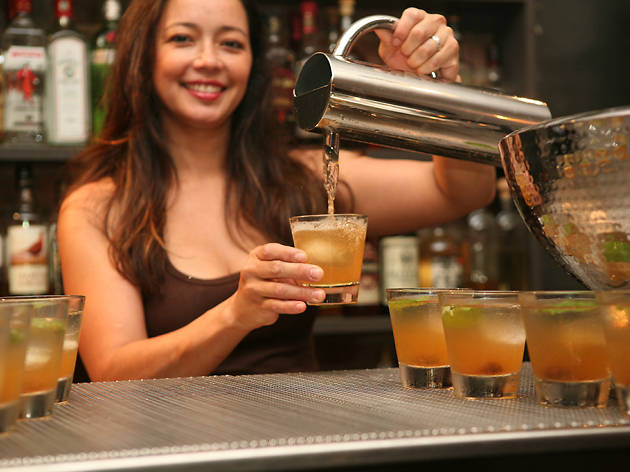 Lucinda Sterling, managing partner, Middle Branch and Seaborne
After embarking on a cross-country road trip from her hometown of Denver, Sterling turned a New York City pit stop into a permanent destination. Having zero bartending experience, she found a road into the industry as a regular at the bar Milk & Honey, where she was introduced to Sasha Petraske and started soon after as a cocktail server. Sterling flourished as a mixologist at Petraske's second venue Little Branch, and was named managing partner of this third bar, Middle Branch, where she continues to oversee day-to-day operations. After Petraske's sudden passing, Sterling saw to completion his posthumous final bar, Seaborne, in Red Hook, where she can be found slinging classic cocktails.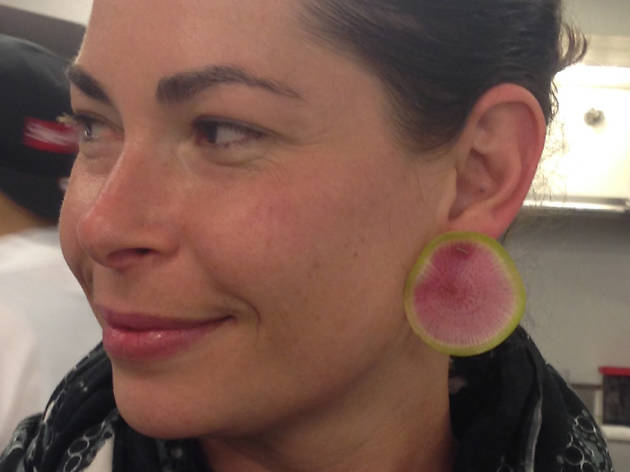 Yana Volfson, beverage director, Cosme
Born and raised in the Bronx, Yana Volfson has been designing beverage programs in New York City for more than a decade. Her philosophy explores a fundamental and magical approach to what tastes good. Her palate is her most important tool by which she selects wines, spirits and artfully designs cocktails that are elegant, tasty and balanced. She curates all that is liquid at Cosme restaurant in NYC.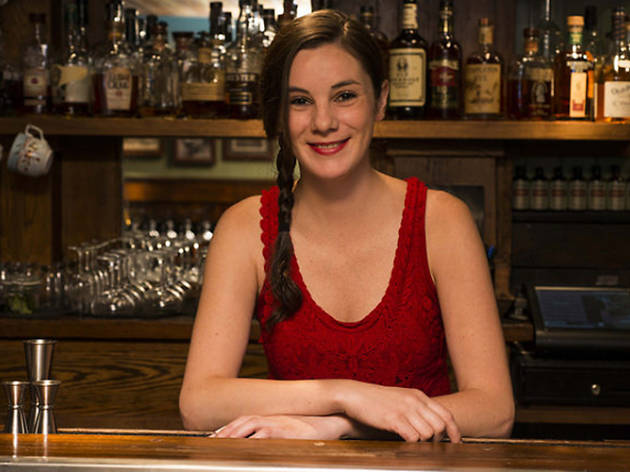 Jillian Vose, bar manager, The Dead Rabbit Grocery & Grog
As bar manager at the acclaimed Dead Rabbit Grocery & Grog, Vose was instrumental in creating the third iteration of the bar's menu, which was named World's Best Cocktail Menu at the 2015 Tales of the Cocktail, the same year the bar won the industry's highest accolade of World's Best Bar. Previously, Vose was the bar manager at Death & Co., a whiskey ambassador for Campari America, where she helped manage its Women & Whiskies initiative, and manager at Clover Club. She received her Level One Court of Master Sommeliers certificate at the age of 24, and was named a 2013 Rising Star by Star Chefs. Her initiation into the world of hospitality and spirits began while working in the fine-dining establishment of Elements & Jade bar in Paradise Valley, Arizona.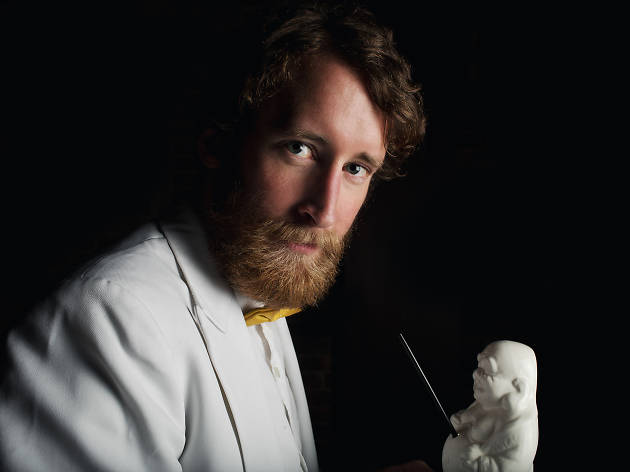 Thomas Waugh, beverage director, Major Food Group
Thomas Waugh oversees the beverage operations across New York's lauded Major Food Group, whose impressive portfolio includes Carbone, Dirty French, Sadelle's and ZZ's Clam Bar. A native of California, Waugh previously put in time at San Francisco's Alembic and Enrico's Sidewalk Café, before moving to New York to work at Death & Co and Clover Club.
Find the best cocktails in NYC
New York is full of great beer bars and wine bars, but cocktails is where the city really shines. We've got some of the best bartenders in the world reinventing and creating new, delicious libations daily. Whether you're a whiskey drinker or enjoy your martinis shaken, not stirred, we've got eveything you need to find (or make) the perfect cocktail.