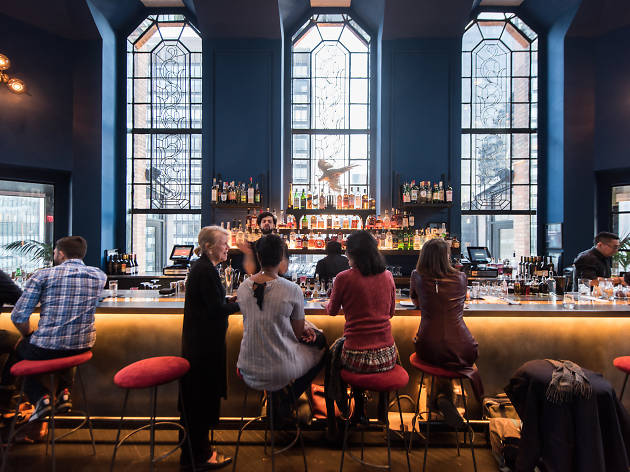 1/3
Photograph: Teddy Wolff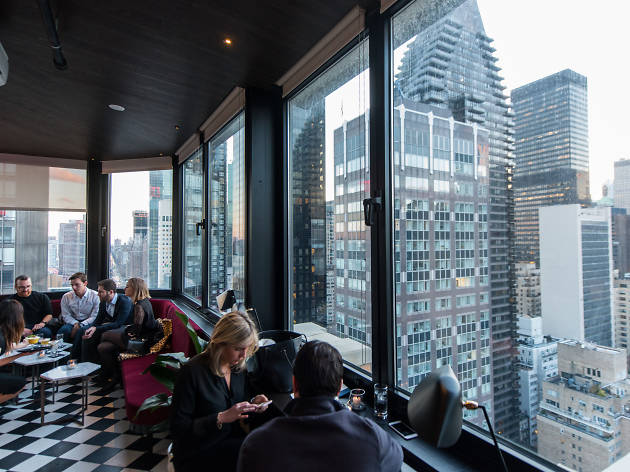 2/3
Photograph: Teddy Wolff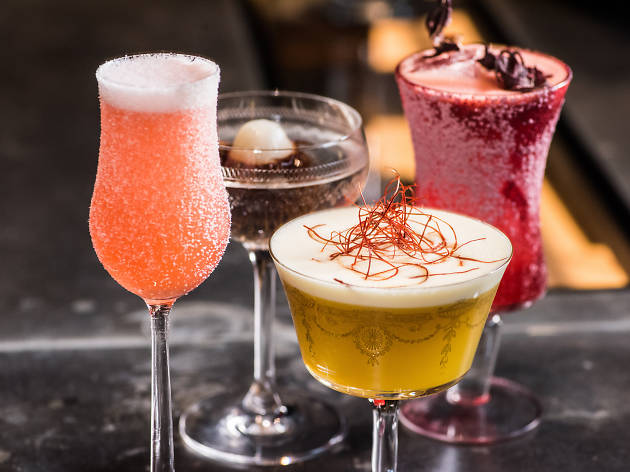 3/3
Photograph: Teddy Wolff
At first, it may feel awkward strolling through a quiet apartment building's bright lobby at 9pm, bypassing the doormen (PSA to residents: they let us right in) and hustling into a packed elevator with three cranky, middle-aged European tourists. But once you reach the 26th floor of Beekman Tower, you're instantly welcomed into a decadent barroom fashioned with soaring cathedral windows, jewel-tone blue walls and glass showcases filled with vintage oddities.
This intoxicating music-box–like space has four doors that lead curiosity seekers to the main draw: a maze of enclosed terraces snaking around the perimeter, outfitted with red-velvet couches, checkered black-and-white floors and sweeping views of Midtown East (yep, you hauled your ass over to First Avenue and 49th Street).
Ophelia's sultry old-world appeal instantly clicks when you learn that the bar—once named Top of the Tower—served oh-so-casual customers like Frank Sinatra and Frank Zappa. However, we doubt either Frank would have been greeted with our less-than–A-list service: We were seated at two different tables for a party of four (we pushed hexagonal modules together ourselves) and rushed through our drink orders. But once the glamorous cocktails arrived, you can bet that @olblueeyes would have been Boomerang-ing the lavender-hued Purple Tuxedo: a heady concoction of gin, vermouth, absinthe and plum bitters, shimmering with suspended golden flakes.
The remaining quaffs were as lovely in looks as they were forgettable in flavor. Expect similarly sweet and aromatic notes from the vodka-spiked Resurrection (Campari, passion fruit, hibiscus), served in a bloodred tulip glass; and the Flapper (amaretto liqueur, pineapple, Angostura bitters, Moët & Chandon), poured in a dainty grappa glass. For something on the stronger side, the clear White Lightning is bitter but not too biting, thanks to its combo of moonshine whiskey, Cointreau and a funky garnish of half-peeled rambutan.
The longer you sit perched on the plush velvet couch, the easier it becomes to picture yourself sipping a gorgeous drink amid spectacular views all the damn time. But just like the Hamlet character who inspired the bar, Ophelia may easily capture our attention, but she can't keep her wits about her long enough to thrive.
Venue name:
Ophelia
Contact:
Address:
Beekman Tower
3 Mitchell Pl
New York
10017

Do you own this business?