Preview: Tørst bar set to open in New York City
Scandinavian brew rock star Jeppe Jarnit-Bjergsø (Evil Twin Brewing) touches down in Brooklyn with buzzy new Greenpoint bar Tørst.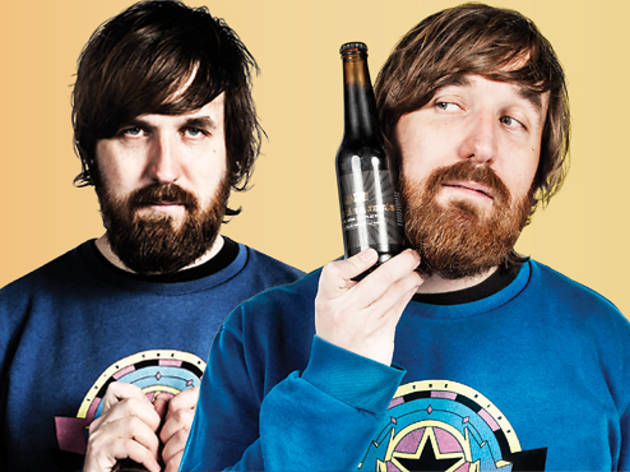 RECOMMENDED: This year's guide to the best beer in NYC
Come March, Denmark's indie-beer maestro Jeppe Jarnit-Bjergsø (Evil Twin Brewing) will plant a flag in Greenpoint with the game-changing Tørst. The visionary Jarnit-Bjergsø is something of a legend in brew circles: Along with his twin brother, Mikkel Borg Bjergsø of Mikkeller Brewing, he helped ignite the gypsy-beer craze in 2006—inspiring nomadic, experimental young brewers to hopscotch around the world fermenting their goods in borrowed facilities.
After six years of running beer shop Ølbutikken and a distribution company in Denmark, he stunned the craft-beer community last year when he relocated Evil Twin's home base from his native Copenhagen to Brooklyn, and revealed plans to up the ante for the city's hops scene with a high-minded alehouse. "I wanted a life change," says Jarnit-Bjergsø, who moved with his wife and two children to Williamsburg last spring. "Evil Twin was gaining popularity in the States, and I wanted to be a close part of it."
Designed by voguish Brooklyn firm hOmE (Donna, Paulie Gee's), the 45-seat Tørst—Danish for "thirst"—will reflect Scandinavian minimalism, with dark reclaimed wood and angular light fixtures. Keyed-in drinkers can scratch their chins over 21 elite drafts, including some made exclusively for the bar by cutting-edge brewers such as Cantillon's Jean van Roy of Brussels and experimental tinkerings from up-and-coming cult producers like De Molen (Netherlands) and Omnipollo (Sweden).
Rounding out his ambitious vision, Jarnit-Bjergsø has joined forces with another esteemed culinary figure: Chef Daniel Burns (late of Noma, the Fat Duck and Momofuku's food lab) will execute a Scandinavian-inspired tasting menu at the tentatively named Luksus, a 26-seat restaurant—expected to launch in the summer—accessed via a secret door at the back of the bar. More radically: As high-end restaurants like Eleven Madison Park and Per Se expand their beer lists to match the seriousness of their wine programs, Luksus will do away with vino and cocktails altogether, serving only brews alongside its haute constructed plates. It's a ballsy move—but if the gypsy-brewing movement is any indication, we expect to see many more beerestaurants in the future. 615 Manhattan Ave between Driggs and Nassau Aves, Greenpoint, Brooklyn (no phone yet)
Sponsored listing
Ryan's Daughter
Though Ryan's Daughter only opened in 1979, there has been a bar at the same Upper East Side location since the Prohibition era. Over the years, the pub has maintained the same welcoming feel and today, it still plays host to plenty of neighborhood events. Stop by on the first Wednesday of every month to watch the unofficial UES poll championships. From time to time, the upstairs bar even hosts performances of plays written by local thespians. During the colder months, sip on an Irish coffee to warm up—Ryan's Daughter offers both the classic recipe and one spiked with whiskey and Bailey's—or a hot toddy. The bar has an extensive list of beers on tap, including their own house ale ($5), Paulaner hefeweizen ($6) and Six Point "The Crisp" Pilz ($6). The usual suspects—Budweiser ($5), Corona ($6) and Pabst Blue Ribbon ($4)—appear in bottles or cans, but the best deal might be the pairing of a can of Narragansett Del's Shandy with a well shot ($9).
Venue says: "Join us every Monday night for themed quizzes in our cozy second floor bar. $50 bar tab to the winning team. Prizes for the "losers" too"