Stumptown partners with Poler for new camp coffee kit
Lauded Portland, Oregon coffee roasters Stumptown and outdoor-gear specialists Poler debut a camp-ready brew kit.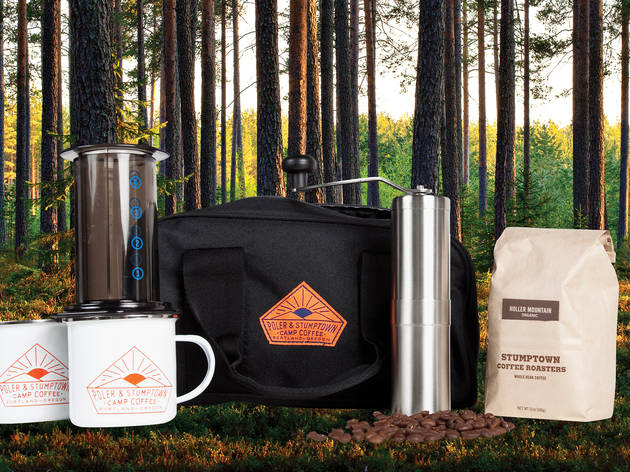 coffee
kit, launched in August. Utile and compact, the durable pack is filed with top-of-the-line goods needed to make a rousing cup o' joe anywhere (if you have the means to boil water). Inside the leather-strapped carryall, find a sleek, steel Porlex burr mill—grind ranges from
French
-press-coarse to espresso-fine—an AeroPress coffee maker with paper filters, two lightweight enamel mugs and a handy brewing guide. And when the only other caffeine source within eyeshot is a roadside fast-food pot or spectacularly bland office perk, the included 12-ounce bag of Stumptown's robust,
chocolate
-rich Holler Mountain roast is an outright godsend. Don't let the price give you sticker shock—it's surprisingly economical for a first-rate eye-opener, when you consider the average American drops 1,000-plus buckaroos on coffee each year.
Stumptown Coffee Roasters, 30 W 8th St at MacDougal St (347-414-7802, stumptowncoffee.com). $125.