The best drinks in NYC 2012: Cocktails and beer
Join the ranks of enlightened imbibers with our guide to the best drinks of 2012: Cocktails, naturally, and also a new craft-beer classic.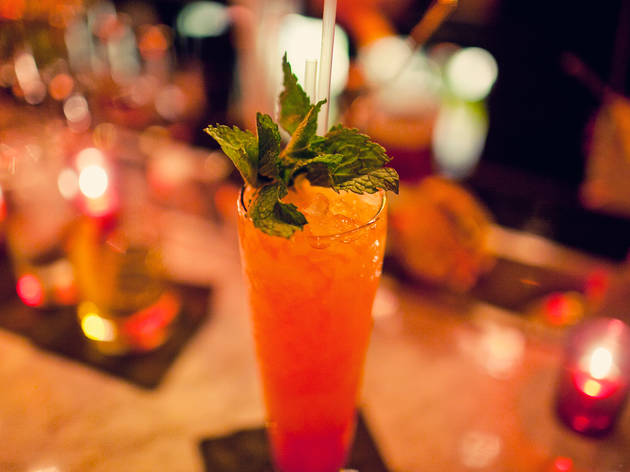 1/8
Photograph: Lizz Kuehl
Zombie Amaro at Bourgeois Pig BrooklynBartender Frank Cisneros enlists Fernet Branca and Amaro Montenegro for this zombie riff, a funky experiment that spans the gap between tiki and Mediterranean tippling. Served over crushed ice with a tuft of mint, the drink is remarkable for its complex layering of flavors: Lush tropical fruits dominate at first, slowly giving way to pleasing bitterness, spicy notes of overproof rum and a sneaky hit of absinthe. 387 Court St between 1st and 2nd Pls, Carroll Gardens, Brooklyn (718-858-5483). $12.—Chris Schonberger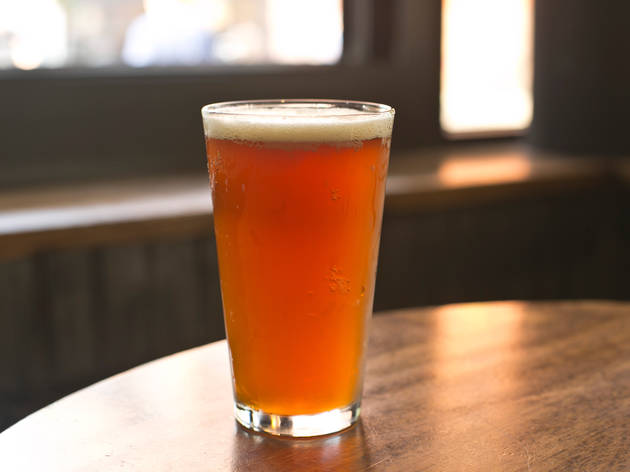 2/8
Photograph: Caroline Voagen Nelson
Bronx Pale AleBrooklyn Lager blazed the trail, followed by Sixpoint Sweet Action and Kelso Nut Brown—iconic NYC brews that have become defining fixtures of local tap lists. With its tightrope balance of biscuity malts and piney, grapefruit-forward hops, Bronx Brewery's debut pale ale is that rare newcomer that feels destined to join those ranks. It's an instant craft-beer classic, and one we look forward to sipping for years to come. Available at Bronx Ale House, 216 W 238th St at Review Pl, Bronx (718-601-0204). Pint $6.—Chris Schonberger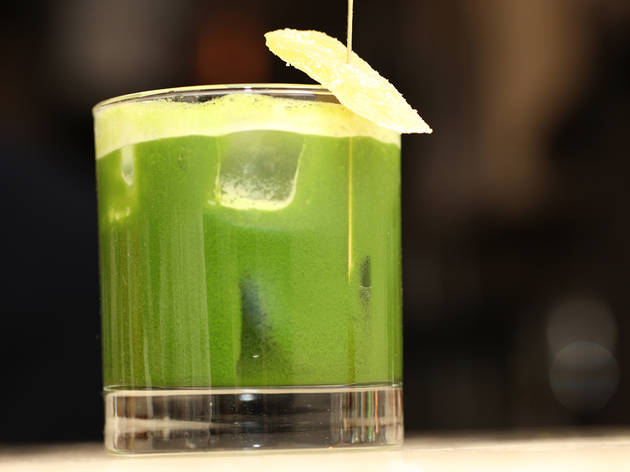 3/8
Photograph: Courtesy The Wayland
The Garden Variety margarita at The WaylandIt didn't take long for New York's latest health craze—juicing—to find its way into a cocktail glass. At the Wayland, this drink (originally conceived to help the bar manager beat a cold) is dosed with fresh-pressed kale and ginger, a dynamic mash-up of spicy kick and vegetal cool, punched up with tequila and sweetened with honeyed agave nectar. The smoked sea salt rim, in the manner of a margarita, provides a savory finish. 700 E 9th St at Ave C (212-777-7022, thewaylandnyc.com). $11.—Christopher Ross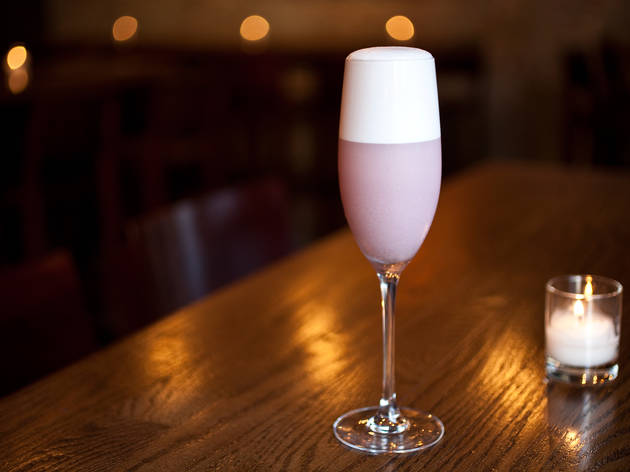 4/8
Photograph: Virginia Rollison
Sure Bet at Booker & DaxThe secret ingredient in this silky sherbet imitation is a house-made orgeat prepared by bartenders Tristan Willey and Karen Jarman (in typically techy Booker & Dax fashion) with a centrifuge that extracts oil from toasted almonds. Soft, floral tones from a pinch of crushed lavender leaves and an infusion of tartness from lemon and blackberry liquor crème du mure are leavened with egg white, and rich Banks rum. Shaken and topped with fizzing soda water, the drink hits the tongue frothy and cold, leaving behind a bright, clean wallop of citrus flavors. 207 Second Ave at 13th St (212-254-3500, momofuku.com). $14.—Christopher Ross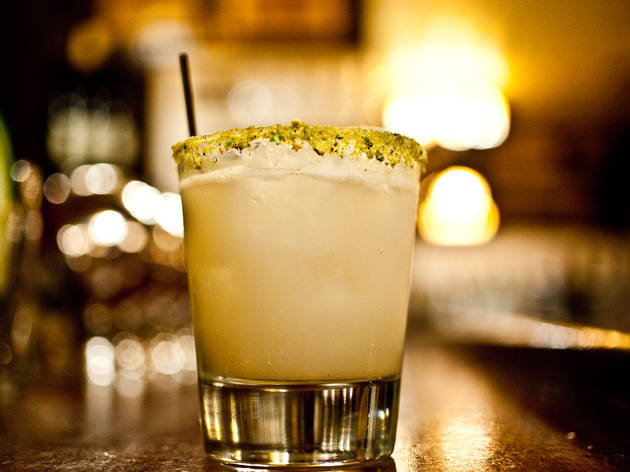 5/8
Photograph: Krista Schlueter
Pistachio de la Rosa at Minetta TavernNuts have played a rather mixed role in the history of cocktails, with most amarettos tending toward the sickly sweet. But with this margarita-fashioned tipple, Minetta Tavern bar manager Adam Doss makes a case for further experimentation. Doss's house-infused pistachio syrup finds a worthy companion in aged Don Julio tequila, Grand Marnier, and fresh lime juice. The nut brings the combination of tangy citrus and dry, herbaceous tequila to a full, rounded finish, aided by a fine dusting of crushed pistachio around the rim. 113 MacDougal St at Minetta Ln (212-475-3850, minettatavernny.com). $15.—Christopher Ross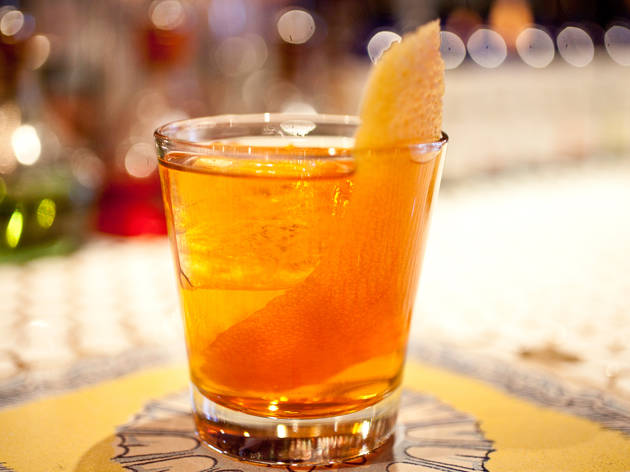 6/8
Photograph: Krista Schlueter
Di Pompelmo at Amor y AmargoFruit-forward drinks tend to court scowls among macho cocktail nerds who favor brown, bitter and stirred concoctions above all others. But for this gorgeous sip, Amor y Amargo barman Sother Teague has unearthed a sliver of the Venn diagram where fruit and brawn overlap. Blending the tart grapefruit cordial Bittermens Citron Sauvage with vegetal Siembra Azul blanco tequila and a hit of orangey Aperol, Teague produces a juicy and quaffable drink with a gently bitter smack. 443 E 6th St between First Ave and Ave A (212-614-6817, amoryamargony.com). $12.—Laren Spirer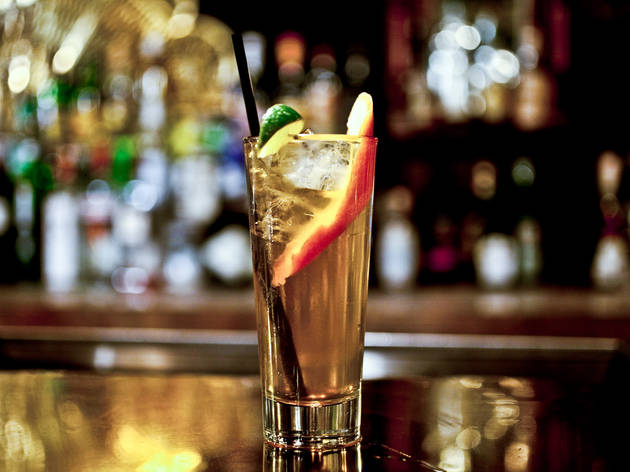 7/8
Photograph: Krista Schlueter
G&T on tap at Gin PalaceA gin and tonic is an effortless drink, a garden party refresher nonpareil. So when two figureheads of the craft cocktail movement—Gin Palace beverage directors Tom Chadwick and Frank Cisneros—signed their names to a version of the two-ingredient tipple, we took notice. In building the platonic ideal of a G&T, the pair carefully considered each element. The base is Gordon's, a classic London Dry; the bubbly is a house-tinkered blend of Bittermens Commonwealth Tonic Liqueur and soda water; a dash of grapefruit bitters and a twist of the fruit's peel punch up the citrus notes. The result is a thinking man's G&T, funneled through a tap system to allow for quicker service and a lower cost. Take advantage of the $7 price tag and let them flow. 95 Ave A at 6th St (212-614-6818, ginpalaceny.com). $7.—Laren Spirer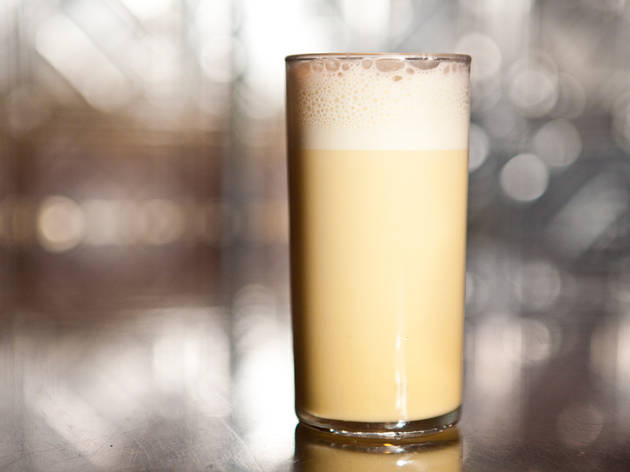 8/8
Photograph: Jakob N. Layman
Rebel Champagne Flip at Milk and HoneyFor this regal effervescent tipple, ace barkeep Samuel Ross spikes a lush base of heavy cream and egg yolks with slugs of Elijah Craig 12 Year bourbon and sweet, vanilla-y Licor 43. A touch of honey and vigorous shake lend body, while a pour of fizzy champagne sets off the ethereal drink with a lacy head and dry finish. 134 Eldridge St between Broome and Delancey Sts (718-308-6881, mlkhny.com/newyork). $16.—Mari Uyehara
RECOMMENDED: All 100 best dishes and drinks
New York's best barkeeps continue to prove their mettle by slinging some of the best drinks in the country. Our favorite sophisticated sips include an innovative creation at Bourgeois Pig Brooklyn, a perfected classic at Gin Palace and an experimental—and successful—cocktail at Minetta Tavern. Bronx Brewery's debut pale ale, meanwhile, is our bet for the newest fixture on NYC's taps.