The Feed first look: The Dead Rabbit
Pick your poison—craft cocktails, brews, Irish whiskey—at this long-awaited FiDi tavern from Irish barman Sean Muldoon.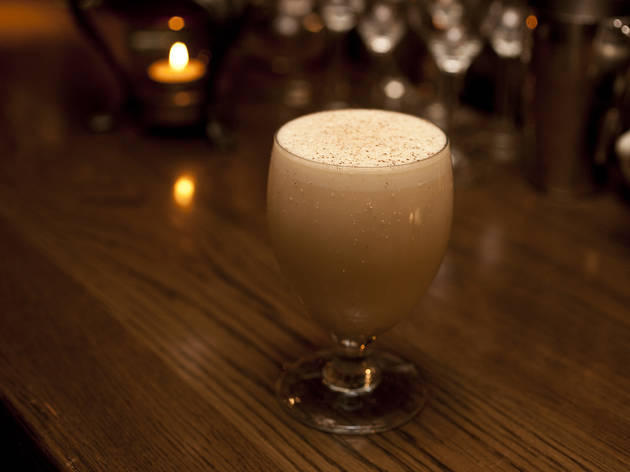 1/4
Photograph: Virginia Rollison
Baltimore Eggnog at the Dead Rabbit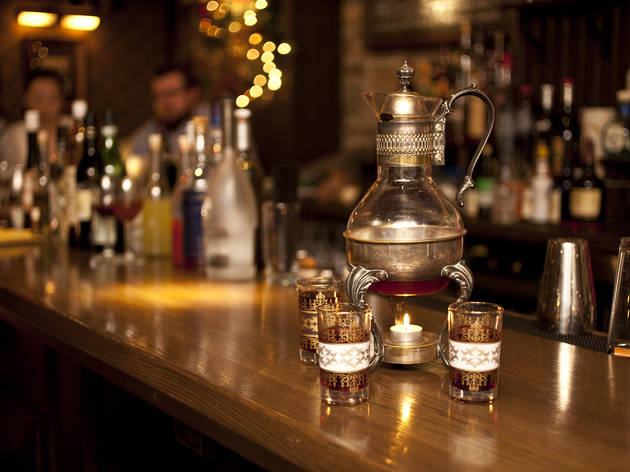 2/4
Photograph: Virginia Rollison
Alymeth at the Dead Rabbit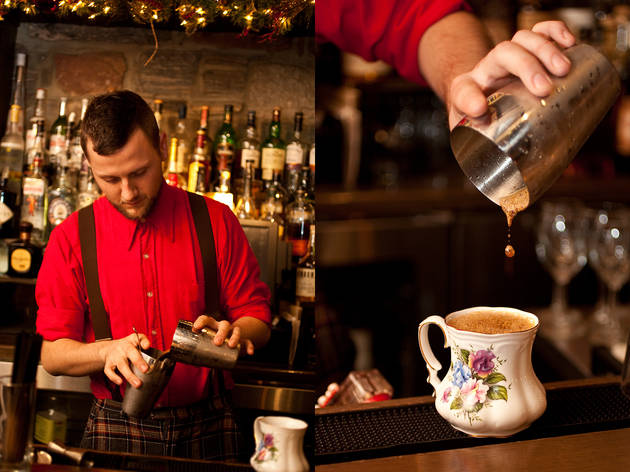 3/4
Photograph: Virginia Rollison
Jack McGarry at the Dead Rabbit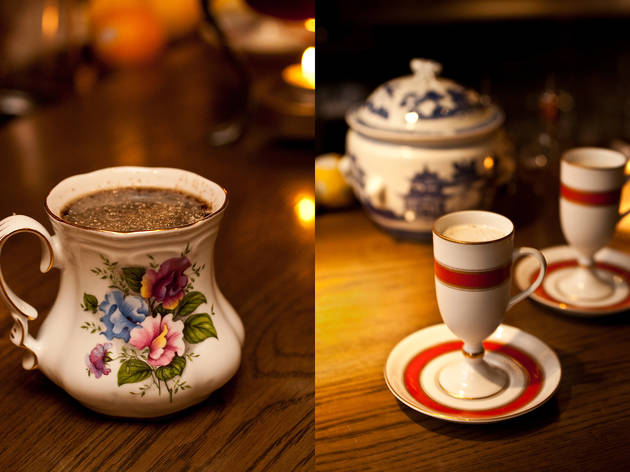 4/4
Photograph: Virginia Rollison
Porter Sangaree and mulled egg-wine at the Dead Rabbit
When modern bar owners reference the past, it's usually to evoke an era of tippling more civilized and fanciful than our own. Not so at this highly anticipated rough-and-tumble saloon (opening December 21st) from acclaimed barman Sean Muldoon, who ran Belfast's award-winning bar at the Merchant Hotel. More scalawag haunt than speakeasy, the spot takes its name from the dead rabbits that 19th-century New York gangs would pin onto sticks to intimidate enemies. Down a slug of Irish whiskey with a side of craft brew on the first floor, outfitted with a mural of the Civil War's hard-drinking 69th Regiment. At the cocktail parlor upstairs, sample from a list of 72 libations inspired by the creations of America's father of mixology, Jerry Thomas. The Red Cup is a brilliantly ruby cobbler—a type of fruity drink popular in Thomas's day—composed of calvados, port wine, cucumber and red currant. The menu of small plates tends toward heavy English fare: Scotch eggs, Welsh rarebit, steak-and-stout potpie. In the fashion of Emerald Isle pubs with shops attached, a tiny grocery offers homemade pickles, vinegars and jams to purchase on your way out. 30 Water St at Broad St (no phone yet)
Sponsored listing
Tonic East
With four floors—one of which is a rooftop patio—Tonic East is equipped to handle any large party or event. The vast space, plus the 60-plus TVs scattered throughout the bar, makes it a popular spot for watching NFL, NHL and college football games. The extended happy hour—from 11am to 10pm Sunday through Wednesday and 11am to 8pm Thursday and Friday—doesn't hurt either. Order from the happy hour menu to score select cocktails for $6 and a few beers for $5, or spring for a full-price option with some of the premium beers on tap, like Dogfish Head 60-Minute IPA or Schofferhofer Grapefruit. Any good game watch requires munchies. The loaded tater tots with bacon, cheddar, sour cream and scallions ($10) or wings with buffalo, barbecue or sriracha sauce (ten for $12) might fit the bill.
Venue says: "Happy Hour Sunday-Wednesday 11am-10pm. Thursday-Friday 11am-8pm"