The best whiskey bars in NYC
Looking for the city's best whiskey bar? NYC has plenty of peaty options, from bourbon bars to Scotch dens.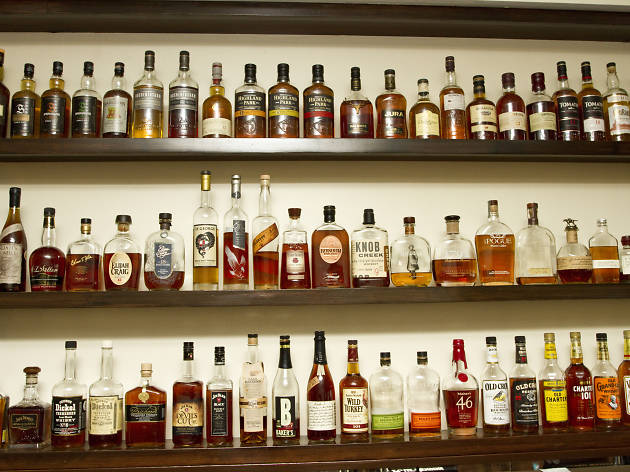 If you're aiming to expand your knowledge of the wild world of whiskey—or you just want to sip a few lowballs of extra-special brown stuff—you'll likely be seeking out the best whiskey bar in NYC. Whether you want to kick back in Bushwick or go highbrow on the Upper East Side, whether you want bourbon whiskey straight up or an Irish whiskey cocktail, these are the best whiskey bars in NYC.
RECOMMENDED: Full guide to the best bars in NYC
Best whiskey bar in NYC
1
When the weather turns brisk, the spirits go dark: floral gin gets swapped for smoke-nosed Scotch, and sunny rum makes way for spicy, robust rye. The brown slugs of fall are heartier than summer's easy-drinking sips and leagues more complex: mash percentage, grain variety, even soil disparities can profoundly alter the taste of whiskey. That's a hell of a lot to grasp for a connoisseur, let alone a brown-bottle newbie. Thankfully, the intimate Copper & Oak on the Lower East Side have whiskey enthusiasts covered like the sealed top of an aged barrel.
Read more
3
Downtown booze connoisseurs frequent this so-called library, the only one we can think of where liquor lines the walls. A novella-size drinks menu lists a glossary of spirits and 100 cocktail options, among them the Corpse Reviver (gin, lemon juice, Lillet Blonde, Cointreau and Pernod) and the Jarnac Ginger (cognac, bitters and ginger beer). Paying $13 for one of these earns drinkers a basket of gratis gougères (warm cheese puffs).
Read more
4
There's no shortage of brown-spirits peddlers in Williamsburg (Post Office, the Whiskey Brooklyn). But at this serious newcomer, whiskey joins forces with another resurgent epicurean darling—locavore grilled cheeses. Studious boozers can choose from more than 225 selections, including George Dickel Old No. 8 Tennessee Whisky, Johnnie Walker Blue Label and Old Potrero 19th Century Straight Rye Whiskey. The old-timey joint, which is named after a onetime Brooklyn creek, features a coffered ceiling, pine banquettes and lamps fashioned from amber medicine jars.
Read more
5
Two very different types of tipplers gather at this Village bar: those seeking PBR by the can, and those requiring a superb selection of Scotch (more than 30 single-malts, including the 15-year-old Islay Bruichladdich). Get there early to claim a snug corner leather booth or a table, and curb late-night hunger pangs with a top-notch burger (served until 4am).
Read more
6
This buzzing barroom marks the overdue arrival of a stylish Scottish tavern in NYC. The look is urban drawing room: Furnishings include stag heads, and the charming staff sports tartan ties. Scotch is the thing—sip from a collection of 100 whiskeys, or try one of the smart cocktails, which provide a perfect introduction to the spirit. We liked the citrusy Blood and Sand, made with 12-year-old Highland Park, Cherry Heering, orange juice and bitters. It's worth bringing an appetite for the gastropub fare, too: Lamb sausage rolls with harissa aioli make for a topflight drinking snack.
Book now
Read more
7
More than 400 varieties of whiskey line the shelves at this bar from nightlife maven Tommy Tardie and cocktail ace Miguel Aranda (Bar Masa, Apotheke). Check out the ancient flooring (the planks are 100-year-old reclaimed wood) while nibbling cured meats, cheeses, oysters and ceviches and enjoying nightly jazz performances.
Book now
Read more
8
When it opened in 1995, this trailblazer embraced all the contemporary beer memes while most NYC bars were still dealing in Miller and Coors. Beer lovers fond of European classics as much as the domestic microbrewery du jour will appreciate the scope of the 20-deep draft selection (most $7): You might find an orange-tinged Weihenstephaner Hefeweissbier from Germany alongside New York beers such as the velvety Southampton Imperial Porter. And for those looking for an upgraded boilermaker, dig into d.b.a.'s vast whiskey offerings—it's not often you can chase your craft beer with a rare Glenrothes Select Reserve ($18).
Read more
9
Whiskey novices can explore the expansive selection of American, Irish and Canadian whiskeys through the Lower East Side bar's whiskey flights, where you can choose one-ounce pours of any three whiskeys for $18.
Read more
10
Upper East Side regulars can get a taste of the Highlands at this Scottish tavern, pouring 180 varieties of Scotch and other whiskeys. Along with dark spirits (Glen Garioch, Old Pulteney and Caol Ila), Scots suds—including Bellhaven IPA and Fraoch Heather Ale—are on offer at the glossy wood bar. If the maps and tartan flags hanging on the walls don't drive home the pub's Scottish pride, the menu of sausage rolls and Scotch eggs should do the trick.
Read more
11
Whiskey lovers have a new hang in this diminutive Hell's Kitchen bar, which features more than 80 varieties of the spirit. If heady quaffs like a Redbreast 15-year or a Ridgemont 1792 bourbon aren't quite your speed, you can choose from more than 60 bottled beers. The dim, narrow space has exposed brick, and most seating is at the concrete bar, the better to claim your bartender's ear and nerd out over obscure brown spirits.
Read more
Looking to have a Manhattan cocktail?
When it comes to New York City's best cocktails, it doesn't get much more classic than the Manhattan
Read more
Sponsored listing
Fools Gold
Post up at a 42-foot-long counter for espressos and craft beers at this rustic café-bar from the Alewife team. In a room lined with keg pallets and light fixtures fashioned from plumbing parts, sip one of 30 draft brews, orange wines or Brooklyn Roasting Company coffee. Chef Michael Haigh (the Vanderbilt) crafts a bar snack menu featuring house-made pickles, charcuterie and crostinis.
Venue says: "Located on the LES of NYC, serving 30 beers on tap, cocktails, bourbon & bites"