By Time Out contributors, edited by Sophie Harris
It's an internationally agreed-upon fact that summer, wherever you are, is pretty awesome. But after careful scientific review, we're gonna stake our claim as the world's most wonderful city for summer. We have tested New York's best and weirdest ice cream, gone on the city's best summer dates, and, year after year, soaked up all the delights Gotham has to offer in the summertime. We decided it's official: NYC is the greatest city in the world for summer. Here's why!
RECOMMENDED: Full guide to things to do in the summer in NYC
1. Opportunities to stuff your face with ice cream are limitless: It's hot! Have some ice cream. You just biked all the way to the Cloisters! Have some ice cream. Your favorite character just got killed off on that TV show! Have some ice cream. You want some ice cream! HAVE SOME ICE CREAM.

2. Grilling outdoors gets ridiculous, in a good way. With all that BBQ smoke, the city's parks look like some kind of glorious '80s soft-rock video.

3. Shakespeare in the Park happens! Line up wicked early, see an incredible performance for free in the world's most beautiful park and cement your status as a true New Yorker.

4. You get to drink on boats. This basically means you're on vacation, even if just for an hour.

5. Rockaway Beach: The dream is real. We live in an amazing city and we have an incredible beach a quick train ride away, where you'll find live music, surfing and absurdly good fish tacos.

6. Not only do we have weekend festivals for every kind of music lover—from hip-hop bonanza Summer Jam to country blowout FarmBorough—but we've got Celebrate Brooklyn! And SummerStage! We have music festivals that last the entire season, featuring big-name headliners. We have tons of free shows in the city's most beautiful parks. Boom.

7. Late nights on rooftops. Early mornings on rooftops. Rooftop everything.

8. You can take your pick of naked events, from the Mermaid Parade (naked + glitter + fins) and Naked Bike Day (yes, we wonder about the, ah, physical logistics involved, but these photos tell us it's possible) and the Smallest Penis in Brooklyn contest. Watch from the sidelines or jump in and take part, the choice is yours.

9. Every restaurant, eatery, wine bar and even smoothie shop throws open their windows and sets up shop on the sidewalks so you can be outside at all possible times. Hooray!

10. All the best summer songs sound as if they were written about NYC ("Summer in the City," "Dancing in the Streets") and a whole bunch of them, like "Rockaway Beach" and "Roosevelt Island" are odes to our fair city in the summertime!

11. Macy's Fourth of July Fireworks. Gaze at the river and be utterly wowed at our annual pyrotechnics spectacular.

12. Our free swimming pools are all over the city and they're awesome. Our picks of the best includes Astoria Park pool, where you take in the gorgeous view of the Robert F. Kennedy Bridge, and the Floating Pool in the Bronx, which indeed floats atop a barge. And can we just say it again? They're free.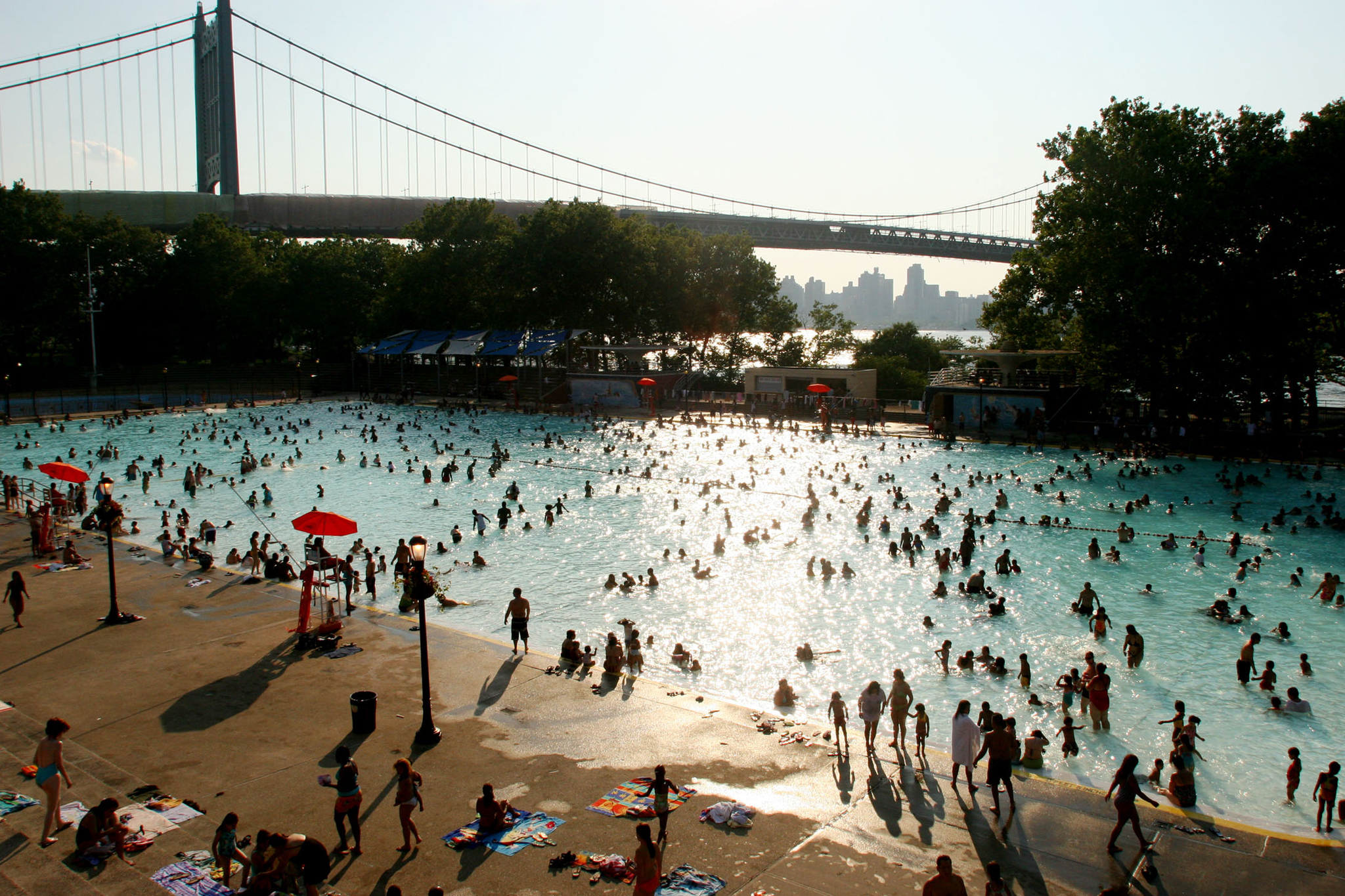 13. Our innate New York talent for doing gross things reaches a peak in summer with Nathan's Hot Dog Eating Contest in Coney Island. Yes, it's disgusting, and yes, we see you standing there in the front row, just like the rest of us.

14. NYC summer sunsets are outrageously beautiful. Those glowing shades of orange and hot pink reflecting off skyscrapers and setting over the Manhattan skyline are for our eyes only and they're magnificent.

15. Dollar-slice pizza sitting on a stoop at 3am on a hot, boozy summer night? We'll take it.

16. Holy shit! Free stuff and music and events and theater and food and drinks and art are EVERYWHERE during the summer!

17. People watching is fun in any season, but it's way sexier in summer. What? It is!

18. Every park becomes an urban oasis where you can lie outside, picnic and basically pretend you're not surrounded by concrete.

19. Long aimless, meandering days that start with brunch with friends in Brooklyn and somehow end up with you at the Angelika and then at a bar and suddenly it's 4 a.m. and you just had the best day ever and you DIDN'T EVEN MEAN TO.

20. We have ice cream shops for days! Waiting in the line outside Blue Marble by Prospect Park is part of the eventual joy of that first lick of your dream cone.

21. Nobody does food like New York, and the ante goes through the roof in summer. Our lip-smacking food fests happen pretty much every weekend—and on top of that, there's Smorgasburg every weekend. We'll take ours with wasabi-flavored sprinkles, please.

22. When you leave any indoor event and step out onto the sidewalk, the warm summer air feels like silk. What a wonderful, wonderful feeling.

23. You want classy? Stroll along to one of the New York Philharmonic's Concerts in the Parks and hear the orchestra play classics by Gershwin, Bernstein and Rogers. You'll feel like a million bucks and it costs absolutely nothing.

24. Rooftops get sexy. Or rather, the things you're doing on those rooftops get distinctly more exciting. From sweaty dance parties to casual dining to just plain drinking a frosty beer on someone's sketchy roof, there's nothing quite like a NYC rooftop in summertime, and you know it.

25. A slushie has never tasted so good or comforting as it does on the subway or in our hot apartments during the summer. No one appreciates the slushie as much as we do, and stop giving us that weird look for making them boozy.

26. You can walk around and look at things you would hurry past in the cold or rain of other seasons, like the architectural elements of old buildings on virtually every city block.

27. Air conditioning is free on the subway—and way better than the meager window unit in your apartment.

28. We're at our best: glowing summer skin, seawater waves in our hair, great big summer smiles and bags of energy.

29. We even know how to make the best of our berserk hair and general sweatiness on humidity hell days.

30. Our Gay Pride March is a beautiful, powerful, joyful spectacular that truly does make us feel proud of our radical city.

31. We turn Governors Island into a Great Gatsby-style party paradise twice every summer at the Jazz Age Lawn Party. Who says you can't wear full evening dress on a 90-degree day?

32. Is there any city in the world more glorious for summer dating than New York? No, there is not! Go gaze at the stars through a big telescope on the High Line, bike to the beach, catch an outdoor flick, or hell, just make out on the Brooklyn Bridge. NYC is for lovers.

33. Dressing for NYC in summer is super cheap, because you're never wearing more than a suggestion of fabric.

34. New York in summer is Flirt Central. Smile at the woman you walk by at the music fest, catch the eye of that guy in line at the taco truck and let summer work its magic!

35. There is, quite simply, nowhere on earth that does an outdoor movie screening like NYC. That's partly because so many great movies are filmed here, so you get the satisfaction of watching Ghostbusters in Bryant Park. And partly, man, it's because sitting in a deck chair with a beautiful summer breeze a-wafting and a big box of popcorn is just too good.