The Krusty Krab is coming to Palestine. Yes, you read that correctly. SpongeBob SquarePants's beloved place of work is getting the real-life treatment in Ramallah (we have always been curious about those Krabby patties), but it's not the first time a made-up eatery has crossed over to reality: Bubba Gump's is a real-deal chain, Bluth's Original Frozen Banana Stand popped up in Times Square last year and amusement parks are rife with 'em, like that Homer favorite Moe's Tavern at Universal Studios. And there's plenty more fictional restaurants and bars we wish we could eat and drink at—fifty, in fact (in no particular order). And before you ask, no, you won't find Central Perk here—the service is terrible and the big comfy couch is always taken.
1. Dorsia from American Psycho

Why:
Because we hear the sea-urchin ceviche at this impossible-to-get-in spot is to
die
for. (Right, Paul Allen?)
2. Los Pollos Hermanos from Breaking BadWhy:
Because even though the threat of being offed by a Mexican cartel is higher than your average chicken joint, that fried bird looks damn good.
3. Luke's Diner from Gilmore GirlsWhy:
Because the only thing Luke Danes serves more than coffee is sheer sass.
4. The Three Broomsticks from the Harry Potter seriesWhy:
Because our childish desire to drink our weight in butterbeer has fully transferred over to adulthood. (And yes, we know it exists in Orlando, but it's not the same. It's just not.)
5. Joe's Pie Diner from WaitressWhy:
Because Felicity, er, Keri Russell can whip up a pie to satisfy any mood.
6. Jack Rabbit Slim's from Pulp Fiction
Why:
Because you can get your burgers "bloody as hell," your shakes "Martin and Lewis"
and
you can twist the calories off in a dance contest.
7. The Mos Eisley Cantina from Star Wars Why:
Because it's the jazziest bar this side of Tatooine.
8. The Iron Horse from Freaks and GeeksWhy:
Because all-you-can-eat ribs and teenage heartache, obviously.
9. Omeletteville from Saturday Night LiveWhy:
Because Justin Timberlake dancing while dressed as a giant egg was something we didn't know we needed in life.
10. Mr. Smiley's from American Beauty
Why: Because there's no better way to wash down a double Smiley burger than with a sardonic Kevin Spacey.
11. The chocolate shop in Chocolat

Why:
Because Vianne (Juliette Binoche) always knows your favorite, even without asking. Oh, and Johnny Depp is known to hang around.
12. Pizza Planet from Toy Story
Why: Because this space-themed game-restaurant seriously puts Chuck E. Cheese to shame.
13. The Landford Lunchbox from Roseanne
Why: Because the only thing saltier than that mystery meat is Roseanne's attitude.

14. JJ's Diner from Parks and Recreation
Why: Because why would anyone eat anything other than breakfast food?

15. Monk's Cafe from Seinfeld
Why: Because we're big fans of their big salads.

16. Rick's Café Américain from Casablanca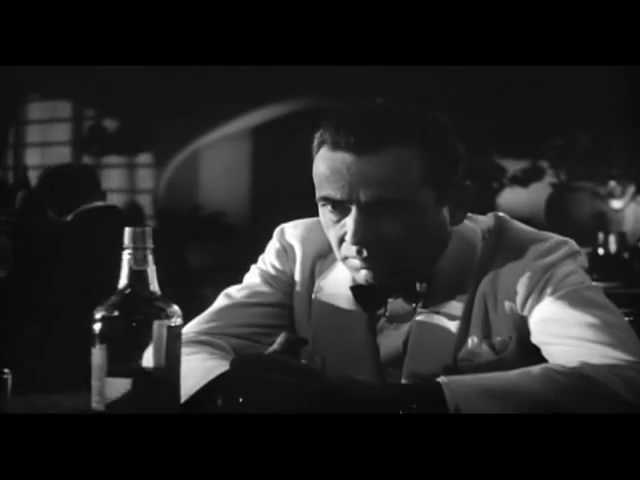 Why:
Because of all the gin joints, in all the towns, in all the world, we want to walk into his.
17. The Double R Diner from Twin Peaks
Why:
Because they serve cherry pie and "a damn fine cup o' coffee."


18. Fratelli's Restaurant from The Goonies
Why:
Because there may be no
pulcino alfredo
at this Italian spot, but there are underground tunnels, pirate treasure and skeletons named Willy
,
of course.
19. Gusteau's from RatatouilleWhy:
Because here, a rat in the kitchen is a good thing.
20. The Crashdown Cafe from Roswell
Why: Because you can have your Mooncheese Sandwich and Orbit Rings with a side of sexy alien sightings.

21. Copacabana from Goodfellas

Why:
Because the behind-the-scenes action looks just as fun as the front of house.
22. Merlotte's from True Blood Why:
Because it's owned by a shifter and counts a halfling, a medium
and
a witch as employees.
23. The Peach Pit from Beverly Hills 90210Why:
Because high school would have been much easier with the wise words of Nat Bussichio.
24. Bo Ling Chop Suey Palace from A Christmas Story
Why: Because it's always there to save the day in case the dog makes off with the turkey.

25. Good Burger from Good Burger
Why: Because "Welcome to Good Burger, home of the Good Burger, can I take your order?" is forever burned in our Nickelodeon-loving memories.
26. Stan Mikita's Donuts from Wayne's World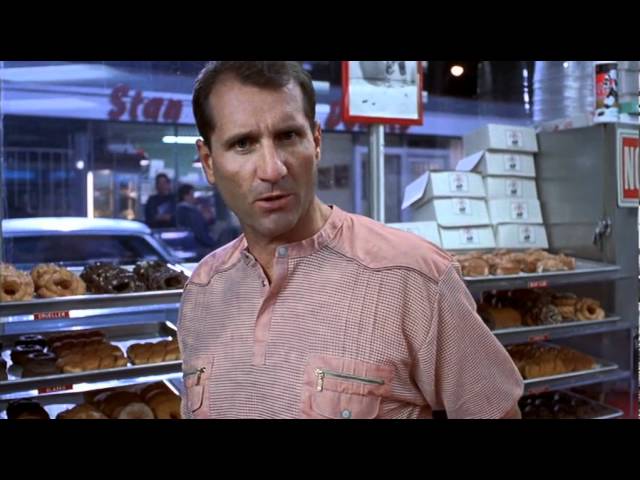 Why:
Because they don't mind if you
play with your food
. Plus, a hefty sugar rush is vital before all of that
"Bohemian Rhapsody" headbanging
.
27. Alamo Freeze from Friday Night LightsWhy:
Because ice-cream sundaes served by football-playing hunks? Where do we sign?
28. Soul Food Cafe from The Blues BrothersWhy:
Because in the middle of your meal, your waitress—who just so happens to look and sing like Aretha Franklin—might just
break out in song
.
29.
The Pie Hole from Pushing Daisies
Why:
Because Chuck's adorable cup pies are ready-made for Instagram.
30. Chokey Chicken from Rocko's Modern LifeWhy:
Because those animators had the balls to name a restaurant in a kids' cartoon after masturbation.
31. Al-Abbas from Curb Your Enthusiasm
Why:
Because the chicken is so magical, it can solve the Israeli-Palestinian conflict.
32. Gus's Galaxy Grill from SpaceballsWhy:
Because the Space Special
comes with quite a show
.
33. The ice-cream parlor from The Royal Tenenbaums
Why: Because there's nowhere else we'd rather reconnect with Gene Hackman than over butterscotch sundaes.
34. Vesuvio from The Sopranos
Why: Because multiple mob hits can't take down Artie Bucco's family-style red-saucer.
35. Chez Quis from Ferris Bueller's Day Off
Why: Because the waitstaff is very accommodating...once they find out you're the sausage king of Chicago.

36. The Candy Man's shop in Willy Wonka & the Chocolate Factory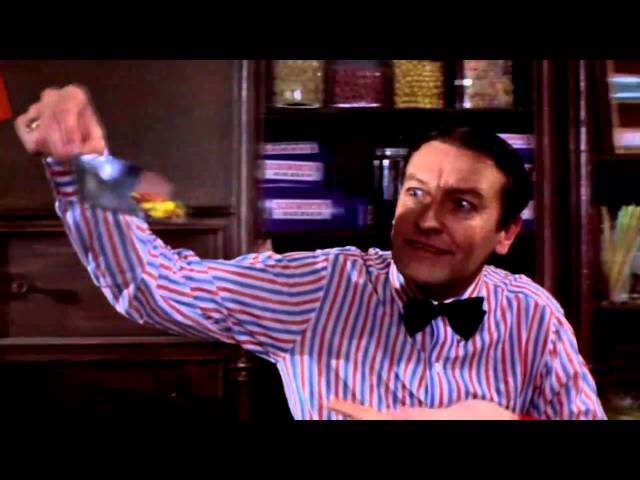 Why: Because you have to go through too many shenanigans to get sweets at Wonka's factory. Dude, just give us the candy.
37. Paddy's Irish Pub from It's Always Sunny in Philadelphia
Why: Because it's the worst bar in Philadelphia, but the funnest one on TV.
38. Frosty Cream from Sling Blade
Why: Because we like them French fried potaters.

39. The Max from Saved by the Bell
Why: Because this is where A.C. Slater sometimes likes to do ballet in spandex with a mullet.

40. The Tropicana from I Love Lucy
Why: Because babaloooooooo.

41. Paradise from Big Night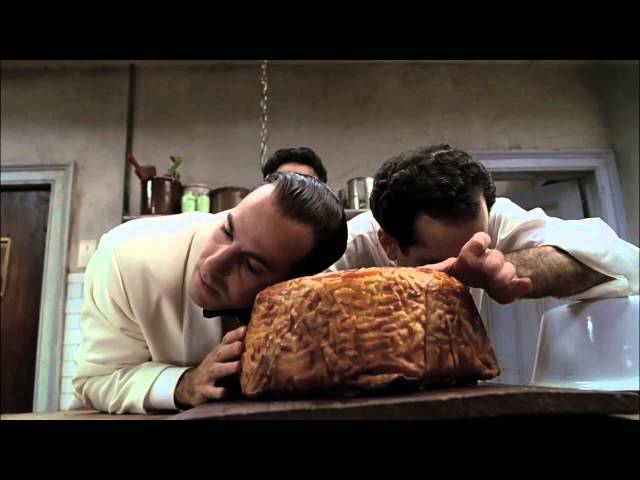 Why: Because the timpano's "so fucking good," you'll want to kill someone.

42. The El Jefe food truck from Chef
Why: Because we've never wanted a Cubano sandwich more in our lives.
43. The Bronze from Buffy the Vampire Slayer
Why: Because you don't need a fake ID, they let anyone in—including, uh, blood-sucking demons.

44. Freddy's BBQ Joint from House of Cards
Why: Because if you get on Freddy's good side à la Frank Underwood, you can have ribs delivered to your desk, any time of day.

45. The Raven from Raiders of the Lost Ark
Why: Because you won't win the shots contest, but you'll have a blast trying.

46. The Tip Top Cafe from Groundhog Day


Why: Because they don't mind if you come in day after day after day...

47. MacLaren's Pub from How I Met Your Mother
Why: Because your favorite booth is always free.

48. St. Elmo's Bar from St. Elmo's Fire
Why: Because Rob Lowe, a bandana and a killer sax solo.

49. Arnold's Drive-In from Happy Days
Why: Because before he was waxing on, waxing off, Mr. Miyagi was hanging out here with Fonzie and the gang.

50. Cheers from Cheers


Why: Because duh. (And, no, that Boston tourist trap slapped with "Cheers" on the front doesn't count. We want Sam Malone's Cheers.)