By Time Out New York contributors, edited by Sophie Harris

The joy! The pain! Okay, mostly just the pain—whichever way you slice it, riding the subway here in NYC is always an experience. And it's an experience you simply cannot avoid; the NYC subway is Gotham's Great Equalizer, whatever type of subway traveler you are. And whether you choose to observe good subway etiquette or not, there are some thoughts that come rattling through our brains (with more reliability than the trains, it might be said) on the daily commute, from the levels of rage that even the most Zen-like among us are not immune to, to fascination/horror as to exactly what that brown mark on the seat is. So, brave New Yorker: Here are the 55 thoughts you'll have while riding the NYC subway.

1. "Swiping MetroCards without error should be a skill on my résumé."

2. "No seats? Please don't make me touch the pole. Oh God. I'm touching the pole."

3. "I move my hand away for two seconds to adjust my bag and you stole my pole space! I can't believe you did that!"

4. "That man moved his hand away, yesssss! Now I can take his pole space!"

5. "If this train gets stuck in the tunnel will I have to use explosives to escape like Sylvester Stallone in Daylight?"

6. "Is it weird that I'm standing over this seated person at an awkward angle or are they accepting this as an inevitable subway experience? Should I make eye contact them with them and apologize or just pretend that my hip isn't in their eye?"

7. "Should I get a Citi Bike membership?"

8. "How did this person become a subway conductor? Is that a job you just fall into or do you think they have a passion for trains?"

9. "Does standing really burn calories?"

10. "Totally translated that Spanish poster. Am bilingual. Yay, me!"

11. "I can! I can fit in that tiny space between those two gigantic people! I'm gonna go do it!"

12. "Why in God's name did I think I could fit between these two people? This is like being in the trash compactor in Star Wars. Ugh."

13. "Can the person next to me hear the sound from my ear buds? Is she judging me for listening to 'Call Me Maybe' three times in a row?"

14. "Why is the person next to me listening to 'Call Me Maybe' three times in a row?"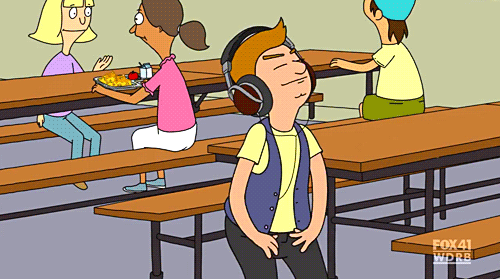 15. "There are actual blinking eyes in that lady's purse. Okay, it's meowing."

16. "That man is letting his dog lick his face and it is the most disgusting thing I've ever seen."

17. "YES, A WiFi SPOT! I MUST TEXT EVERYONE I KNOW DURING THESE FIVE SECONDS OF CONNECTION."

18. "I've worn the wrong footwear for the weather."

19. "Everyone else has worn the wrong footwear for the weather."

20. "What percentage of people that have touched this pole have full-blown Ebola?"

21. "Mariachi band, why did you think this would be a good idea at 7am?"

22. "Gospel harmony singing cheerful dudes, I love you, but I am going to continue listening to my iPod."

23. "Interstellar crazy saxophone busker man from space at midnight on the L train, you are the spirit of New York."

24. "Do relationships start from accidentally touching someone's hand while reaching for the same spot on the pole?"

25. "If I do my best I'm-not-reading-over-your-shoulder face, that man totally won't notice I'm reading his newspaper."

26. "Hurry up and turn the page already!"

27. "Seriously, you're listening to death metal at 8am?"

28. "Is it gross to eat a banana on the train?"

29. "That girl's fried chicken combo smells so good. I am the world's worst vegan."

30. "Explicit erotic literature on the subway? Bold choice, my kindle-reading friend."
31. "Aaaaaah A/C. I love the subway."

32. "I AM FREEZING. WHY MUST YOU FREEZE ME."


33. "Oh, couple gazing into each others' eyes, you reaffirm my faith in love, and the fact that I am a nice person."

34. "Ugh, couple making out, get a room. Or your own subway car. Whatever. Gross."

35. "Okay, if we're stuck here until eternity, who is going to be my end-of-the-world buddy? She looks cool. No, he's cute. I'll go with him. Wait, I like her outfit—we'll be besties."

36. "Is it desiccated poop? Please tell me it's not desiccated poop. It's desiccated poop."

37. "Please stop jiggling your leg, Nervy McNervypants."

38. "That guy looking at me is totally going to write a Missed Connection for me and then he is going to be my boyfriend."

39. "Did that woman just wink at me?"

40. "I am going to move to L.A. and drive on the freeway and sing along to Tom Petty and life will be wonderful."

41. "Did I just open those doors with my mind?"

42. "Pleasedon'ttalktomepleasedon'ttalktomepleasedon'ttalktome…"

43. "Did that man just offer me his seat because he thinks I'm pregnant/thinks I look old/thinks I look tired or because chivalry is not dead and he is the most wonderful man on the planet?"

44. "That woman looked like she was going to murder someone if I didn't offer her my seat."

45. "Crazy person shouting angrily at thin air on one side…busker getting in the other side with giant bongo drums…this is gonna be good."

46. "If that woman's massive bag swings in my face again, I may scream."

47. "But have the 'It's Showtime' kids ever kicked someone in the face? Does that happen?"

48. "That man's ponytail just touched my mouth. I die."

49. "Why is this express train slower than the local?"

50. "How many diseases am I immune to after touching these poles for so many years? Will I be the last person on earth now after an apocalyptic viral outbreak?"

51. "Everyone on this train was once a baby."

52. "Everyone on this train is going to die one day."

53. "But what is the point of it all?"

54. "The train is above ground! I can see the sun! I am HUMAN! Also, now I can post that Tweet."

55. "That was a hard day at work. That was a rough wait for the train on a crowded platform. I'm so glad I'm sitting on the train going home at last… Mmm… Yep… Goin' home… MY TRAIN IS GOING IN THE WRONG DIRECTION, NOOOOO!"