The New York Botanical Garden is one of the most inspiring places in the entire city, and a new art installation has made it an even more incredible spot to visit.
The exhibit, dubbed "CHIHULY" after its creator Dale Chihuly, brings more than 20 separate installations to the 250 acres of landscape in the Bronx. From eccentric glass statues to "polyvitro" plastic sculptures to tangles neon bulbs to an intimate display of watercolors, the works on display were curated to embolden (and be emboldened by) different areas across the gardens. The Native Plant Garden is now adorned with an insanely cool hand-blown stained glass sculpture, and the pool at the Enid A. Haupt Conservatory Courtyard boasts a magnificent neon creation that lights up at night.
Chihuly, a Seattle-based artist, collaborated with NYBG for two years to create the project, which features selections of his works from the past 40-plus years. He had a previous exhibition there in 2006, but it was not on the scale that it is this year.
Anyone who's plugged into the art world knows that Chihuly is a big deal. His works have been shown around the world, and his career in glass and other other mediums is nothing short of masterful. In the 1960s, he studied under renowned glass artists Harvey Littleton at the University of Wisconsin-Madison, and both literally and figuratively carried the torch from there.
In 1976, Chihuly was in a car accident in England, which resulted in him losing vision in his left eye. He now wears an eyepatch (which looks super badass), and his loss of depth perception has hampered his ability to directly work with glass like he could during his more youthful years. Nevertheless, he's left a huge mark in the contemporary art scene.
The exhibit is currently on display at the New York Botanical Garden, and runs through October 29. Now is the time to start making plans to schlep it up to the northernmost tip of the city—"CHIHULY" is definitely worth the trip. Get your tickets here.
Check out photos of the exhibit below: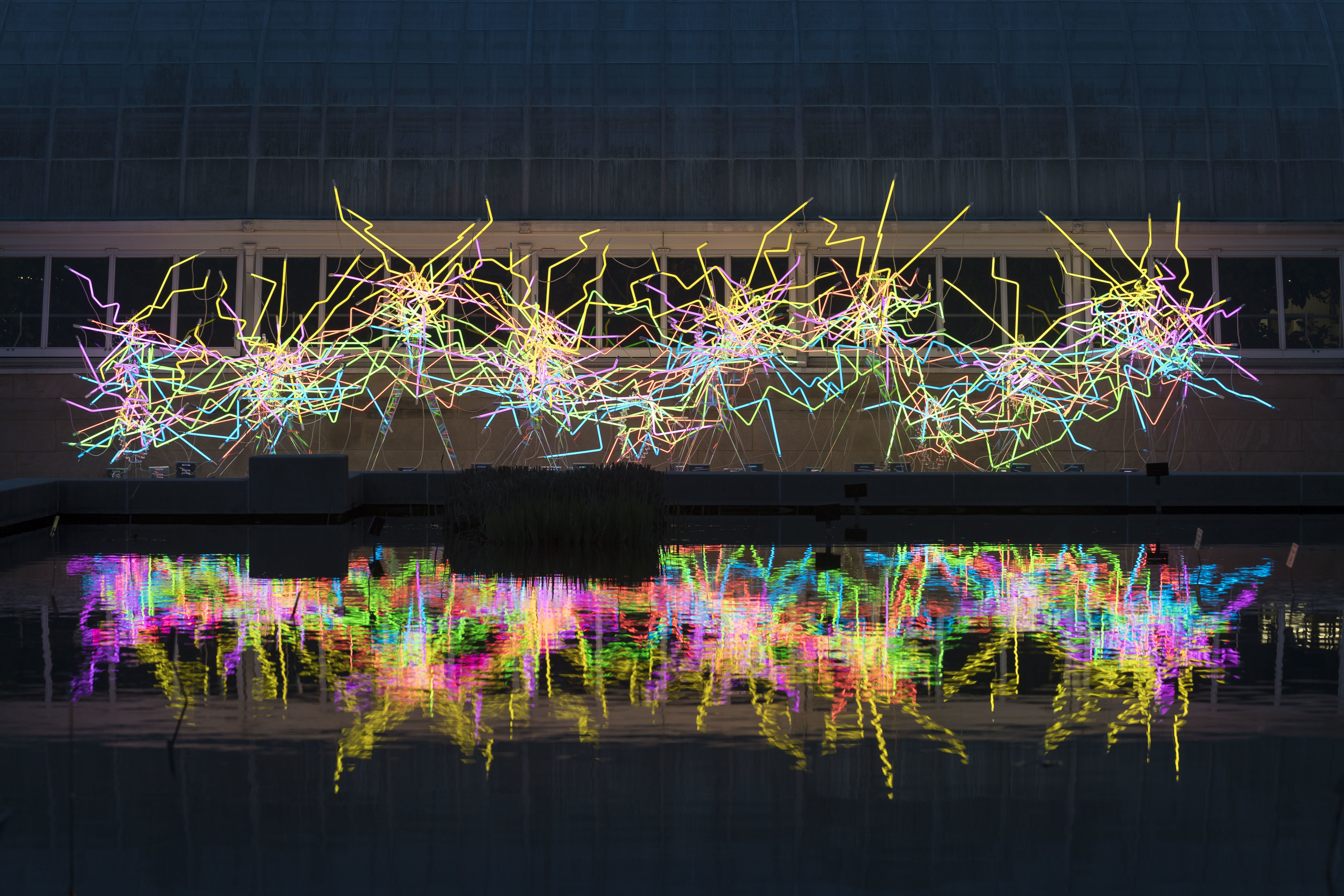 Photographs: Courtesy New York Botanical Garden