Professional dominatrix and PhD in metaphysical science Sandra LaMorgese is an expert in female sexual empowerment and the transmutation of sexual energy. Who better to pin down about why so many of us want to be pinned down? The good doctor gave us a very private look into her very private practice.
Is there such thing as an average session?
I couldn't honestly label any of my sessions as average. The one element that does remain consistent in all my sessions is that they all involve a woman—me—controlling and dominating a man. While there are women in the industry who enjoy playing the sub or can comfortably switch back and forth between both roles from client to client, I always like to be the one holding the bullwhip. I play a teacher, boss, dominatrix, aunt, mommy or an interrogator of some kind. Typically the client has done something "bad" and needs to be punished: He's been caught wearing auntie's silk panties, or he's constantly late for work because he's fantasizing about his sexy boss and masturbating. Punishments range from an over-the-knee spanking to verbal humiliation, like yelling, "You're such a fucking loser!" to physical, like full-on bloody corporal caning.
What's your favorite kind of kink?
Knife play. One of my favorite scenes is to bind the slave to an old-fashioned yoke—the same sort of apparatus used in the Salem witch trials. My client bends over and places his head and hands in the three holes in the wood, and then I clamp it shut. Once my slave is immobilized, I slowly run the knife all over his body. The whole time, I half whisper to him, "Don't move, and don't even breathe. Accidents do happen, and I'm sure you don't want your next move to be in the hospital." It's amazing how still someone can be. With a lot of begging and pleading to amuse me, I'll let him leave.

Is that the most intense thing you do?
New things are always more intense at first, but then I always feel more comfortable the next time. I remember the first time I kicked a man straight in the balls with pointed high-heeled shoes on. I had to talk myself into that one. Recently, though, I had a session where I kicked the client in the balls 50 times straight. It was fun! Likewise, the first time I did a golden shower, I thought I would throw up or pass out, but two weeks ago, I was happily spraying my pee up a client's nostrils, using a mini spray bottle. Sometimes my clients ask me for things that lead me to ethical and personal dilemmas. I'll never forget a bullwhipping session I had with a white client who was seeking an intense Southern slave-era whipping to his back. It took me a lot of deliberation before I decided to go along with his wishes, but there was a lot of deep thinking and careful weighing of options before I agreed. Many sessions can become emotionally complicated, and one of the most difficult parts of my job is negotiating boundaries for my clients and for myself in every session so that no one leaves with any regrets or negative feelings.
Is there a line you just won't cross?
I do not in any way have sex with or disrobe (that includes being topless) in the presence of a client. I do not perform any acts that are unhealthy for a client. Such acts include "brown showers" and any pain that does not facilitate a positive fetish experience, such as cutting off circulation for long periods, breaking bones or castration. Yes, I've been asked. Many times.—Written by Meagan Drillinger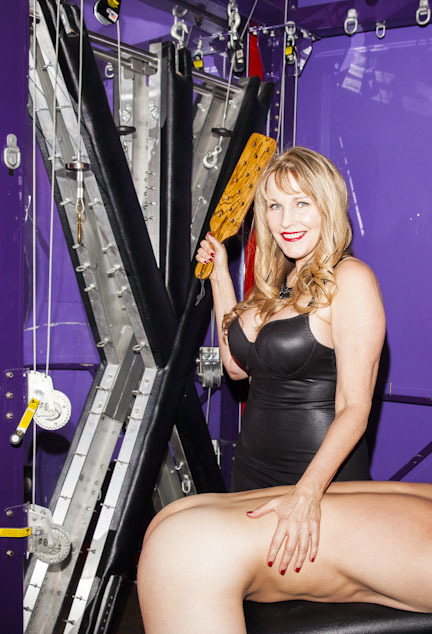 Photograph: David Williams
Photograph: David Williams
Photograph: David Williams