Before Boilermaker's Greg Boehm and Zach Sharaga (Louis 649) opens their next East Village bar, Mace, the duo is throwing a month-long Christmas party inside it. Debuting on Saturday Nov 29, the spirited pop-up Miracle on 9th Street will serve holiday-themed cocktails courtesy of Nico de Soto (Experimental Cocktail Club).
That means you can order The Grinch (rum, coconut butter) and Three Wise Men (Calvados, frankincense) in a hideaway decked out with kitschy decorations you'd find in your grandparents' wood-paneled basement, including tinsel garlands, plaid table cloths and glittery globe ornaments. In addition to enough Christmas and Hanukkkah garb to put the Griswolds to shame, the bar also offers light snacks just like mom used to make (think Santa's cookies—coyly paired with a shot of milk punch—and Chex mix).
The bar's hours are Monday through Wednesday 5pm–1am, Thursday and Friday 5pm–4am, Saturday 4pm–4am and Sunday 4pm–1am and its doors will be open through December 23, when we assume Boehm will be back to building his forthcoming bar.
649 E 9th St between Aves B and C (212-673-1190, christmaspopupnyc.com)
Check out the full menu and more photos:
Cocktails, $14
Bad Santa: Jamaican rum, Trinidad Overproof rum, arrack, pineapple juice, milk, lemon juice, coconut water, coconut butter, clarified
Redneck Flip: Bourbon, Bonded Applejack, marshmallow-and-Budweiser syrup, spiced beef jerky bitters, whole egg, nutmeg
Mulled Wine Sour: Pedro Ximenez sherry, madeira, sweet vermouth, rye, spices, orange juice, lemon juice, egg white
Dreidel Dreidel Dreidel (Not Made Of Clay): Chocolate gelt-infused tequila, maple syrup, Pedro Ximenez sherry mist, black walnut bitters
Three Wise Men: Calvados, gingerbread syrup, frankincense smoke
Candy Cane Sangaree: Date-infused barbados rum, tawny port, sugar, lemon juice
Muletide: Aquavit, Oloroso sherry, ginger syrup, lime juice, pumpkin pie soda
Jingle Ball Nog: Hay-and-butter-fat–washed cognac, almond milk, spices, cream, eggs
Christmas Tree Gimlet: Gin, pine needle cordial
Christmopolitan: Fig-leaf–infused vodka, spiced cranberry sauce, lime juice
Yippie Ki Yay Motherf****r!: Trinidad rum, cachaça, dry curacao, lime juice, roasted chestnut orgeat
Fa La La: Clementine juice, allspice dram, prose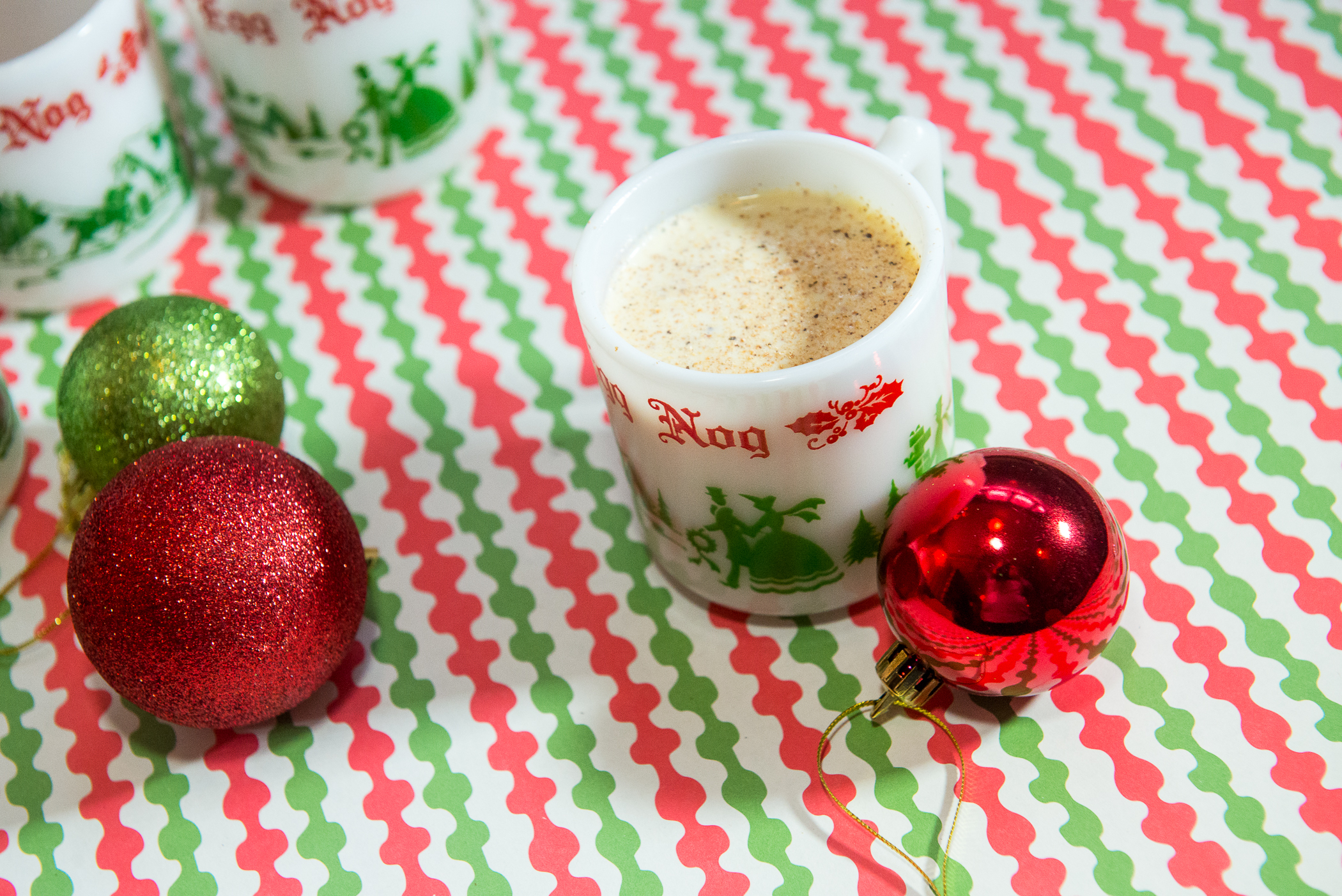 Jingle Ball Nog at Miracle on 9th StGabi Porter
Dreidel Dreidel Dreidel (Not Made Of Clay) at Miracle on 9th StGabi Porter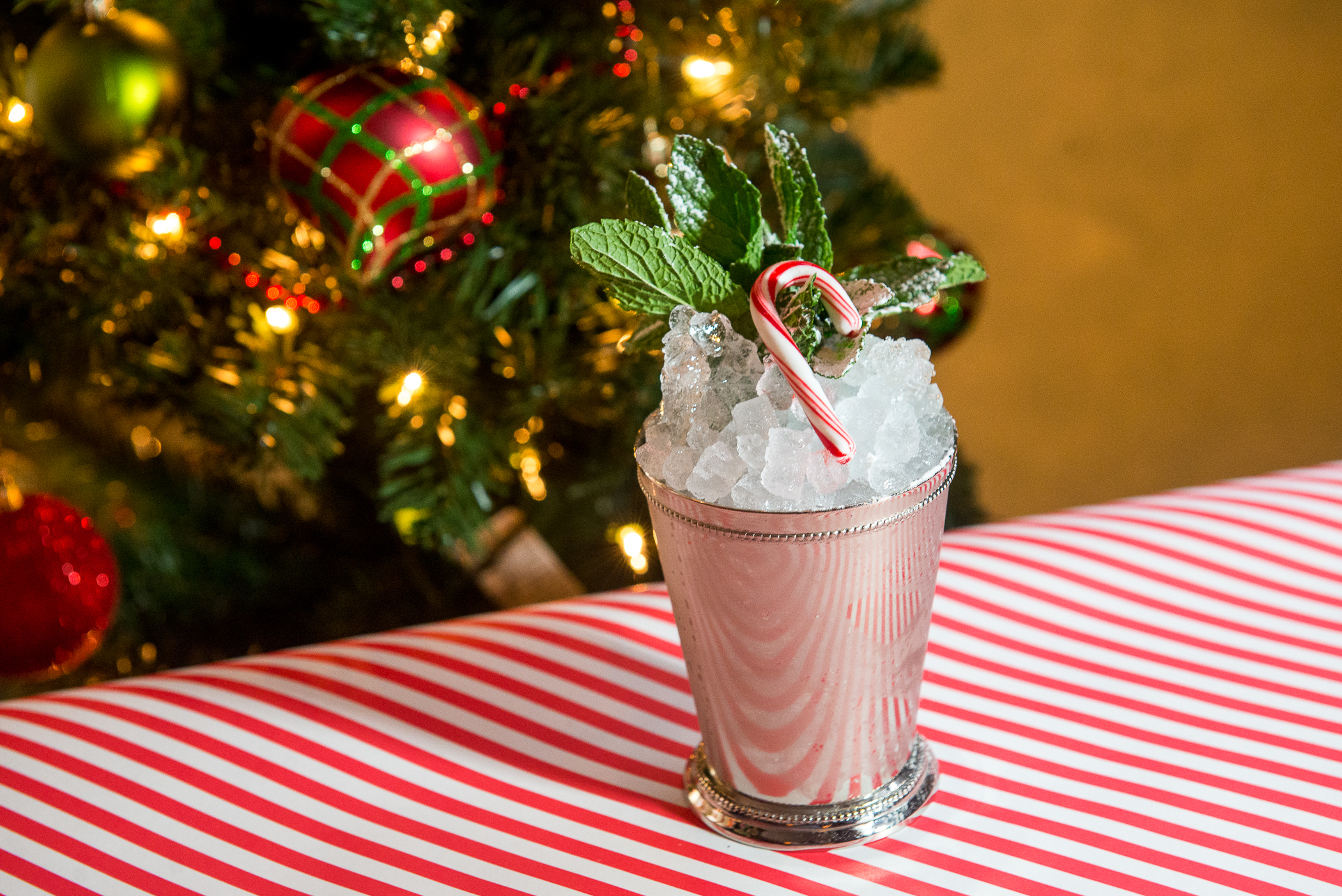 Candy Cane Sangaree at Miracle on 9th StreetGabi Porter