Update, November 20: Death by Audio is scheduled to host its final show this Saturday, November 22. The venue's keeping its remaining nightly bills a mystery, but since indie-rock heroes such as Deerhoof, Ty Segall, Ted Leo, Parquet Courts, Future Islands and Thee Oh Sees have all played surprise gigs there in recent weeks, we're confident that whatever's in store will be well worth your time. Stay tuned to the DBA homepage for hints and other updates.
I saw a few shows at CBGB, but by the time I showed up, it wasn't CBGB-CBGB. It was just another nondescript downtown rock club that happened to boast a legendary history. When I think about NYC venues that actually matter to me, Williamsburg's Death by Audio—a beloved all-ages haven that has just announced its imminent closure on November 22, following the January shuttering of its sorta-neighbor 285 Kent—is high on that list.

I've spent countless nights crammed into this boxy room on South 2nd St with the dirty black-and-white tile floors and outlandish murals, drinking cheap beer, shooting the shit with scene comrades and watching some of the best underground bands in the world revel in their natural habitat. Off the top of my head, I'm remembering insane gigs by Pissed Jeans, Vaz, Child Abuse and Behold… the Arctopus. DBA has been a haven for all forms of independent rock (not to mention free jazz and related styles), but it's the true weirdos—the avant-, the severe, the ultraloud and the just plain outrageous—and those who love/support them that have always seemed to me like the venue's core denizens.

Death by Audio is in many ways the ultimate NYC DIY show space—remaining completely free of affect in a neighborhood that couldn't possibly get more affected, yet possessing some kind of hard-to-pin down magic. A lot of that has to do with the sound, which is way better than you'd expect given the art-loft vibe of the place, but just like with any great spot where music happens, the appeal of DBA is directly traceable to that of its proprietor, Edan Wilber—booker, indefatigable soundman, scene booster and all-around couldn't-be-nicer dude.
I've had the pleasure of playing DBA many times with my bands STATS and Aa, and he's been a welcoming, supportive presence every single time. Only a couple weeks ago, when I was loading my equipment in for a gig with A. Rex & J. Rex (featuring my brother-in–TONY Music, Andrew Frisicano), he took it upon himself to help me locate some missing drum hardware and all-important cymbal felts. Edan has always worked hard to keep the bands happy, thus setting the stage for shows where kids can completely lose their shit. They'll find new places in which to do so, of course, but they'll have a hell of a high standard to live up to once DBA is gone.

Check the calendar, and go see a show while you still can, and check out quintessential DBA performances by Black Pus (a.k.a. Lightning Bolt drummer Brian Chippendale) and Ty Segall here: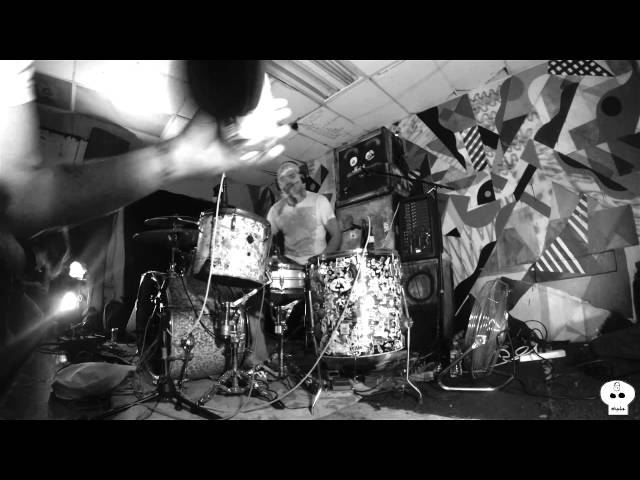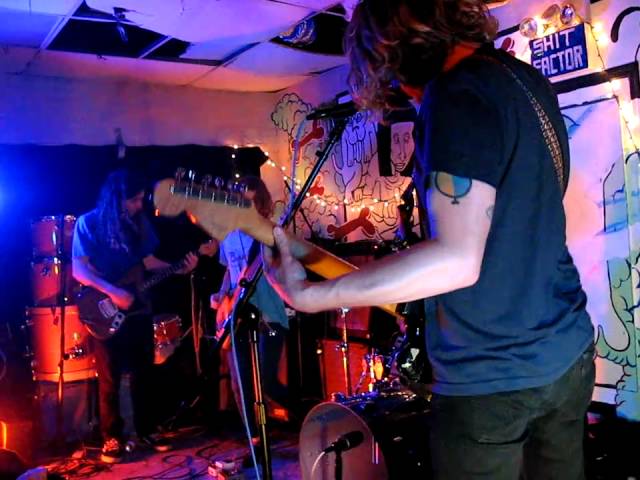 /////
Here's the official word on the closure, via Wilber and his colleague Matt Conboy:
Death By Audio will be closing in November.
After seven years of operation Death By Audio will close on November 22, 2014. Running this space has been an incredible undertaking and a joy since day one. We have been fortunate enough to host bands from all over the US and the world nearly every night of the week. Amazingly, we've hosted in excess of 1000 acts a year for the past seven years. The effect pedal company will remain open and relocate to a temporary space until we find a more permanent home.
When we first moved onto south 2nd street the only things on our block were a used police car lot and several empty buildings. Now there are a half dozen expensive restaurants, bars, a daycare center and a new condo building (that was an empty lot when we moved in). All ages DIY music venues are almost by definition temporary, and we feel fortunate to have lasted in this space for this long. We knew from the beginning that it couldn't last forever and we are extremely grateful to everyone who has preformed or attended any of our shows. We are still weighing options about what happens next and will let everyone know more about the future of Death By Audio as soon as we can.
Our closing party starts Wednesday Sept 10 and we will have great programing for these last 75 days. We are looking forward to putting on some really incredible shows to send off what has been one of the greatest undertakings of our lives. We hope to see you there.
Edan and Matt