Last time they shared a stage it was 11 years ago in Lincoln Center Theater's Light in the Piazza. Now two of Broadway's grandest dames, Tony winners Kelli O'Hara and Victoria Clark, harmonize once more. Only now, the tunes are not by Adam Guettel—or anyone else you might associate with Broadway. Instead, it's the English 17th-century composer Henry Purcell, whose landmark opera Dido and Aeneas (1688) will be sung in concert at New York City Center April 28 and 29 only. The group MasterVoices (formerly Collegiate Chorale) is the presenter, with artistic director Ted Sperling conducting.

For those used to hearing O'Hara's heavenly soprano in The King and I, or Clark's equally gorgeous voice trill through familiar tunes in Gigi or Cinderella, this will be a change of pace, maybe also an education. Dido is a Baroque opera, with all the harpischordal embroideries and vocal filigree that entails, woven around a tragic romance in Book IV of Virgil's Aeneid. The libretto is by Nahum Tate, onetime poet laureate of England (and infamous adapter of King Lear). In this episode, Dido, Queen of Carthage (O'Hara), falls madly for exiled Trojan hero Aeneas (Elliot Madore), who arrives on her shores. Through the witchery of a spiteful Sorceress (Clark), Dido [SPOILER ALERT] pines away and dies for love of inconstant Aeneas. One of the most famous passages is "Dido's Lament", in which she touchingly sings, "When I am laid, am laid in earth, may my wrongs create / No trouble, no trouble in, in thy breast. / Remember me, remember me, but ah! / Forget my fate." Here's a taste from rehearsal: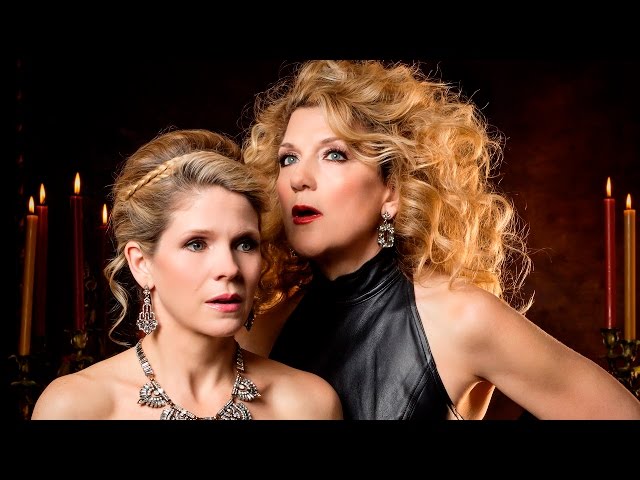 Whether you're already a Baroque fan or, like me, find it harder to get into than Romantic or modern operas,
Dido
is a fine introduction. It's not only darkly beautiful, but a perfect length (about an hour). In fact, maestro Sperling commissioned a curtain raiser to fill out the night, and he chose the superb composer-lyricist
Michael John LaChiusa
to write it. This new Prologue features Clark, Sarah Mesko and Anna Christy as three Fates who control Dido's destiny. For anyone who loves musical theater and opera equally, and thinks the two fields can learn from one another, MasterVoices' cross-pollinating of talent is bravo-worthy. The semi-staged concert will be directed and choreographed by Doug Varone. Tickets (priced $30 to $130) are going fast, so reserve
now
.