Few modern playwrights are entirely free of Anton Chekhov; they'd have to eschew pastoral settings, pathos and family tensions. But not many dramatists wear their influences quite as slavishly as N.C. Hunter did. It's one thing to have an dipsomaniacal doctor whose curdled idealism comes out when he's drunk, but when another of your characters waxes philosophical about the world "in five hundred years, when we're all of us wiser and kinder and cleverer," you're just begging for unflattering comparisons to the Russian master.

Hunter was much staged in 1950s London but swept away by the vogue of "angry young man" plays (writer John Osborne, et al.), with their seething class resentment and sexual frankness. In print, Kenneth Tynan used Hunter as a virtual punch line to savage the cozy, repressed rut of postwar English drama. But apart from the easily parodied genteel surface of Hunter's work—fully embraced in the Mint Theater Company's revival of A Day by the Sea (1953)—one is struck by its derivativeness. At moments, it's as if Hunter wrote on tracing paper laid over Uncle Vanya. Of course, there are worse talents to ape, and Hunter is a sensitive observer of English neuroses and resilience. The Mint's fine cast, directed by Austin Pendleton, navigates the quippy, stiff-upper-lipness with vibrant grace.

Our hero is a Foreign Office drone named Julian Anson (Julian Elfer), a prickly workaholic who, at age 40, seems destined for petulant lifelong bachelorhood. There is a rueful widow with a past (Katie Firth) and the aforementioned boozy doctor (Philip Goodwin), both of them living reminders that life is for living. We wait and watch (over nearly three hours) for Julian to have that sub-E.M. Forster epiphany at his mother's house on the Dorset coast. A Day by the Sea is a melancholy study of middle-age malaise leavened by flashes of wit and humor, good for the Anglophiles and Downton Abbey addicts. Time has been kinder to Hunter than Tynan was, even if this tidy revival doesn't wash the previous criticism away with the tide.—David Cote

Beckett Theatre (Off Broadway). By N.C. Hunter. Directed by Austin Pendleton. With ensemble cast. Running time: 2hrs 55mins. Two intermissions. Through Sept 24. Click here for full venue and ticket information.
Follow David Cote on Twitter: @davidcote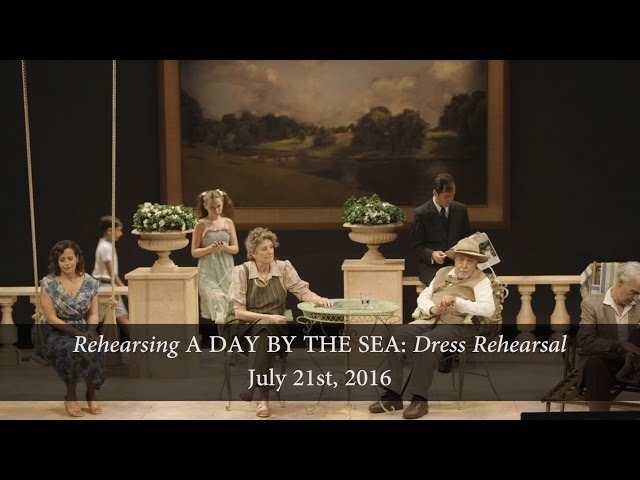 Want more? Sign up here to stay in the know.