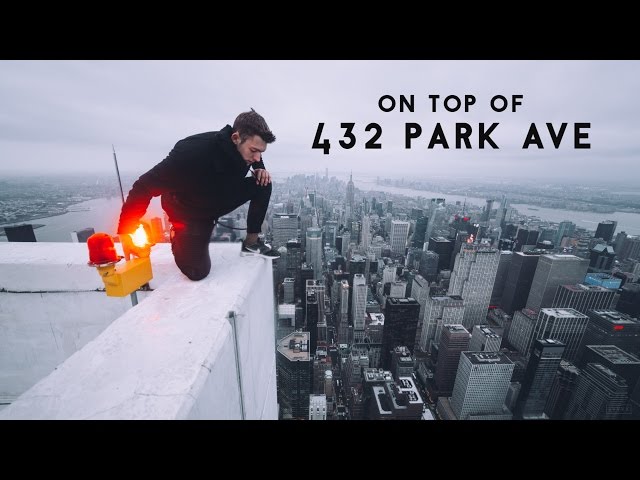 New York's 1,396-foot-tall skyscraper 432 Park has drawn a lot of scorn and criticism for its bland and unoriginal design since it topped off in 2015. The building is the second-tallest in the city, and the third-tallest in the country. Situated just a few blocks away from Central Park, the upper floors of 432 Park offer unparalleled views. Unlike other massive American buildings like One World Trade Center and Chicago's Willis Tower, its highest vantages are reserved for those who can afford one of its luxurious eight-figure units.
In April, an urban explorer who goes by the moniker of svvvk shared a video of his early morning adventure to the top of the 85-story structure. The views are nothing short of mesmerizing. If you have the slightest bit of acrophobia, the video is sure to give you the willies—especially when the subjects walk along the roof's edge while a strong gust of wind threatens to throw them off balance.
Breaking into and exploring high rooftops like the one at 432 Park is nothing new. Daredevils have been making these sorts of climbs for decades, most notably when Philippe Petit strung a high-wire between the World Trade Center's two towers and walked across it in 1974.
Petit and his pals didn't have a GoPro. For svvvk and other urban explorers across the world, it's an essential piece of equipment. After all, what's the point in dangling from a beam 1,000 feet in the air if you can't share it with the internet?