Greetings, fellow music lovers. By this point, you've no doubt read plenty about Winter Storm Juno, and maybe even experienced its wrath firsthand. It should go without saying that basically any show you'd planned on attending early this week now has a big, fat asterisk beside it—our best advice, check the Twitter page for the artist or venue in question before you venture out—but we'll do our best to keep you posted re: any specific concert cancellations, postponements or other Juno-related show updates we hear about. Below is a list of what we know so far. If the gig you'd planned on attending is off (or, like Marilyn Manson at Terminal 5, pushed back a few days) why not curl up with our winter-storm playlist?
RECOMMENDED: Full coverage of concerts in NYC
Marilyn Manson at Terminal 5 (Monday)
Rescheduled for Thursday, January 29, per Marilyn Manson. All original tickets honored; refunds available at point of purchase.
Zola Jesus at Saint Vitus (Monday)
Set times moved to 7 (UNIFORM) and 7:30 (Zola Jesus), per Saint Vitus. Check out a video from the show, which features Zola Jesus performing outdoors, in the middle of snowy Manhattan Avenue: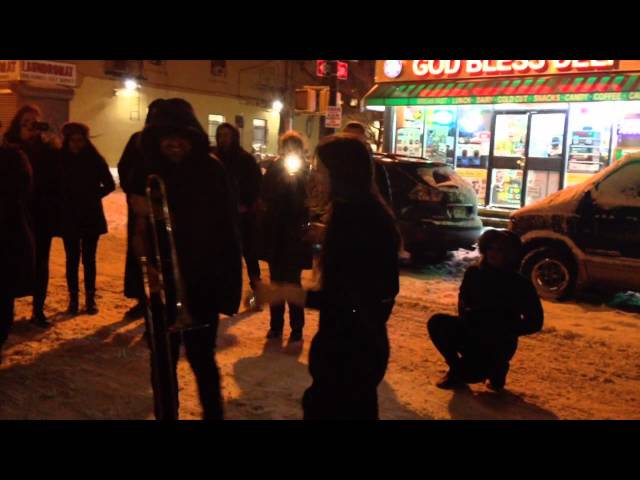 Savages at Baby's All Right (Monday)
Update: Rescheduled for Thursday, January 29, at midnight, per the band's Twitter. Refunds available via Ticketfly.
Action Bronson at B.B. King's Blues Club & Grill (Monday)
Postponed—no new date set, but all original tickets will be honored. Stay tuned to Twitter.
Nels Cline and the Les Paul Trio at Iridium (Monday)
Update: The box office reports that the show is canceled.
Jason Robert Brown / Dave Gorman at Subculture (Monday, Tuesday)
Both of these SubCulture shows have been canceled, per the club.
Years & Years at Le Poisson Rouge and Rough Trade NYC (Monday, Tuesday)
Update: The Le Poisson Rouge show has been canceled and all tickets will be refunded, per LPR.
Tuesday's Rough Trade show is back on.
Reel Big Fish + Less Than Jake at Best Buy Theater (Tuesday)
Rescheduled for June 16; all original tickets honored. Per Best Buy Theater.
Ne-Yo at Stage 48 (Tuesday)
This show has been postponed, per Stage 48.
Pop-Up Concerts at Miller Theatre (Tuesday)
This show, featuring John Zorn works, is canceled, per Miller Theatre.
Chris Potter Underground Orchestra at Jazz Standard (Tuesday)
Tuesday's sets are going forward as planned, per Jazz Standard.
Les Contes d'Hoffmann at the Metropolitan Opera House (Tuesday)
Tuesday's performance is going on as scheduled (Met Twitter).
Seinabo Sey at Le Poisson Rouge (Tuesday)
The show is happening (LPR twitter), and tickets are still on sale.
London Grammar at Terminal 5 (Tuesday)
This show has been moved to tomorrow—Wednesday, January 28. All tickets will be honored; refunds available, per Terminal 5.
Vanguard Jazz Orchestra at the Village Vanguard (Tuesday–Monday, February 2)
Tonight's show is on, via venue box office.
Alan Parsons Live Project at New York Society for Ethical Culture (Thursday)
The show has been rescheduled for February 3.