Book review: A Highly Unlikely Scenario by Rachel Cantor
Though this debut only dabbles in deep thoughts, it will be a treat for those who like zippy sci-fi paced like the stories of Kurt Vonnegut.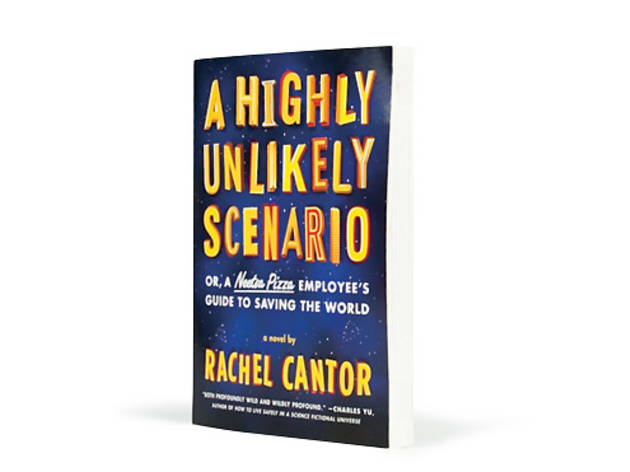 By Rachel Cantor. Melville House, $17.

What to do when your pizza, purportedly sliced in perfect accord with Pythagorean principles, is more than a few degrees off? Talk to Leonard, a talented listener on Neetsa Pizza's team of customer-satisfaction assistants. He's waiting, hunkered down in his meditative White Room with stacks of coupons and compassion—at least, that is, until a man who's been dead hundreds of years calls upon Leonard to find his soulmate, travel through time and save the world.

With nods to Greek philosophers and Jewish mystics, Rachel Cantor's debut slingshots the reader through space and time, as it helps Leonard find not only his confidence but a newfound appreciation of love and family. While the agreeable blend of sci-fi and adventure evokes Douglas Adams's absurd romps and Ray Bradbury's alternate realities, Cantor's light, fantastical prance most resembles the exploits of chipper moralist Kurt Vonnegut. Still, for all the sweetness, fun and highbrow namechecking, it comes off as a bit slight. Satisfying everyone is no easy task, as Leonard knows, but it'd be nice to see Cantor wrangle more with the big ideas she courts.

Sponsored listing
At this downtown watering hole, drinkers have plenty of options, thanks to the more than 65 whiskies and 100-plus beers on offer. The menu of Irish pub grub is just as expansive. Take burgers, for instance: Stout FiDi not only offers mini cheeseburgers ($12) and a house burger ($13), but also more unusual options like a bratwurst burger with sauerkraut, red cabbage and spicy mustard ($15) and a crab and rock shrimp burger on a pretzel bun ($17). If you don't want a burger, the traditional shepherd's pie ($16) or fish and chips ($18) might tempt you. You can even customize your own "Wisconsin–style" pizza ($11, plus additional fees for toppings) or try one of the bar's inventive pies, like the reuben or burger pizzas (both $13 for a small, $18 for a large). The menu includes a wide variety of snacks for sharing, like the buffalo-style fried calamari and mushroom-short rib empanadas (both $14).
Venue says With over 65 Irish Whiskeys and 100 Beers, Stout FiDi has Something for Everyone!