Book review: A Highly Unlikely Scenario by Rachel Cantor
Though this debut only dabbles in deep thoughts, it will be a treat for those who like zippy sci-fi paced like the stories of Kurt Vonnegut.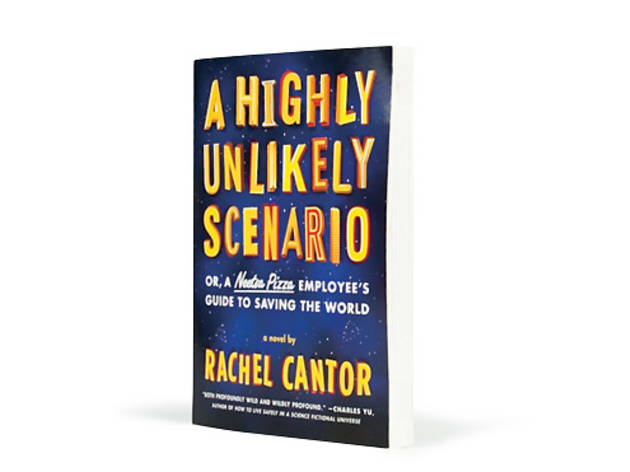 By Rachel Cantor. Melville House, $17.

What to do when your pizza, purportedly sliced in perfect accord with Pythagorean principles, is more than a few degrees off? Talk to Leonard, a talented listener on Neetsa Pizza's team of customer-satisfaction assistants. He's waiting, hunkered down in his meditative White Room with stacks of coupons and compassion—at least, that is, until a man who's been dead hundreds of years calls upon Leonard to find his soulmate, travel through time and save the world.

With nods to Greek philosophers and Jewish mystics, Rachel Cantor's debut slingshots the reader through space and time, as it helps Leonard find not only his confidence but a newfound appreciation of love and family. While the agreeable blend of sci-fi and adventure evokes Douglas Adams's absurd romps and Ray Bradbury's alternate realities, Cantor's light, fantastical prance most resembles the exploits of chipper moralist Kurt Vonnegut. Still, for all the sweetness, fun and highbrow namechecking, it comes off as a bit slight. Satisfying everyone is no easy task, as Leonard knows, but it'd be nice to see Cantor wrangle more with the big ideas she courts.

Sponsored listing
Amoun Moroccan Mediterranean Cuisine & Lounge
It's possible to taste the flavors of Marrakech without ever leaving New York City at this authentic Moroccan restaurant in the East Village. Start with a meze plate of hummus, baba ghanoush and bakoula, a spinach-chickpea spread ($13.95). For the main course, you might try a tagine, or slow-simmered Moroccan stew, either with lamb shank, chickpeas and apricots ($22.75) or chicken, preserved lemon and olives ($16.95). Other entrees include couscous with chicken, caramelized onions, raisins and chickpeas ($16.95), a mixed grill of lamb, chicken and merguez sausage ($19.75) and chicken bastilla, a phyllo pastry filled with meat, almonds, eggs and herbs and topped with cinnamon sugar ($18.75). Satisfy a sweet tooth with baklava ($7), homemade fig ice cream ($6.50) or kunafa, a traditional cheese pastry ($7). Freshly brewed Turkish coffee ($3.50) or Moroccan mint tea ($4) might be nice, or you can finish the meal with some hookah, if you're so inclined.
Venue says: "Enjoy authentic home-made cuisine and a chill lounge experience for late nights. Celebrate the weekend with belly dancing performances."