Book review: All That Is by James Salter
As it chronicles not just a single life but an entire generation, Salter's panoramic new work earns its title without resorting to meaning-of-it-all fuss.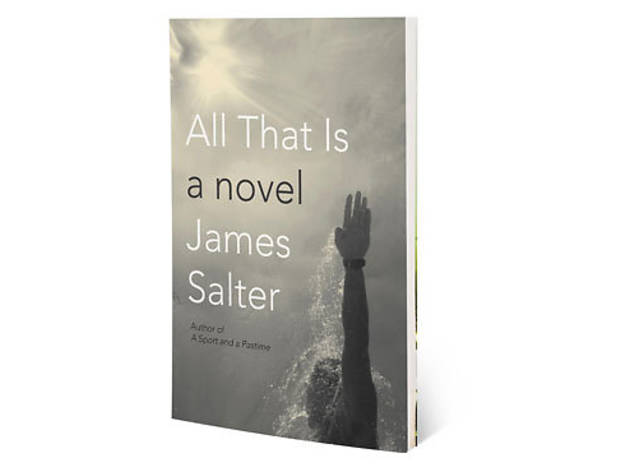 By James Salter. Knopf, $27.
Unlike Philip Roth, another great American writer in his eighties, James Salter hasn't announced his retirement. Still, it's tempting to view Salter's latest—his first entirely new novel since 1979—as his ultimate statement on sex, war, art and other big themes that he's chewed over for more than 50 years.

The author avoids tidy summation. Like his classics (1967's A Sport and a Pastime, 1975's Light Years), All That Is sprawls out in a sensuous dream state, framing life as a series of concentrated moments rather than a march toward meaning. The novel spends 40-odd years in the company of Philip Bowman, who—loosely mirroring Salter's own biography—leads a series of lives: navy officer in WWII, young editor in New York, restless middle-aged bachelor. Philip is devoted in work and fickle in love, yet Salter doesn't judge him. As in A Sport and a Pastime, the writer portrays sex—in his luminous, prose-poem style—as a supernatural force: consuming and even destructive, but also wondrous.

Previous Salter books have homed in on a central character, like the lone-wolf mountain climber in 1979's Solo Faces; here the author constructs a world of fascinating personalities to surround his leading man, from a skeevy Southern father-in-law to the passionate owner of an Upper West Side bookshop. Salter's brief yet penetrating descriptions of these bit players lend All That Is a panoramic sweep; it chronicles a generation, not just a single life. Without resorting to meaning-of-it-all fuss, the book earns its grand title, reading like a humble keystone in one of the great bodies of work in contemporary American fiction.

Salter reads at the 92nd Street Y Mon 29.
Buy All That Is on Amazon
Get All That Is on your Kindle
Sponsored listing
Feast
This family-style bistro in the East Village serves rustic and seasonal American fare. The list of snacks includes several familiar appetizers, albeit with some unexpected twists: chicken skin crisps ($7) seem reminiscent of pork rinds, while the crispy deviled egg ($10) and fried rice with parmesan, shiitake mushrooms and truffle zest ($10) reference two beloved American foods. The rest of the menu is divided into garden (beets with crispy farro, caramelized goat cheese and chrysanthemums, $12), sea (octopus with celery root puree and pickled Asian pear, $17), land (duck with caramelized apple, charred scallion and beet greens, $26) and harvest (kabocha mac and cheese, $16). Groups of two or more can share several dishes with the "feast" option ($52 per person), while larger groups of eight or above can book five days in advance for the "whole hog" feast complete with suckling pig ($75 per person).
Venue says: "Chartiki every Tuesday! We partner with different charities & offer a special drink menu-30% of beverage sales go to the charity of the week"