Heads up! We're working hard to be accurate – but these are unusual times, so please always check before heading out.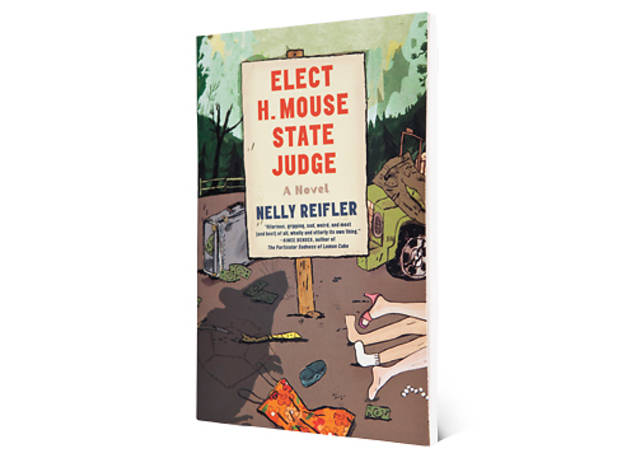 Book review: Elect H. Mouse State Judge by Nelly Reifler
Though short and sweet, this novella of lascivious Barbies and political mice leaves a lingering suspicion that purity and worldliness are not far from one another.
By Nelly Reifler. Faber & Faber, $13.
William Blake laid it out: Stories are those of innocence or of experience; any messy gray area between the two, presumably, belongs to J.D. Salinger, Judy Blume and whoever else has taught teens important coming-of-age lessons about masturbation or maturation via bildungsroman. But what if time's arrow weren't so straight? What if the most precious childhood emblems came to life and the limbo between guilelessness and corruption became the norm?

In Nelly Reifler's new novella, budding politico H. Mouse discovers his children missing
on the morning of a big election. Rather than disrupt his ascent into the realm of local public policy, H. hires a pair of shady, horny investigators named Barbie and Ken to track them down. Meanwhile, Susie and Margo Mouse have been kidnapped by religious zealots who hope to convert the children and further their cause. As the girls resist their abductors and H.'s confirmation continues, Barbie and Ken bribe, threaten and screw their way to a climactic showdown.

While toying with the reader's expectations based on well-known anthropomorphic animal tomes from Kenneth Grahame to E.B. White, Reifler does an excellent job weaving between chipper and creepy; it's hard to tell whether this tale of dolls penetrating one another's neck holes and yearning for the descent of their severe gods is an imaginative child's dream about what adult life is like, or a deviant adult's twisted playtime. Though short and sweet, Reifler's book leaves a lingering suspicion that purity and worldliness may be closer together than they seem.
Buy Elect H. Mouse State Judge on Amazon

Get Elect H. Mouse State Judge on your Kindle