Book review: Hidden Cities by Moses Gates
Thrill-seeking urban planner and television personality Gates exhilarates readers from atop the Williamsburg Bridge or in Parisian catacombs.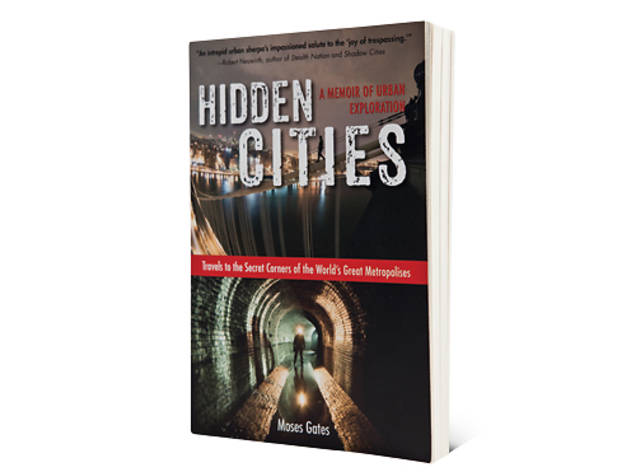 By Moses Gates. Tarcher/Penguin, $17.
Claustrophobes, acrophobes or frankly anyone afraid of getting arrested for trespassing should prepare to cringe liberally while reading the new essay collection from certified urban planner and periodic television personality Moses Gates. Hidden Cities chronicles a life lived on the bleeding edge of many metropolises, detailing the experiences of an insatiably adventurous spirit who finds excitement and inspiration in the most unlikely places: deep inside a New York subway tunnel, underground in the catacombs of Paris and at the harrowing top of the Williamsburg Bridge.

Gates possesses a breezy prose style regarding his daredevil exploits, even as he reveals the fascinating and frightening experience of encountering new cultures. Crucial to the success of Hidden Cities is Gates's academic background—while relaying intoxicating and visceral experiences, he imparts a genuine expertise that lends the exercise a scholarly ballast without diverting from the sheer fun of it all. Gates sounds equally convincing whether describing detailed architectural concepts or discussing the merits of quickie sex after scaling a bridge.

At points, Gates's risk-seeking, adrenaline-fueled exploits can feel like the stuff of caricatures, with the author as the Jacques Cousteau of forgotten urban blight. But he suffuses his stories with an endearing understanding of the terrible fears and insecurities that he confronts at nearly every turn, e.g., trying to impress fellow urban explorers with his ability to pop open a manhole cover (and not succeeding), or acknowledging his failing marriage. Hidden Cities is an exhilarating read and a reminder that sometimes the best way to examine your life is to change your perspective. And maybe then, change it again.

Buy Hidden Cities on Amazon

Get Hidden Cities on your Kindle
Sponsored listing
John Doe Bar & Kitchen
Located on an unassuming Nomad street, this gastropub turns out riffs on classic pub fare and tempting signature cocktails. For an appetizer, why not order the oysters? They always sell for $1 each, though you have to order six or more. The flatbread topped with caramelized apples, goat cheese, mushrooms and arugula ($12) might tempt you, or perhaps you'll go classic with potato skins stuffed with cheddar and bacon ($11). If you're here for dinner, try the John Doe burger with pickled red onion and garlic aioli on a pretzel bun ($13) or the chicken and mushroom pot pie ($18). For dessert, give in to temptation and order the caramel-bourbon bread pudding ($10) or go even boozier with a sweet cocktail, like the Nutty Irishman, a combination of coffee, Bailey's, frangelico and lots of whipped cream ($12). John Doe offers different specials each day of the week and a lengthy happy hour from 11am–8pm every weekday, so you have no excuse not to sample the entire menu.