Heads up! We're working hard to be accurate – but these are unusual times, so please always check before heading out.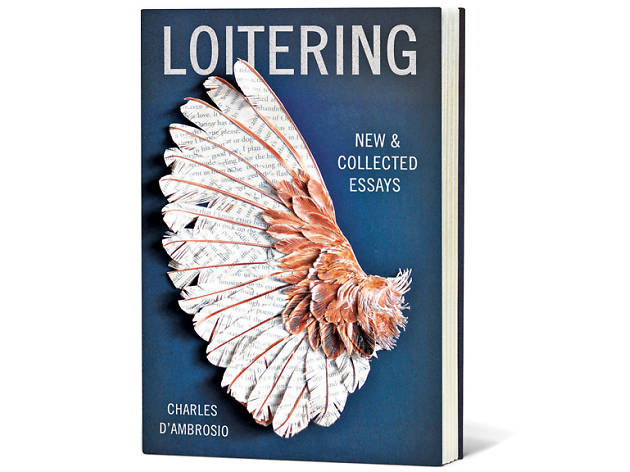 Book review: Loitering: New & Collected Essays by Charles D'Ambrosio
A cult essayist expands his oeuvre—and leaves no doubt about his talent—in this deeply relatable nonfiction collection
Time Out Ratings: 5/5 stars
By Charles D'Ambrosio. Tin House, $15.95

For anyone who's ever had a flash of doubt or a realization of ignorance and embraced it, Charles D'Ambrosio is your writer. Perhaps the author says it best when he writes, in the introduction to Loitering: "[I wonder] where all the other people are who don't know, who don't understand." It's a rare attitude to encounter in a nonfiction author, because isn't the person writing supposed to impart their hard-earned knowledge to us? On this point, D'Ambrosio acknowledges that, Google assists aside, he doesn't know any more than we do. And that willing vulnerability is exactly what makes his essays such delightful companions.

The pieces in Loitering range from D'Ambrosio's career beginnings, in the 1970s, to the present, from his Seattle home to Brooklyn Heights, but like many great writers, D'Ambrosio seems to create outside the boundaries of time and location. In the early piece "Whaling Out West," you don't need to know anything about whale meat or the Makah Tribe to chuckle at the author's description of skipping down the shoreline in his Skivvies. And we can only nod along in empathy as the author's quest to consume whale becomes a quiet metaphor for his sense of placelessness in the world. "Where am I, in what land, in whose time?" D'Ambrosio writes, and as we read, we're thrown into the same tailspin of metaphysical bewilderment.

In every essay, D'Ambrosio keenly displays one vital skill a nonfiction writer can't fake: observation. He moves so fluidly between his own thoughts and the details of his surroundings that only when dissecting his writing does it become apparent how carefully he has constructed every innocent descriptor. Whether depicting the thick Plexiglas and brown walls of the Moscow Hotel in St. Petersburg or the grocery basket of an "ancient Italian woman" in Brooklyn, he demonstrates that his role in the world is not as an explainer but as a narrator. In fact, D'Ambrosio actually balks at the word article to characterize his work, hinting that something so technical and intrinsically knowledgeable exists outside his expertise.

When tasked to write about Fleetwood-manufactured houses, the fantasy of newness first awes D'Ambrosio until, he admits, he loses that optimism and can't think of anything nice to say about them at all. So instead of pandering, instead of digging desperately into empty facts just to finish the piece, he relays his experience researching the homes, revealing what he imagines doing in their untouched beds. The author admits to mentally narrating his own actions as they happen and simply exclaims, "Storytelling!" That's just what D'Ambrosio does, seemingly as easily as blinking: He transforms everyday experiences, uncertainty and all, into perfect stories.


Buy Loitering: New and Collected Essays
on Amazon.