Heads up! We're working hard to be accurate – but these are unusual times, so please always check before heading out.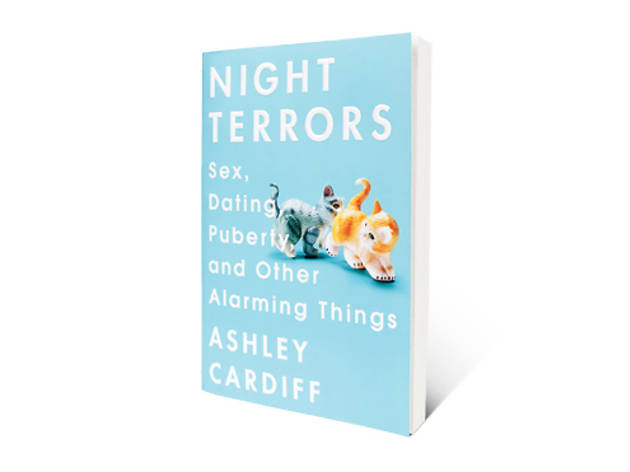 Book review: Night Terrors by Ashley Cardiff
This comedic personal essay collection, full of witty quips about sex and growing up, is also a self-help book about "how not to be an asshole."
By Josh Davis. Gotham Books, $16.

Billed as a "comedic memoir/essay collection… about the horror and vulgarity of human psychosexual development," Ashley Cardiff's Night Terrors might be better described as a self-effacing self-help book on "how not to be an asshole." Cardiff studied classics in college, but her writing is more conversational than Socratic; a prodigious sense of humor helps these essays come across as something like a stand-up routine.

Cardiff lays much of her life bare while offering witty observations on a range of subjects. On children drinking Jack and Coke, she writes, "If there's a better drink for children, I haven't thrown it up." Her take on infidelity: "That's why we call it 'cheating' and not 'making babies smile' or 'feeding artisanal bread to ducks.' " At the age of eight, Cardiff was subjected to seven straight hours of Bible class at the hands of her "vain, ruthless" grandmother. After she'd had enough, Cardiff began using the last hour of her classes to amass a portfolio of lewd drawings—angels and devils sword-fighting with penises—intended to get her kicked out. As an unworldly, homeschooled teenager, Cardiff mistakes an invitation to an orgy as one to join a casual study group, and falls for a sexual predator with lousy pickup lines ("Can you imagine? Fucking in Paris?").

The memoir does become defensive and preachy—as in "Gay Anxiety," where Cardiff tries to work through the time she drunkenly spat out a slur in front of a gay friend—but this is rare. And even in this instance, the essay is saved by a timely, and hilarious, Niels Bohr reference. By sparing no one, least of all herself, Cardiff lets her insecurities hang out with brutal honesty. In an enlightened world, this is the kind of reference material hospitals would hand to troubled teens and twentysomethings, or—better yet—new dads with daughters.
Buy Night Terrors on Amazon

Get Night Terrors on your Kindle