Book review: The Facades by Eric Lundgren
This intelligent and beguiling debut, a fantastical mix of George Saunders, Raymond Chandler and Ludwig Wittgenstein, should not be missed.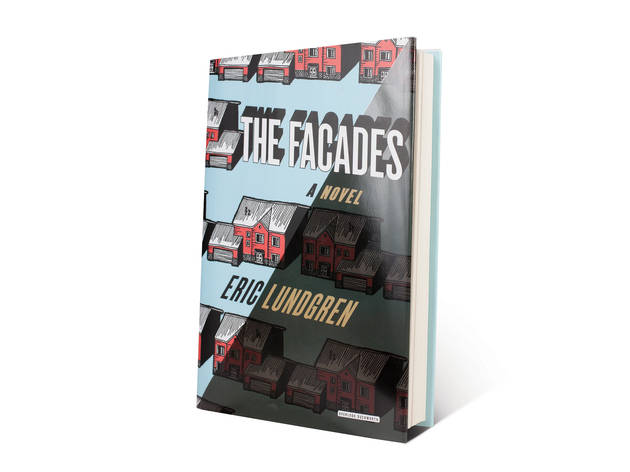 By Eric Lundgren. Overlook Duckworth, $26.
The fictional Midwestern city of Trude, the setting of the dazzlingly creative debut novel from Eric Lundgren, has seen better days. The town's infrastructure is crumbling, librarians are engaging in an armed rebellion, and senior citizens vie for space in a magisterial assisted-living home that requires residents to write memoirs ("insufficiently harrowing," reads a critique of one inhabitant's work).

Equal parts George Saunders, Raymond Chandler and Ludwig Wittgenstein, the book follows a low-level legal functionary named Sven Norberg as he tries to solve the mysterious disappearance of his wife, a locally famous mezzo-soprano. Norberg circles the truth, each clue leading him through increasing danger and confusion, on the way to a devastating realization.

In Lundgren's world, meaning is hard to pin down and the efficacy of language is suspect. There are overt riddles, like the literally labyrinthine shopping mall that may or may not have been designed by an insane architect to represent the fundamentally unfulfilling nature of capitalism; as well as more subtle ones, like the way his characters have only the merest ability to express themselves ("I am a body through which the language passes," claims a slimy opera critic). This is all good, heady fun, and it crackles with enough wit to avoid pretension. And then there is the plot itself, philosophically tinged noir, in which red herrings abound and each step forward might really be a step back. The Facades is an intelligent and beguiling book that shouldn't be missed.
Sponsored listing
Tri Dim Shanghai
This Upper East Side restaurant offers a wide range of Shanghainese, dim sum and Szechuan dishes. You'll find plenty of classics among the starters, like scallion pancakes, Peking crispy duck roll, egg drop soup and steamed shrimp dumplings. As for entrees, traditionalists might go for the Szechuan-style twice-cooked pork or crispy whole sea bass. To try the beggar's chicken—a whole bird marinated in Chinese five spice, then wrapped in lotus leaves and slowly roasted—you must order a day ahead of time. Other specials, like the lion's head casserole of braised pork meatballs and cabbage, can be requested that same night. You'll probably need to order some fried rice or spicy dan-dan noodles to round out your meal, too.
Venue says: "We offer the best lunch deal in the city - $7.75 for soup or a spring roll along with an entree. Also join us for brunch on Sat or Sun 12-3"