Heads up! We're working hard to be accurate – but these are unusual times, so please always check before heading out.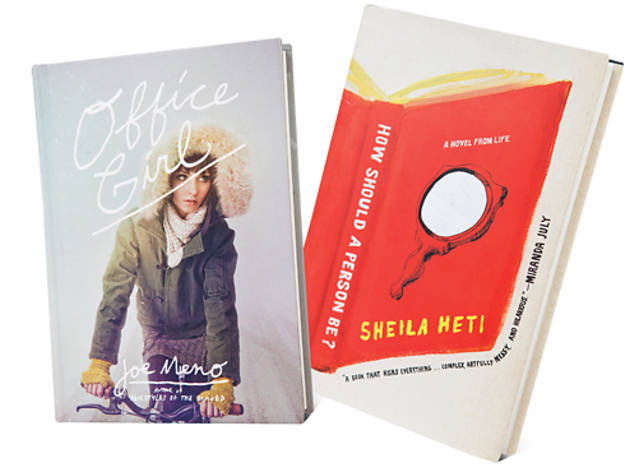 Quirky books
Office Girl and How Should a Person Be? locate some inoffensive peculiarities.
By Joe Meno. Askashic Books, $25.
Labeling something quirky is a dubious proposition. It can imply endearment, but often it's faint praise that sidesteps the truth: The person or thing up for evaluation is considered cloying or twee. The foundations of quirk in fiction can be seen in J.D. Salinger's prodigies, but thanks to a wealth of pop-cultural concoctions, the richness of creations like the Glass family has been watered down and rendered meaningless. Instead of fierce intelligence couched in a misanthropic rant, say, we have a perky girl (read: Zooey Deschanel) pretending to be a ballerina in different-colored socks. By now, such characters have become a recognizable type, and not a particularly convincing one at that. Which is why it's increasingly difficult to take seriously any new creative exploration of peppy, inoffensively peculiar behavior.
Case in point: Joe Meno's Office Girl. It might be a standard boy-meets-girl tale, if not for the fact that the boy likes to record the sounds of gloves abandoned in snowdrifts, while the girl has a penchant for filling elevators with silver balloons. It's 1999. Odile has left grad school while Jack's wife has recently left him; after both stumble into jobs at the same telemarketing firm, they meet, and it isn't long before he is supporting her attempt to create a whimsical, antiestablishment art movement. Love and loss follow.
The story itself, a tale of facing adulthood while in one's twenties, is innocuous enough. The problem is that the ostentatiously curious temperaments of Meno's characters, and the cultural totems conjured to define them, feel manufactured. Jack and Odile's reenactment of Jaws on Chicago's L or their creation of a hazily photographed porn zine may as well be scored to a favorite Velvet Underground song. Illustrations and other cute visual aids (including an ostensible copy of the aforementioned zine) only add to the book's sense of preciousness. There is emotional fallout as the duo's brief affair comes to a close, but Meno's so busy indicating who these people are that their suffering seems like a sad face Odile might have graffitied on a movie poster.
Buy Office Girl on Amazon

Get Office Girl on your Kindle
By Sheila Heti.
Henry Holt and Company, $25.
How Should a Person Be?, the new "novel from life" by Sheila Heti, also involves a crisis of art and relationships, but fares better. After a divorce, a lightly fictionalized, struggling playwright named Sheila tries to determine how best to go on with life, love and making art. In her quest for authenticity, she gets a job cutting hair, involves herself in a sexually submissive affair, and studies her e-mails and real-world conversations for answers. Once she comes to understand how her actions have exploited her best friend, Margaux, she flees Toronto to figure it all out.
The book's unorthodox structure, and features such as a bubbly romanticization of life in a salon, might smack of conspicuously odd sweetness, yet there's more at work here. The tone is chirpy and occasionally grandiose, but despite Heti's peculiarities as both a writer and a character, there's a sense of honesty and genuine yearning. Heti reaches for an artist's life—with all of its beauty and restless messiness—and finds something that's curious, charming and still capable of inspiring.
Buy How Should a Person Be? on Amazon

Get How Should a Person Be? on your Kindle