Heads up! We're working hard to be accurate – but these are unusual times, so please always check before heading out.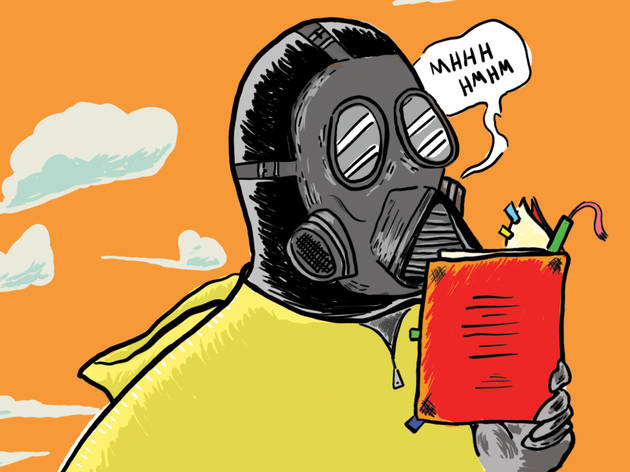 Restart your 2013 with books for nontraditional resolutions
New resolutions: Start a band, think about sex or survive the apocalypse with help from new titles by Ian Svenonius, Philippa Perry, Alain de Botton and Sam Sheridan
stopped going to the gym and restarted drinking like a fish. Just for you, several new books aim to shock you awake while preparing you for a new existence. Slough off your average notions, replace them with something unexpected and find a different kind of happiness.

Old resolution: Take guitar lessons
New resolution: Just go ahead and start a band
Your manual: Supernatural Strategies for Making a Rock 'n' Roll Group by Ian Svenonius (Akashic Books, $15)
How it'll help: Don't sell yourself short: Suck up what you can from bandleader and antiauthoritarian troublemaker Ian Svenonius and found your own outfit. This whip-smart and wily text finds him proffering knowledge gleaned during decades of touring in vans, producing records and withstanding critics. It's not only about sex, drugs and which zodiac signs will balance out a four-piece, but also includes tips from rock stars such as Jimi Hendrix, acquired through purported séances.
Sample text: "Eros must be saved for the audience, who shall be the sole recipient of the otherwise chaste rocker's affection."

Old resolution: Stop watching porn
New resolution: Stay sane; think more about sex
Your manuals: How to Stay Sane by Philippa Perry (Picador, $16) and How to Think More About Sex by Alain de Botton (Picador, $16)
How they'll help: Splitting the difference between heady analysis and pop therapy, these volumes from Picador's "School of Life" series present some simple and cogent steps toward achieving their respective goals. Perry divides her slender book into four sections covering basic concepts ("Self-Observation," "Relating to Others"), and gets right to the business of managing stress and maintaining good relationships (hint: how-to manuals are not the answer). De Botton's jaunty prose traverses ground that includes adultery, fetishism, Freudian thought and the essential question of who attracts the reader more, Natalie Portman or Scarlett Johansson?
Sample text: "What we call a 'beautiful' person…is in essence someone with a strong immune system and ample physical stamina" (from How to Think More About Sex).

Old resolution: Get a better job
New resolution: Survive the apocalypse
Your manual: The Disaster Diaries by Sam Sheridan (The
Penguin Press, $27)
How it'll help: Once the world economy crumbles and civilization descends into a lawless hellscape, your only job is going to be staying alive. Take it from EMT and MMA fighter Sheridan, who has given more than a little bit of thought to TEOTWAWKI (the End of the World as We Know It) and how one might survive afterward. This mix of reportage, personal storytelling and advice will help you to hot-wire a car, shoot a gun and hunt for proteins.
Sample text: "At some point, when you've done your best, you have to get on with your life and trust the universe not to fuck you."

Ian Svenonius appears at Le Poisson Rouge Fri 25 and at WORD Mon 28.