Heads up! We're working hard to be accurate – but these are unusual times, so please always check before heading out.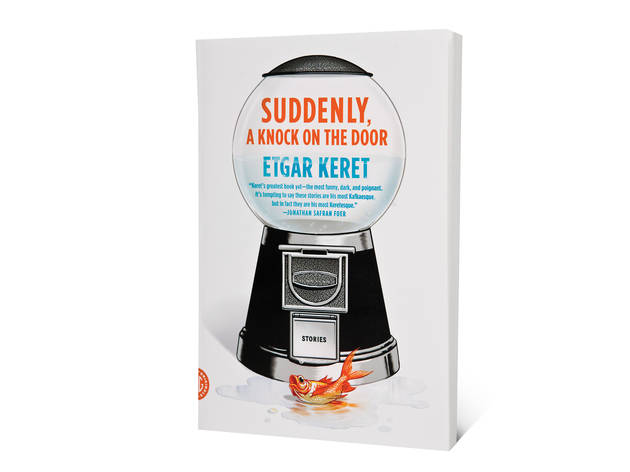 Review: Suddenly, a Knock on the Door by Etgar Keret
The Israeli writer's seventh collection contemplates both the the charming benefits and the damage wrought by imagination.
By Etgar Keret.
FSG, $14.
Recount lessons gleaned from the parable of the angel and the guava; the allegory of the black man, the white woman and their disabled silver god; the fable of the guilty widower and his former wife, reincarnated in the body of a poodle. Okay, perhaps the stories in Etgar Keret's seventh collection aren't the grand didactic tales of yore. But Suddenly, a Knock on the Door just might make the Israeli filmmaker and writer's reputation in the States, and have faithful readers recollecting its messages for years to come.
As the title suggests, Keret's tales are a call to adventure. Born of clearly articulated whims, these stories tumble jauntily along darkened roads with destinations seemingly unknown to both reader and writer. Keret's thoughts—be they absurd, witty or indignant—come fast, and the tumultuous journeys are quick. Some yarns, like the tale of the man who stuffs his pockets full of objects to prepare himself for every possible romantic first encounter, are little more than ruminations. But their effects don't dissipate quickly: A cheeky experimentation and authorial distance appeal to the mind, while underneath the stories' cartoonish aspects, the characters exhibit a suffering that catches the heart. SAKOTD is taken by both the charming benefits of and the damage wrought by the realm of fantasy; its liars and daydreamers are repeatedly upended by the discrepancies between life as they live it and life as they imagine it. With Keret's unpretentious tenor and his supernatural content, it's tempting to compare these stories to the minute sci-fi asides of Vonnegut's Kilgore Trout. More than moralistic quick hits, however, Keret's tales wander into some gray areas that a reader will discover himself in without realizing what happened. These are odd and exciting places to be, places just far enough out there to make someone feel that quoting a guava is not just proper, but noble.
Buy Suddenly, a Knock on the Door on Amazon

Get Suddenly, a Knock on the Door on your Kindle