Heads up! We're working hard to be accurate – but these are unusual times, so please always check before heading out.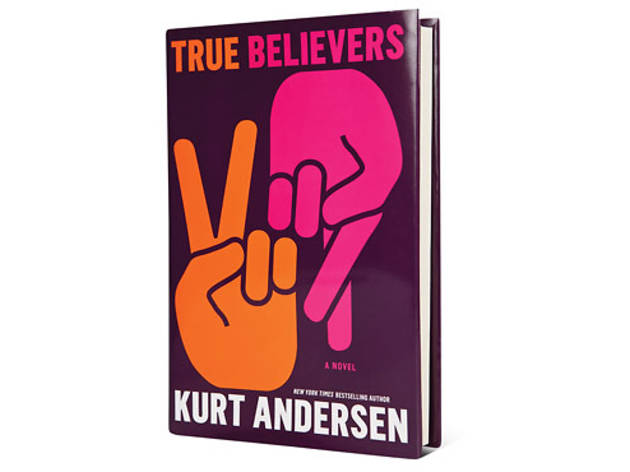 Review: True Believers by Kurt Andersen
The novelist and host of NPR's Studio 360 concocts an ambitious but unrealized mystery-thriller.
By Kurt Andersen.
Random House, $27.
With
True Believers,
Brooklyn novelist Kurt Andersen (who also hosts NPR's
Studio 360
) ambitiously attempts a lengthy, partially historical mystery-thriller. It's written from the perspective of 65-year-old Karen Hollander, a high-powered lawyer and onetime Supreme Court nominee. As the novel opens, she's working on a memoir about her days as a radical lefty in the late 1960s. But as we discover amid the narrative's constant chronological flip-flopping, Karen's political past is marked by issues more serious than merely attending meetings and waving placards.
As sheltered kids in the affluent Chicago suburbs, Hollander and a small group of close friends become obsessed with Ian Fleming's James Bond novels, which leads to adolescent "spy missions" in the city. But once Hollander and her childhood chums enroll at Harvard, their innocuous antigovernment activities evolve into a murder plot involving LBJ, plastic explosives and a remote-controlled model airplane. Unfortunately, it's a conspiracy that unintentionally owes more to Get Smart–style parody than to serious, Weather Underground militancy.
In his 2007 novel,
Heyday,
Andersen successfully blended historical events with ample depth of character. But while his prose for
True Believers
is solid, he can't prevent his flimsy, half-realized characters from collapsing under the weight of the heavily researched trivia that passes for period atmosphere. Despite dropping all the right names, places and cultural touchstones of the '60s, Andersen leaves you with little more than the usual hippie-turned-yuppie for a main character, as well as a childish assassination plot and some vague thoughts about the dangers of living like a fictional character in a nonfictional world.
Buy True Believers on Amazon

Get True Believers on your Kindle