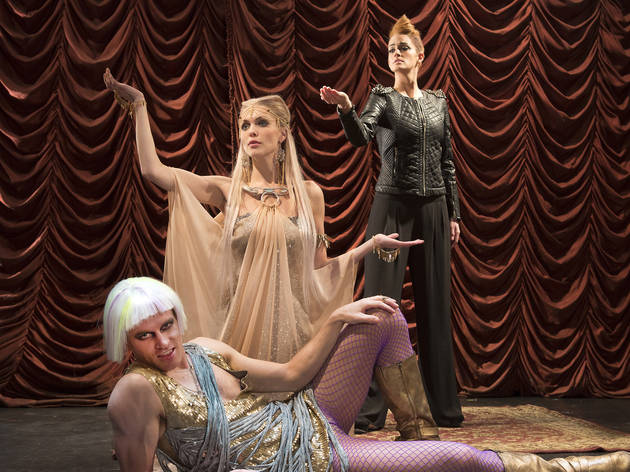 Marilyn Monroe look-alikes and full-frontal exposure might seem cutting-edge to opera newbies, but the history of sexing up the art form dates back to the century in which it was founded. As anyone who has seen a performance or DVD of La Calisto or Ercole Amante can testify, Venetian composer Francesco Cavalli moved the action away from mythic nobility, preferring to entertain his crowds with steamy plots and genderfuck sufficient to merit a Judith Butler essay.
For the Venetian festival of 1668, Cavalli worked up an opera on a particularly notorious subject: the Roman emperor Elagabalus, whose brief 3rd-century reign was renowned for scandal. A teenage Syrian priest of the sun god, Elagabalus was both installed and deposed by his cunning grandmother. While in power, he cavorted with anything that moved, partly during a stint as a brothel prostitute; married a vestal virgin as well as several other men and women; and promoted boyfriends to high rank and female relatives to the senate.
Not all of this makes it into Cavalli's Eliogabalo, but the Barbarella-does-Caracalla advance photos from Gotham Chamber Opera's new staging at aptly louche Lower East Side nightclub the Box make it clear that director James Marvel and Sleep No More producer Randy Weiner are on the right track. Grant Herreid conducts a promising cast that includes up-and-coming countertenor Christopher Ainslie as the gleefully perverse emperor, alongside soprano Susannah Biller and bass-baritone Brandon Cedel.—David Shengold
Rating Breakdown
5 star:

0

4 star:

1

3 star:

0

2 star:

0

1 star:

0
Leave your judgements at home and revel in this oppulent romp through a truly horrifying historical Dennis the Menace. I attended opening night. The 40's porno in the background may be overkill, as well as some of the costume enhancements, as the acting and dancing is more than enough to relay the feeling of extreme debauchery. What is not horrifying is the amazing experience of being up close and personal to voices among the finest I have heard, dancers that are professional and precise in their intensity (particularily the Furies, for whom I have great respect) and the comedic talents that gave the lightness needed to relieve some of the seamier business of our (sic) hero. The venue is just, well, I suspect unusual even for NYC, although I will say after seeing Sleep No More the night before, I can't wait for my next visit from Portland Oregon to see what you all can cook up for a full sensory experience! I offer an overall BRAVO to cast and crew!