Heads up! We're working hard to be accurate – but these are unusual times, so please always check before heading out.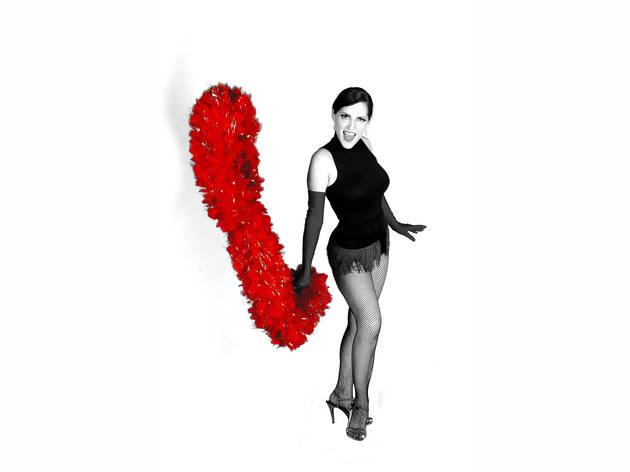 After-dark inquiry: Jo "Boobs" Weldon
The New York School of Burlesque headmistress headlines this month's Gotham Burlesque.
TONY: It seems like burlesque, both in the city and around the country, is as big as it's ever been. Does it feel that way to you?
Jo Weldon: I think so. There are just so many festivals now…and all those festivals are packed! Which is incredible, when you consider that before the New York Burlesque Festival started ten years ago, there was nothing.
Wasn't that also around the same time that you inaugurated the New York School of Burlesque?
Jo Weldon: Yeah. At that point, people had already been doing what they had been calling burlesque for a few years. They were more like performing artists who had one or two burlesque numbers. I think it was Kate [Valentine] at the Va Va Voom Room and Dick Zigun at Coney Island USA who said, "Let's do an entire show of these numbers." And that basically got it started.
TONY: Coney Island certainly has been an integral part of the burlesque world here in New York.
Jo Weldon: I would say it's the primary factor in there being an independent burlesque scene, where the performers make up their own numbers. And Dick Zigun always let people do whatever they wanted, so he's been a big part of that. I was working out at Coney Island, and around the same time I was working at
Click + Drag
at Mother.
TONY: I used to love Mother!
Jo Weldon: Yeah! And obviously there, you could do whatever you want as well; nobody was overseeing your act. I loved Mother. I still work with Chi Chi [Valenti, Mother's coproprietor]. I did a marijuana number for her at the Howl Festival the year before last.
TONY: What was the impetus for starting the New York School of Burlesque?
Jo Weldon: I had been running a website called G-Strings Forever, which I started around 2000. Originally it was about strip joints and all the women I had worked with at them. A lot of them had done all these cool things, basically making businesses out of what they had learned from working at strip joints. Anyway, I couldn't really find much about neoburlesque on the Internet back then—the best one at the time was the Velvet Hammer—so I started taking pictures and writing articles and collecting what websites there were, and putting them on my site. Because of that, people started thinking of me as an expert, or almost some kind of scholar, and they started asking me to teach. I began to realize it would be preferable to have an actual school with a lot of different instructors, instead of it just being one person calling themselves a school.

TONY: Was it easy to recruit people to teach?
Jo Weldon: I actually had to talk people into it! Everyone was like, "What can I teach? I don't know how to do that!" And I said, "Well, don't people ask you questions?" They'd say yes. And I say, "After you answer them, do they go away knowing the answer to their question?" And they say yeah. "Well, there you go!"
TONY: Who did you have in those early days?
Jo Weldon: I got
the World Famous *BOB*
, Tigger!,
Dirty Martini
and Julie Atlas Muz—and Little Brooklyn and Creamy Stevens, who haven't stayed interested in teaching. At the time, there was nothing else like this in New York. About once a year, someplace like the Museum of Sex would have a workshop, but there was nothing ongoing.
TONY: Where did you hold classes in the beginning?
Jo Weldon: Originally it was at the Bowery Poetry Club. Now we use 440 Studios. They've worked with us in a way that let us run a full school. For the summer, I have a temporary space where we're running experimental classes, which won't be as directly related to getting a number together or learning how to dance burlesque. I just taught a class called the Joy of Sucking. I taught people some bad ballet and how to write a limerick.

TONY: Besides performance, you teach about the history and business sides of burlesque as well, right?
Jo Weldon: We try to do two free community courses a month, and the past month, my accountant donated a class on accounting for performers. But then again, we do lap-dance classes and we teach bachelorette parties, so it's a pretty broad range.
TONY: Bachelorette parties
?
Jo Weldon: Yeah, and they're a lot of fun. They'll come in not knowing that much about burlesque, and they'll just jump in and twirl tassels and everything. They'll probably never do it again, but it's always interesting to be teaching people who aren't into burlesque, and to tell them about the history of the women who did burlesque in the '40s and '50s.
TONY: You seem pretty focused on preserving the history of burlesque.
Jo Weldon: Yes. I started out working in strip joints, and there were these women working there who had done burlesque, and they kind of hated it. [Laughs] But I was so fascinated by it. As a kid, I can remember seeing pictures of burlesque dancers in the '40s and '50s and '60s, and they just looked so wild. They were so much wilder than movie stars, very undomesticated. I've actually met some of the women in those photos, and they really are the way I hoped they would be.

TONY: Untamed.
Jo Weldon: Exactly. I also work for the Burlesque Hall of Fame, and we have a reunion every year where senior citizens who used to be burlesque dancers come and do burlesque.
TONY: You are busy! Don't you also have a blog, Burlesque Daily?
Jo Weldon: Yeah, but I haven't been updating it lately, because I've been doing so much other writing. I have an etiquette column in Pin Curl magazine, I'm writing an article for Bachelor Pad… I'm writing for multiple magazines, which doesn't leave me much time for the blog. But I do want to get back to it; I have a backlog of interviews and a project on burlesque music.
TONY: Speaking of writing, you also have a book that came out a few years ago, The Burlesque Handbook.
Jo Weldon: Yes, and it's the first book ever published about how to do burlesque.
TONY: Really?
Jo Weldon: Isn't that funny? There was an album out called How to Strip for Your Husband, but there's never been a book. When I was writing it, I didn't realize it was going to be the first at all; I didn't find that out until later.
TONY: That's just one more reason that you are considered a pioneer. Don't you also have a charitable program called Pink Light Burlesque?
Jo Weldon: It's free classes for breast cancer patients and survivors. We actually just ran a series of classes. They always seem to enjoy the classes and get a lot out of them. It's a pretty intense project; it's not all pink ribbons, for sure.

TONY: And now you're headlining the upcoming Gotham Burlesque.
Jo Weldon: It's such a gorgeous show. I'm doing a tribute to Gypsy Rose Lee. I'm working on a number that I'll be debuting there; it's called "The Queen of Hell."
T
ONY: That sounds great. I can vaguely remember Gypsy Rose Lee, from her stint on Hollywood Squares.
Jo Weldon: Oh God, I love her so much. Oh, in addition to having the first book on burlesque—I feel so self-conscious saying that—I was also the first person who ever stripped at the main branch of the New York Public Library. We did a tribute to Gypsy Rose Lee on her 100th birthday. My friend Karen Abbott had written a book about her called American Rose that came out around then, so that was how it came about. I performed with Gal Friday, who's one of the instructors at the New York School of Burlesque; I did a tribute to Gypsy, and then Gal and I read from actual letters Gypsy and her mother Rose wrote to each other. And Jonny Porkpie wrote a piece, because he wrote a burlesque murder mystery, and he was the first person to do that since Gypsy Rose Lee. It was really fun. I was like, Wow, Patience and Fortitude are right outside!
Jo "Boobs" Weldon performs at
Gotham Burlesque
on July 7; find out more about the New York School of Burlesque at
schoolofburlesque.com
.